I'm sure you've heard about Kevin Spacey being accused of sexual assault last week. The sexual assault allegations came from Anthony Rapp, Star Trek actor.
The star released an apology following the accusations becoming headline news. Strangely enough, he used this apology to come at as gay, bold strategy cotton.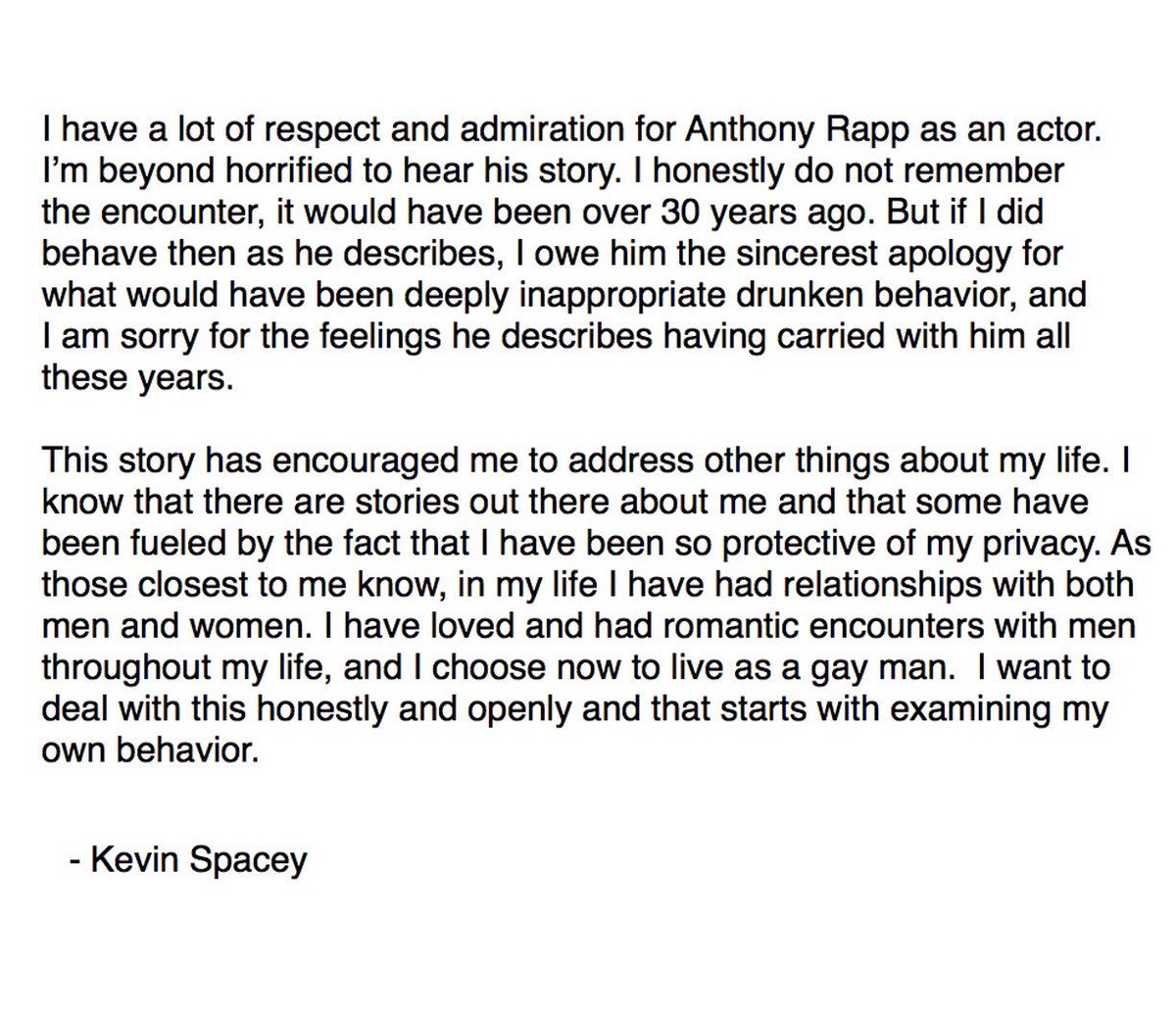 Now Spacey is facing another allegation. Officers from Scotland Yard's child abuse and sexual offenses team are now investigating claims that Spacey sexually assaulted a man in London in 2008. At the time Spacey was working in the UK capital as the artistic director of the Old Vic theater.
The Met declined to confirm the identity of the alleged perpetrator. It is believed to be 58-year-old Spacey. Although, there is no record of any arrests being made in connection with the allegations. Apparently, the man who made the accusations now aged 32 spoke out Thursday. He alleged that the House of Cards actor sexually assaulted him after he passed out at the actors home. Allegedly the man had gone to Spacey's home. He planned to ask the prominent actor to help further his career. After the twos shared a drink,  the accuser, then aged 23, woke up to the Spacey performing a sexual act on him. He claims the actor had warned him to keep quiet about the encounter.
CNN said it had heard from eight different sources about the Netflix stars alleged sexual misconduct. Apparently, everyone who came forward was either a former or current employee of the show. They only came forward to speak on the condition of anonymity, fearing "professional repercussions" if their identities were to be made public.
The sexual assault claims against Spacey came from a former production assistant on Netflix's hit show House of Cards.The actor allegedly had inappropriately touched him in a car during filming of one of the early seasons of the show. The assistant said he did not report the alleged incident to managers, but claimed to have earlier complained to a supervisor about other instances of harassment involving the actor.
Another allegation came from another crew member claiming Spacey had regularly harassed and touched him throughout the show's seasons.
He would put his hands on me in weird ways. He would come in and massage my shoulders from behind or put his hands around me or touch my stomach.
Apparently, Netflix had been aware of some of the complaints against Spacey, they told CNN that it had known about one incident specifically involving Spacey. They reported that the incident had been brought to their attention and it had been"resolved swiftly." The people making the show had to have some sense of whats going on. Especially, since they have stopped filming the final season.
The studio that produces House of Cards, Media Rights Capital, knew there was an issue. They had gone as far as implementing "an anonymous complaint hotline, crisis counselors, and sexual harassment legal advisers for the crew." So, there had to be some sense of something wrong going on with Spacey. Now, along with Rapp other men are coming forward to speak up. Including filmmaker Tony Montana as well as British bartender Daniel Beal.
Along with the production being stopped on House of Cards Spacey's professional life continues to feel the heat from the oncoming allegations. On Thursday, Spacey lost both his publicist, Staci Wolfe, and his talent representative Creative Artists Agency, after they announced they would no longer be working for him, while on Friday the Dutch bank ING announced that it had canceled a planned appearance by Spacey at a business conference it was organizing in Rotterdam.
These extremely serious allegations seem to be coming out more and more. Until arrested or proven guilty we can't crucify Spacey. With that said, the number of allegations forming against him seems to create a gross pattern. For now, we will wait and see what unfolds. It's extremely disheartening to think the influential minds of Hollywood were aware this type of behavior. It's worse to think it's been happening for years. There has been almost no attention until recently when people gained the courage to speak out against. Very sad, disgusting stuff people.