Adriana Lima has long been the face of Victoria's Secret's brand since walking on their runway for the first time in 1999. Since then, Lima has appeared in advertisements, commercials, runway shows and brand events for the company. Even this year, Lima was named "the most valuable Victoria's Secret Angel" by an analytics company. However, Lima recently took to Instagram making a bold statement that has fans thinking she will never walk in a runway show again for the company.
In a detailed post, Lima wrote:
I had received a call for the possibility of filming a sexy video of me to be posted and shared in social media. Even though I have done many of this type, something had changed in me, when a friend approached me to share that she was unhappy with her body, then it made me think…. that everyday in my life, I wake up thinking, how do I look? Was I going to be accepted in my job? And in that moment I realized that majority of woman probably wake up every morning trying to fit in a stereotype that society/socialmedia/fashion etc imposed…. i thought that's not a way of living and beyond that…. that's not physically and mentally healthy, so I decided to make that change….. I will not take of my clothes anymore for a empty cause…..?✨#Embraceyouself#natureisbeautiful#naturalissexy#LOVEYOU?✨
She also posted this photo along with her statement.
Along with her statement, Lima has unfollowed the official "Victoria's Secret" brand Instagram on her account, as well.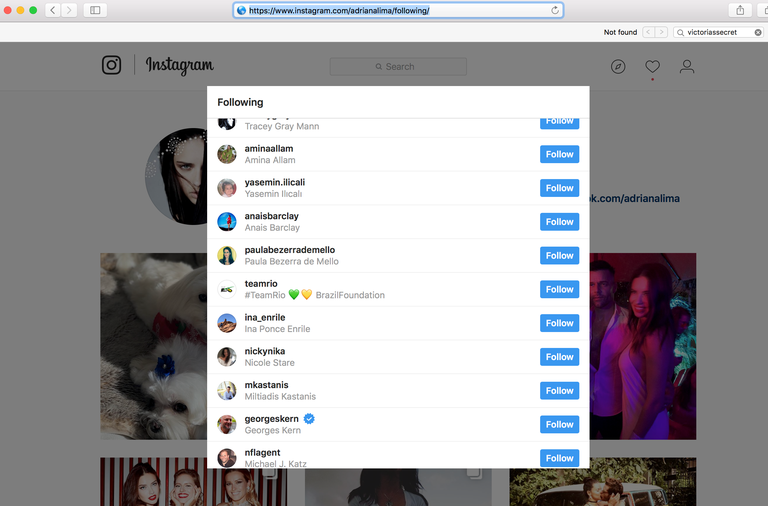 While it seems to be a bit sudden as Lima just walked in the 2017 Victoria's Secret Fashion Show, the model is using this as a platform for retirement (or so it seems). Fans took to Twitter to share their gratitude for the model and praising the way in which she addressed her statement and "retirement." Others are wondering what Victoria's Secret will do without Lima moving forward, as she's been the face of their brand for over a decade.
Adriana Lima leaving VS and she unfollowed all the angels except Lily, Lais, Behati and Ale. And she also unfollowed Ed Razek and Victoria's Secret. ☕️? BTW thank you Adriana for your existence. pic.twitter.com/6c75XSkJxu

— Nobody Cares (@NobodyCaresBy) December 10, 2017
miss adriana lima annoucing her retirement from victoria's secret in the coolest way, what a queen pic.twitter.com/bXVOMgBj4v

— xx (@leemcquxxn) December 10, 2017
Miss Adriana Lima is changing the game & acknowledging the everyday body struggles of women as well as calling out the notoriously body inclusive fashion industry!! The president we deserve..

— Me, the queen (@jadorelacouture) December 10, 2017
just because adriana lima has been given so many opportunities because of VS does not mean she can't call out the industry

— blue (@uIIiva) December 10, 2017
Adriana Lima is no longer a VS angel, what do I do, what do we do, how will we go on?

— Madi Beller (@madilynbeller) December 10, 2017
I'm just imagining Victoria's Secret headquarters shaking and crying underneath their desks because they know damn well if Adriana Lima leaves it's game over

— iz (@vuIgaire) December 10, 2017
Without Adriana Lima 2018 is gonna be the year that VS finally dies out rip Victoria's Secret

— C (@balenciagabxtch) December 10, 2017
*doesn't react to anything school or work related

*sees "Adriana Lima might be leaving VS" starts to tear up

— Marvin Velasquez (@MarvinVelascake) December 10, 2017
Adriana Lima is such a good role model for women, her leaving VS is so sad but also such a good thing and again such a good example

— Scarlett Lancaster (@ScarlettL_) December 10, 2017
IF ADRIANA LIMA LEAVES VICTORIA'S SECRET THEY'RE TRULY OVER. NO ALESSANDRA OR ADRIANA? CANCELLED! pic.twitter.com/b2jqfCm8Tn

— what the FUCK is UP kyle (@thatangeI) December 10, 2017
VS is nothing without adriana lima

— mrs. zahir?? (@hobzouis) December 10, 2017
I love Adriana Lima, her whole life has been dedicated towards modeling for VS, it'll be sad to see her go but i understand why she would.

— ? (@diorvogue) December 10, 2017
vs is CANCELLED if adriana lima leaves

— zeerp ⊿ (@wujusuta) December 10, 2017
Adriana Lima left VS and unfollowed almost all of the angels 🙁

— Sheila ♡ (@xShayy_) December 10, 2017
Adriana Lima did THAT ?? pic.twitter.com/DR0gGjEA9S

— half an elf (@sadspringmood) December 10, 2017
Seems like Adriana Lima is leaving VS. Well she is getting older but everyone probably thought she would do it like Alessandra Ambrosio and have one last show after she anounces it. Not just unfollow everyone on instagram

— Jisoo ? Lee Chaerin (@GZBLeeChaerin) December 10, 2017
ADRIANA LIMA IS SO BEAUTIFUL WE DONT DESEVE HER pic.twitter.com/CcPCd8AhR3

— Summer (@summerd326) December 10, 2017