Cleaning your house always seems like a neverending task. No matter what, you feel as though it's going to take up more time than you bargained for. Plus, it seems as though whenever you clean, it just gets dirty in .5 seconds anyway. So, all in all, what's the point? Instead of getting on your hands and knees to scrub for hours on end, there are some brilliant hacks online that make cleaning your house easier than ever.
1. Sweeper slippers, so you can sweep your home whenever you walk to the freezer to get yourself more ice cream.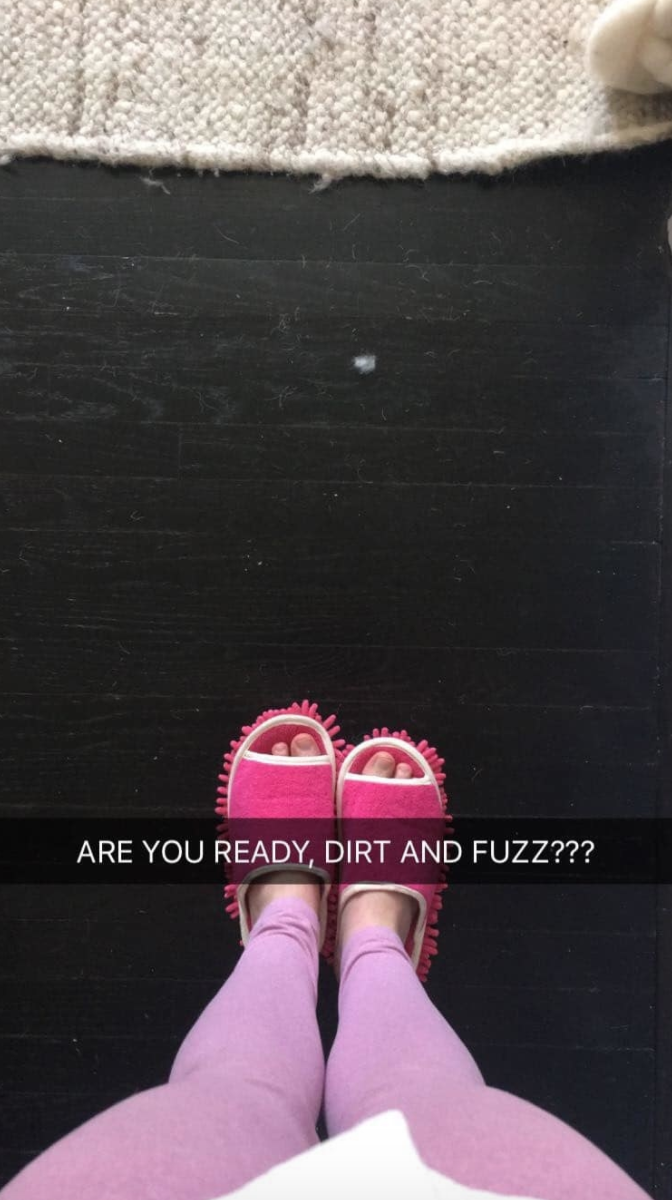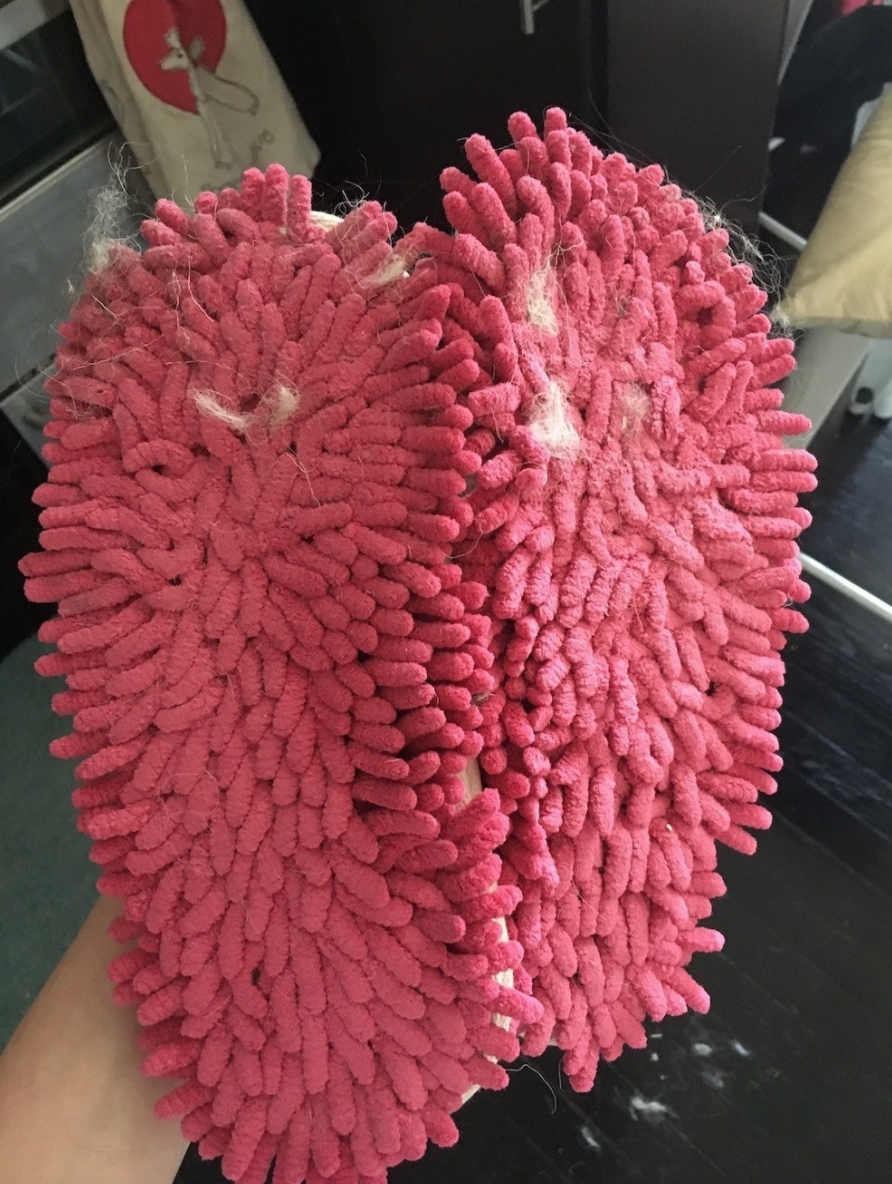 If you have hardwood or tile floors, you have gotta have at least five pairs of these houseshoes. I just toss them into the wash without tearing off the sole to wash separately. Reason: the soles on mine by far outlast the tops of the shoes. They help control dust and animal hair. I like them. // Edited after thought: Pairs of these shoes were handed to out-of-state traveler friends (a fella and his two grown daughters). They sounded so thankful to have these microfiber houseshoes to wear, and they expressed at how cushy they felt.
–Penny
Get them on Amazon for $10.40.
2. If you have pets that shed (or if you shed) you need this easy-to-pick-up-hair broom for your carpets. It traps all the hair, all the time.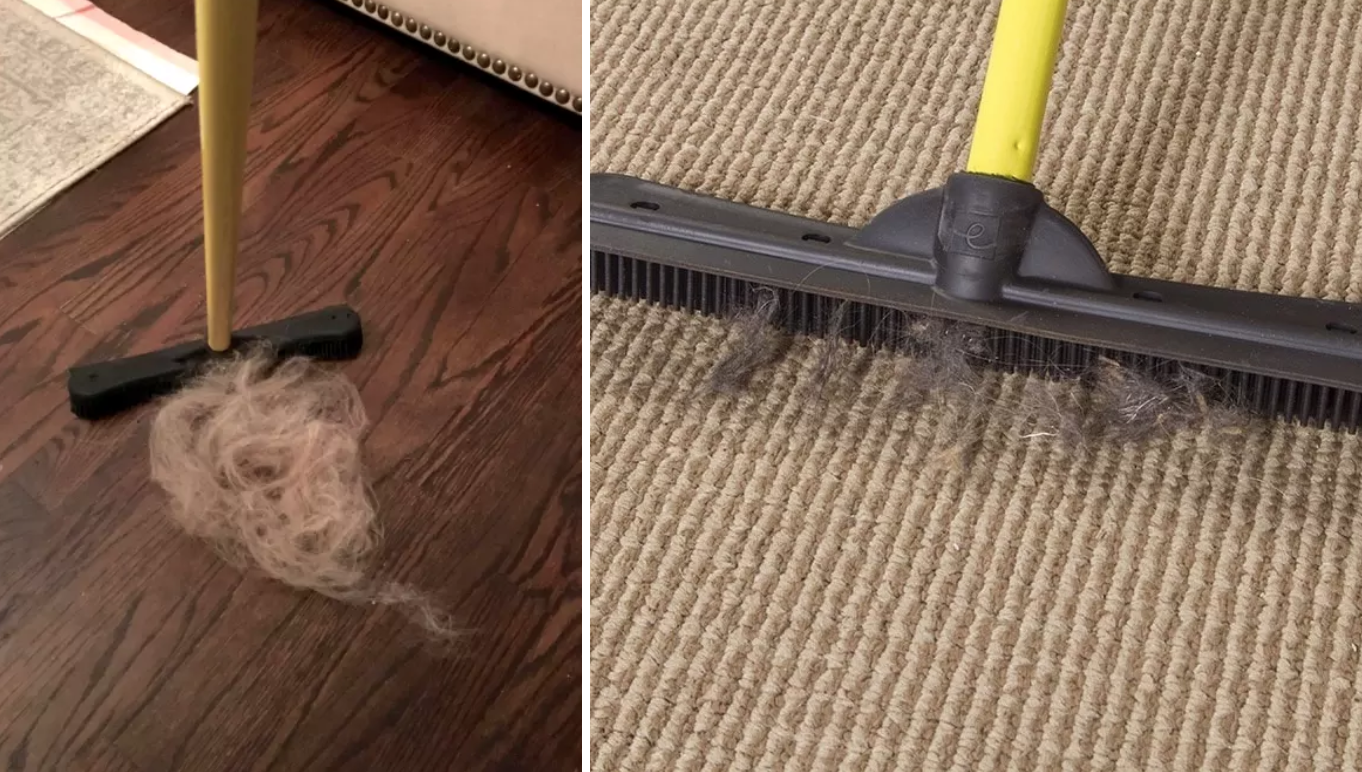 This broom is awesome! I have two large breed dogs (that she'd like crazy) and hard wood floors that have to be swept daily. I don't know how well it would work on carpets, but it does an excellent job sweeping fur, hair, and dirt up. The best part… You don't have to clean the bristles like a regular broom. I just rinsed the broom when I was done and the little dirt that was on the bristles washed away! I hate having to pull dust balls and hair out of normal broom bristles.

Just note: The rubber bristles are not fine enough to clean under moldings (the small gap between the molding and the floor) for those areas, I still use a vacuum.
I'm not sure why this broom has negative reviews.. I read a bunch of them and can not relate to any of the issues people complained about. I'm chalking them up to user error. As John Lydgate said "you can't please all of the people all of the time".
3. If you tie two microfiber rags around a pair of tongs, you can clean those moldy refrigerator shelves that have been smelling like rotten chicken and spilled cold brew.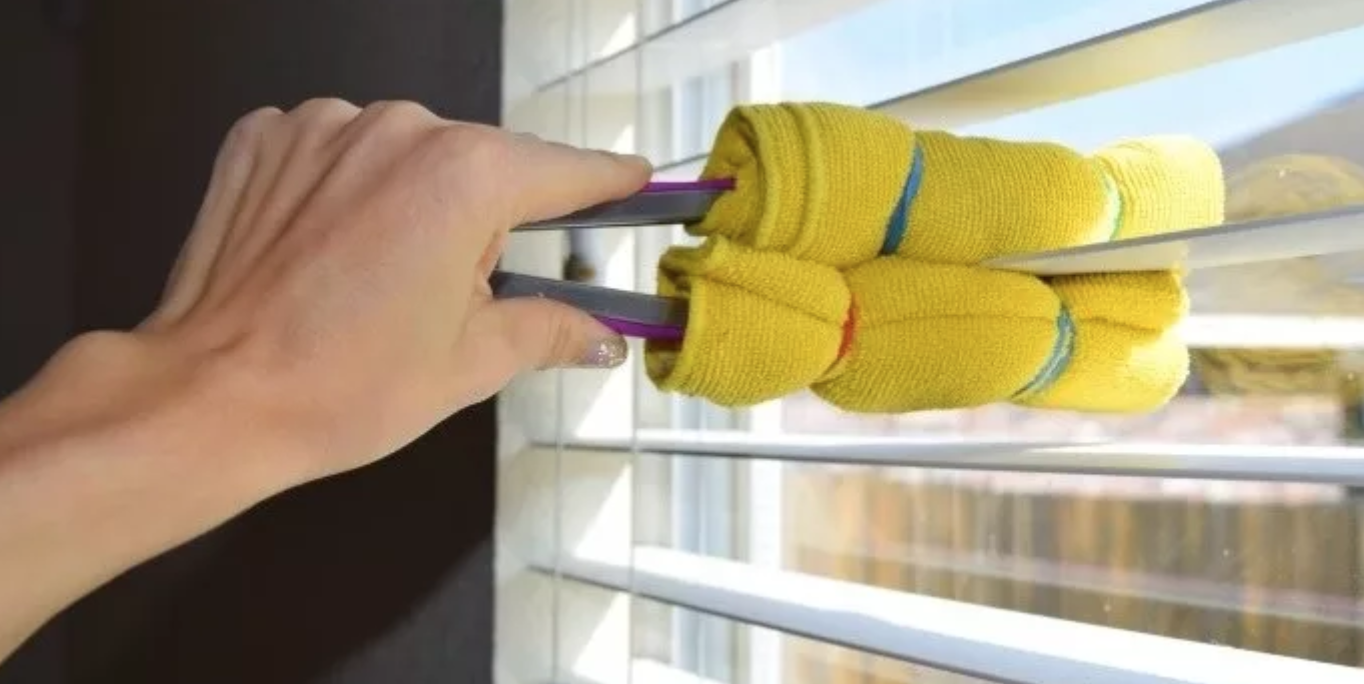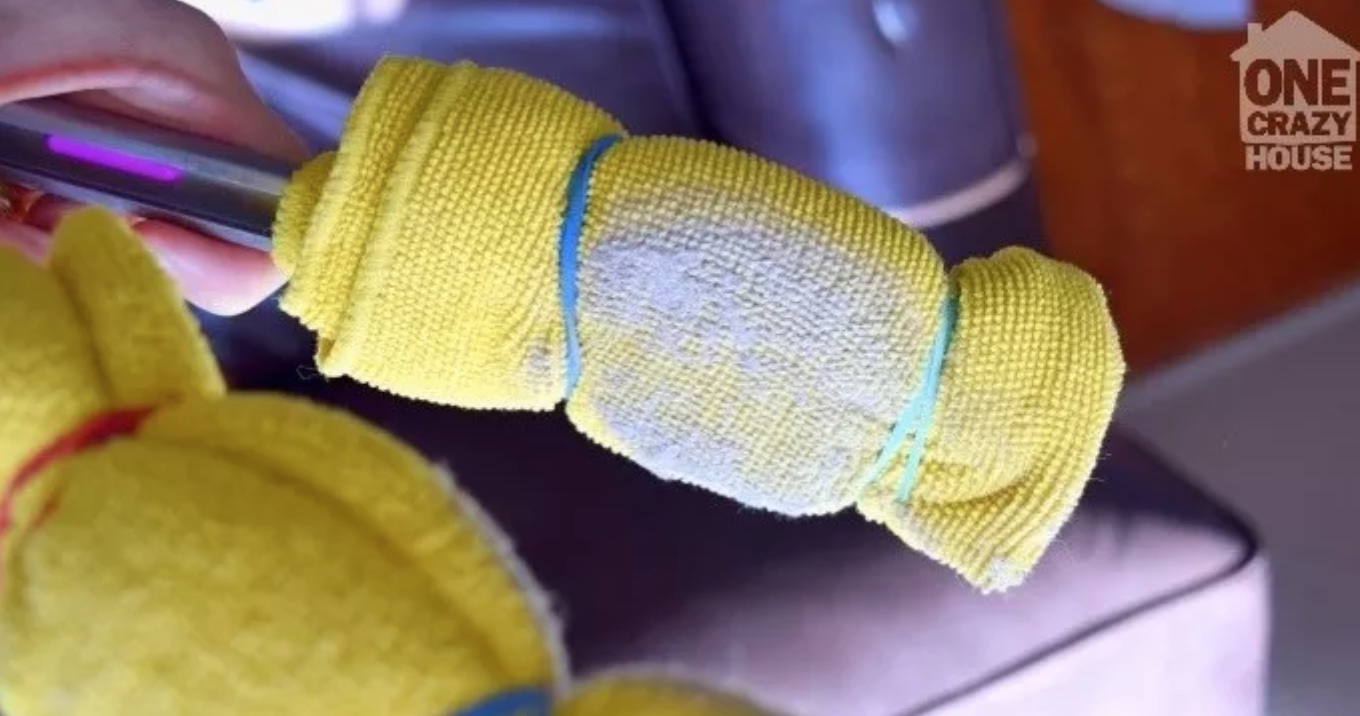 This brilliant idea comes from One Crazy House. You can use any tongs you have in the house, and can easily buy microfiber cloths on Amazon for only $9.99.
4. If you have a ceiling fan, quit tossing dust around your room and use an old pillowcase to clean it.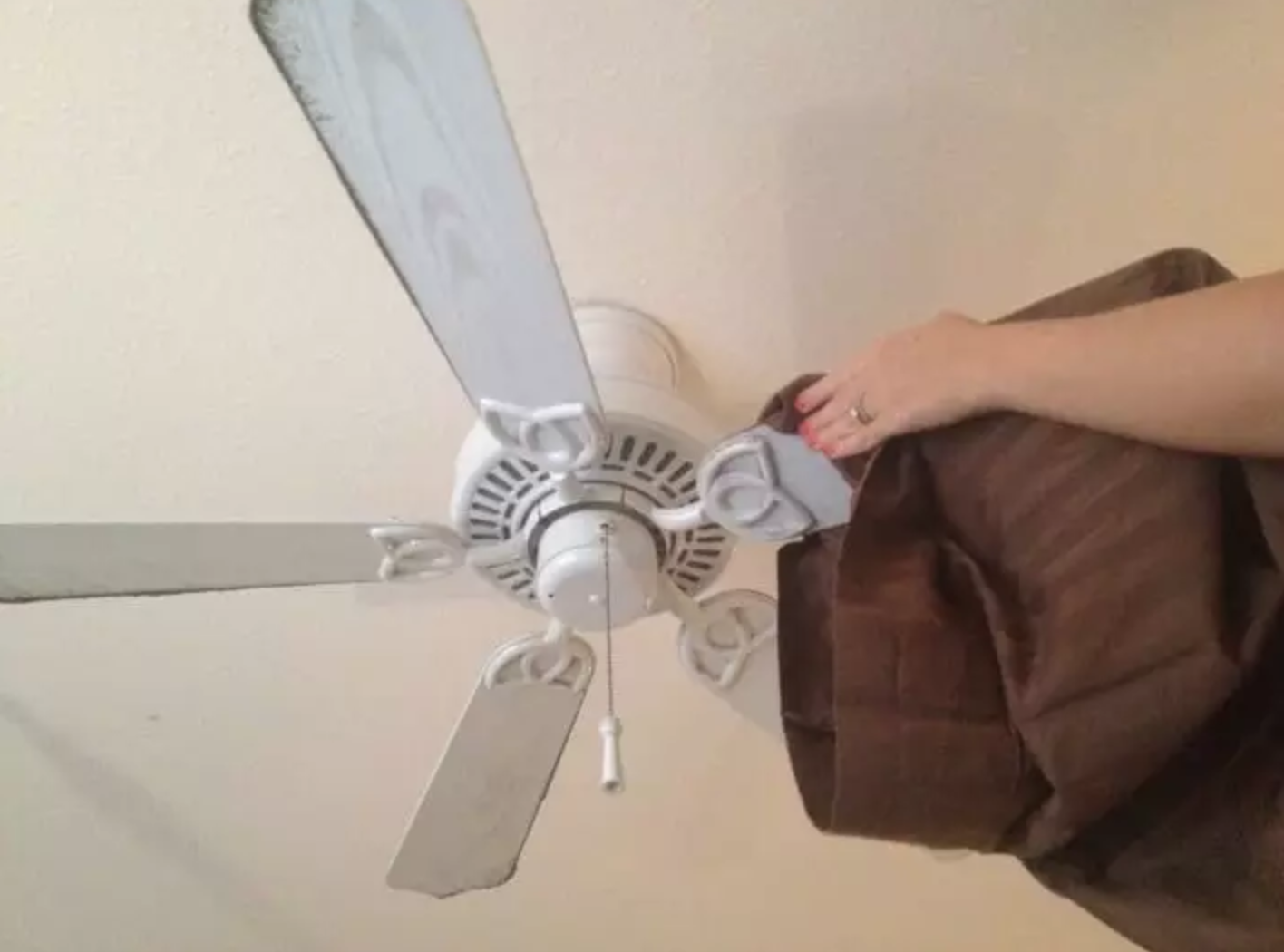 This idea comes from Homemaker Chic. Not only is it way easier than using a duster, but the dust falls right into the pillowcase so you're not sneezing your brains out.
5. Use this spot cleaner to get even the toughest stains out of your carpets without scrubbing like a madman. Just blot it right on.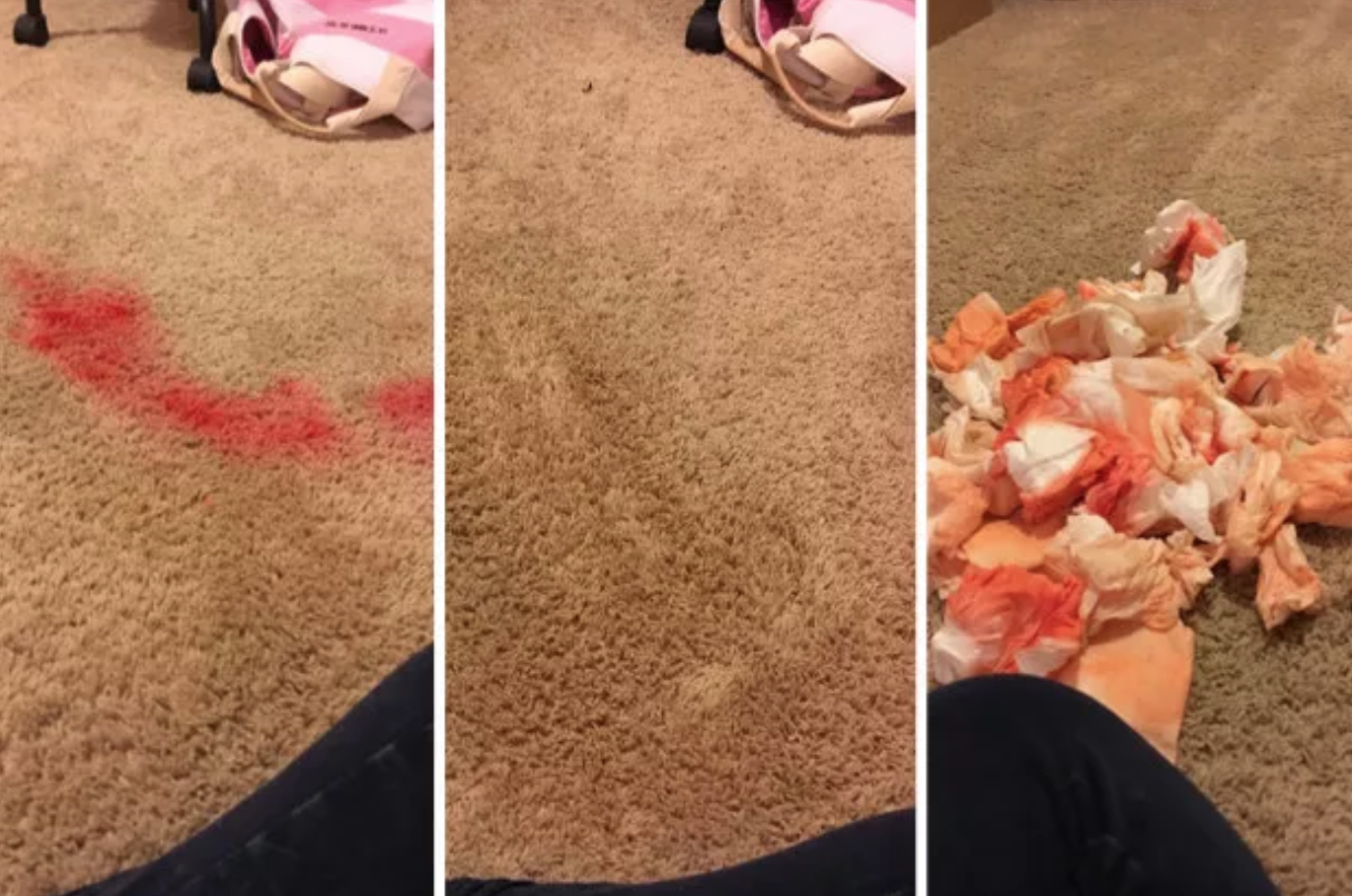 I had terrible rust and oil stains all over the seats of my car when I bought it. I tried other cleaners to get it out, but they actually made the stains darker. I took it to the dealership to see if they could get it out and they flat out told me no, so I gave up and lived with it for almost 5 years. I tried this after it was recommended by a friend. I sprayed it on and literally watched the stain run right off my seat. It was amazing! I thought I was going to have to pay hundreds of dollars to replace the seats in my car because nothing else would work. This stuff really is awesome!
Get a bottle of this easy-to-use cleaner on Amazon for only $10.50.
6. Put vinegar in a zip-lock bag and place it over your showerhead for 1-2 hours to get all that rusty, dusty mold-ish stuff off.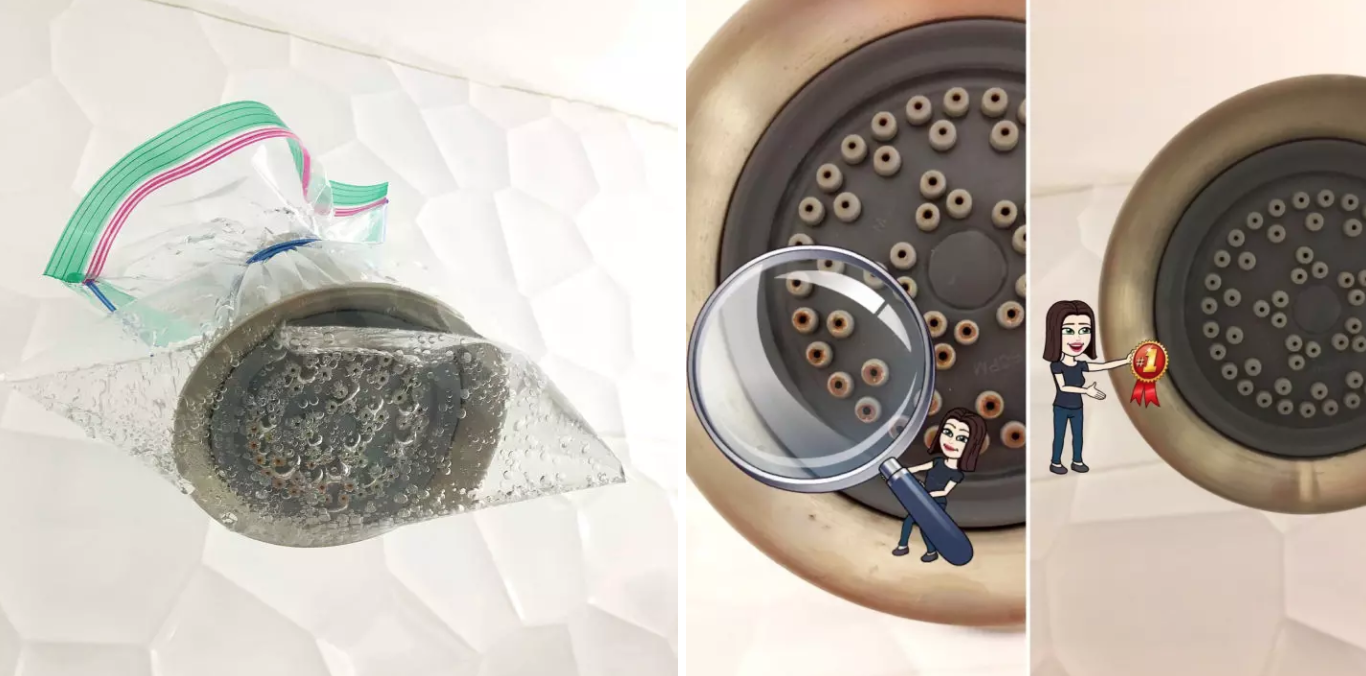 7. Get into the cracks of your tiles or bathroom floor/shower with an automatic scrubbing brush, which takes the time and effort out of cleaning.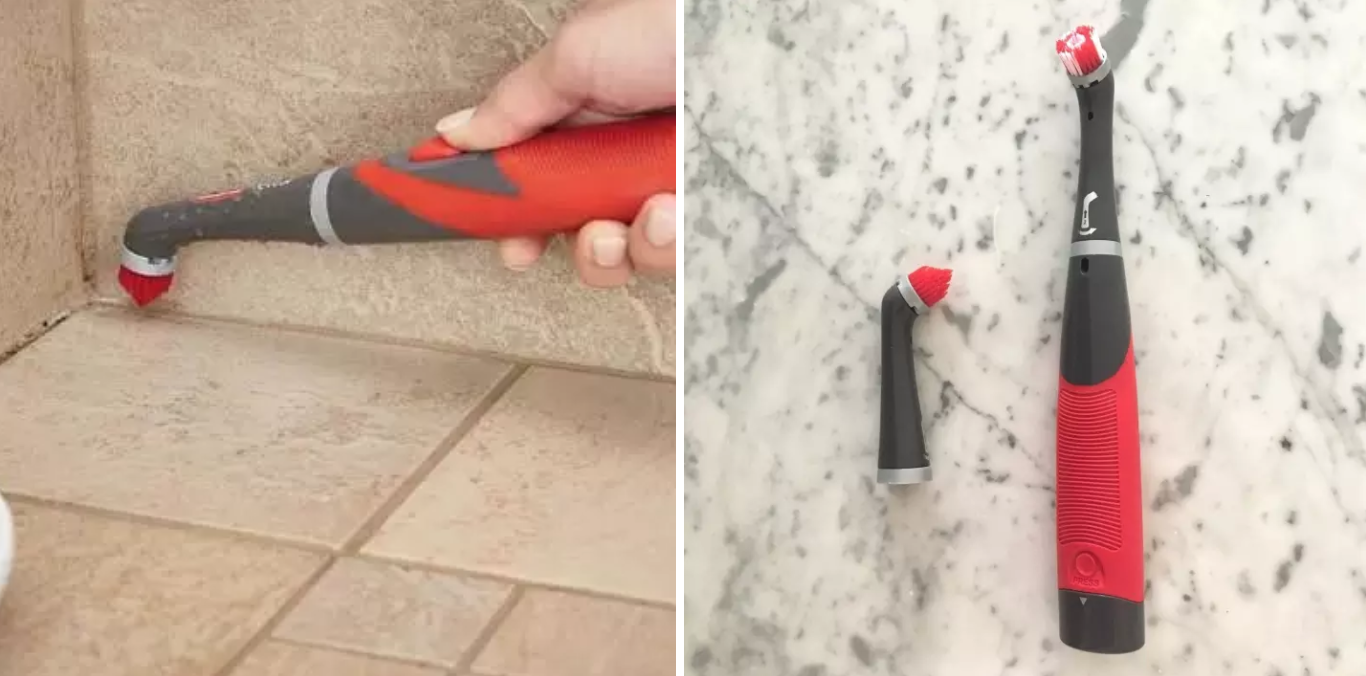 Ok, I feel stupid writing this, but I hope it encourages you to buy this….
I just spent 2 hours scrubbing the ceramic tile floor in my 2nd bathroom. This is a room where my elderly, incontinent cat lives so… use your imagination. I leave pee pads and towels down, but she still does her thing. I clean her room consistently, and every few months I do a heavy duty scrubbing by soaking the floor and grout in Nature's Miracle and start scrubbing. It takes hours because I can't get the corners well, and the grout is such a pain to clean.

Well, this product is amazing. I used this for the grout lines, and I used the corner attachment for… corners. It was amazing. It got gunk and grime off the grout that has been there for years (I haven't resealed this floor since it will have to be taken out when the cat dies). I even used these to scrub the cabinet doors, around the toilet, etc. and they were really, really great. you have to put the right amount of pressure on the brush, but once you do- it's *wonderful.*
See how stupid I feel, writing such a glowing review for this? I swear I wasn't endorsed, I wish they would pay me to test products after this! Between my Rubbermaid Reveal power Scrubber and Nature's Miracle my bathroom is cleaner than it has been in years, and in less time than it's ever taken me to deep clean it.
Get it on Amazon for only $13.54.
8. Use your dishwashing wand for floors by putting vinegar in it to scrub your tiles/stone shower.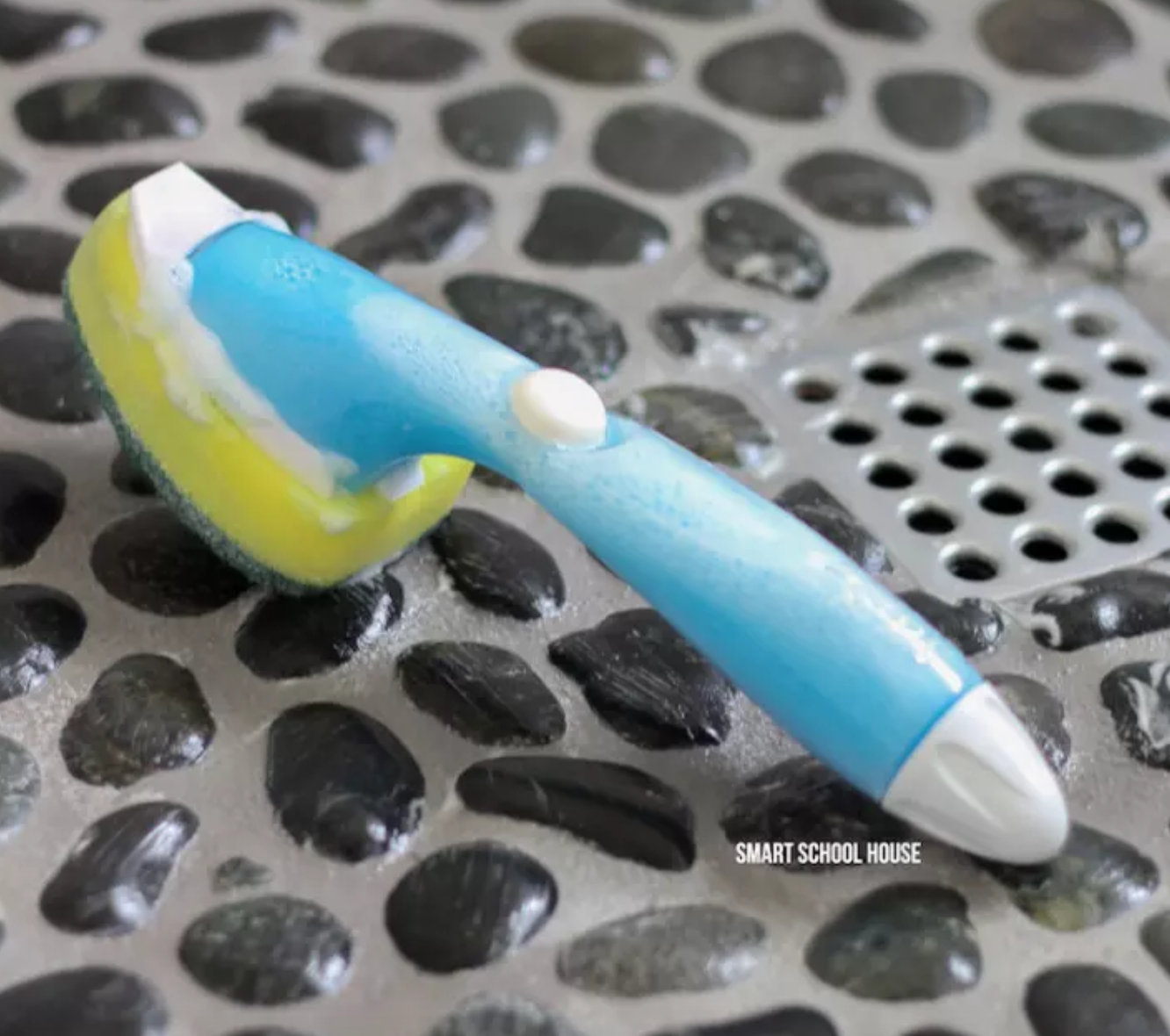 You can also use it for the glass doors to get them perfectly clean, according to  Smart School House. You can grab one of these on Amazon for only $9.38.
9. For those nasty, disgusting toilet rings, use a pumice stone to get the colors and stains out way easier and quicker (because who wants to spend time scrubbing a toilet, anyway?)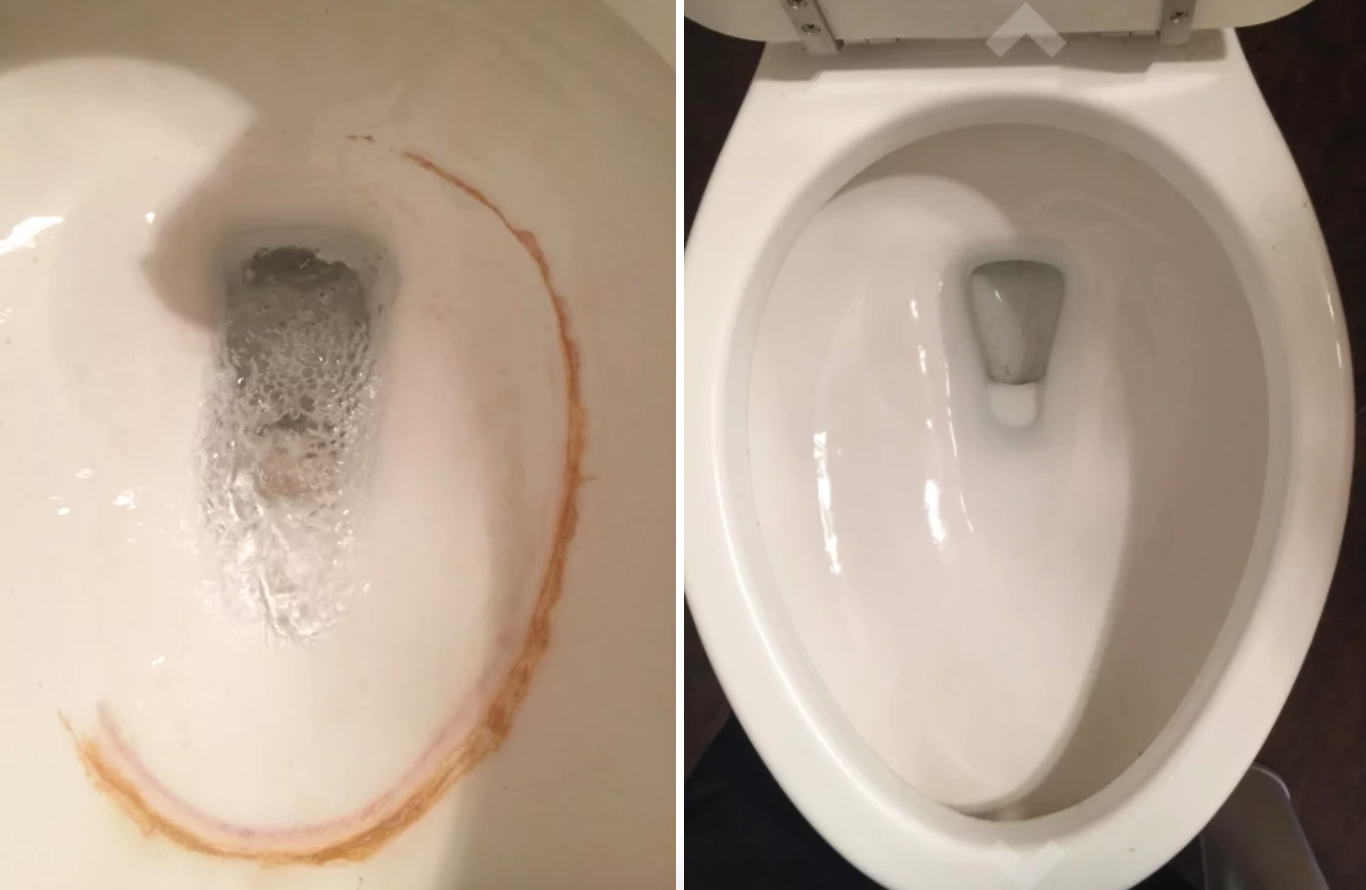 The house I recently moved into had a hard water line in the toilet and it was no big deal for the first couple of months. I never really paid much attention to it. That is, until my mom said she would be coming over for a visit. Suddenly, the hard water line in the toilet was glaring at me, making me feel like a disgusting human being living in filth. I had to get rid of it. A kitchen sponge and a dish cloth were both ruined in my attempts. Finally, after countless hours of research and many sleepless nights, I had my answer: The Pumie. As soon as it arrived I was on my hands and knees scrubbin' that bowl. After it was done I was stood over my toilet with the same posture as a successful climber reaching the summit of Mt. Everest. I had defeated the hard water line with The Pumie. The satisfaction I had by accomplishing this otherwise mundane task made me realize I had truly entered adulthood. But, I did not stop there. Hard water marks around the bathroom sink drain? Gone. Hard water lines around the kitchen faucet? GTFO. The Pumie is truly a marvel to behold and I will be eternally grateful for it's help in vanquishing the hard water lines that would have made my mother disown me.
10. After you clean your toilet rings, use these incredible toilet refreshers that help to prevent the ring from ever coming back again.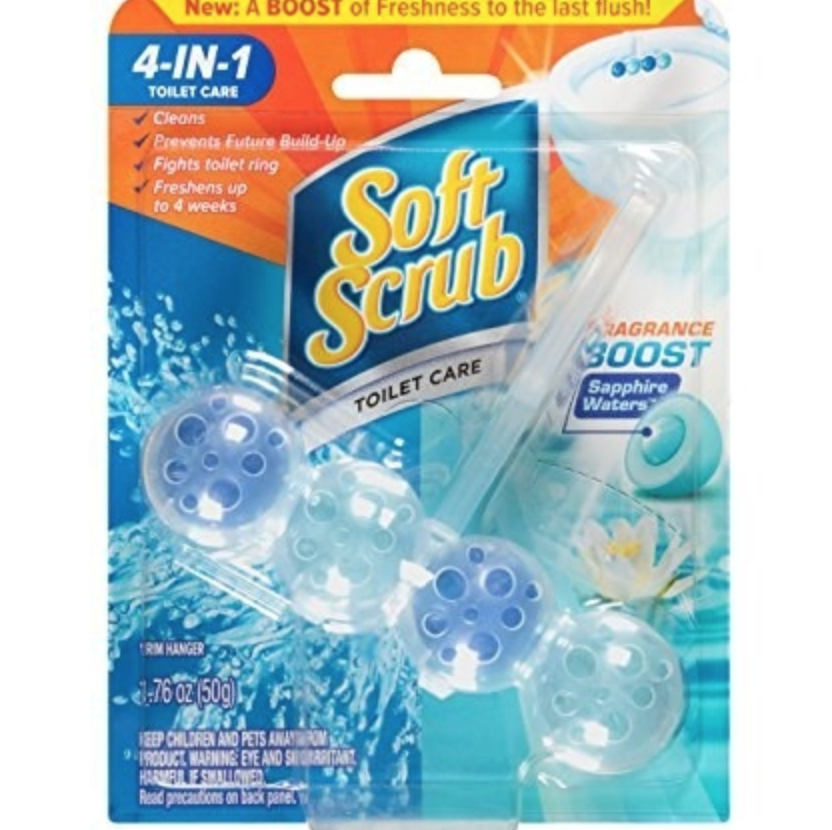 These are the best in-bowl cleaners that I have found after trying many others. They keep the toilet bowl fresh especially on the toilets that are less frequently used in my house. I have found them to last a month or more. My father, a plumber, warned me years ago never to use those cleaners which you drop in the tank because the strong chemicals will eventually corrode the plumbing fixtures. Yes, I took his advice after some unwanted repairs.
Grab them on Amazon for only $1.98. 
11. If you have a stainless steel fridge, Pledge will not only clean it but also polish it at the same damn time.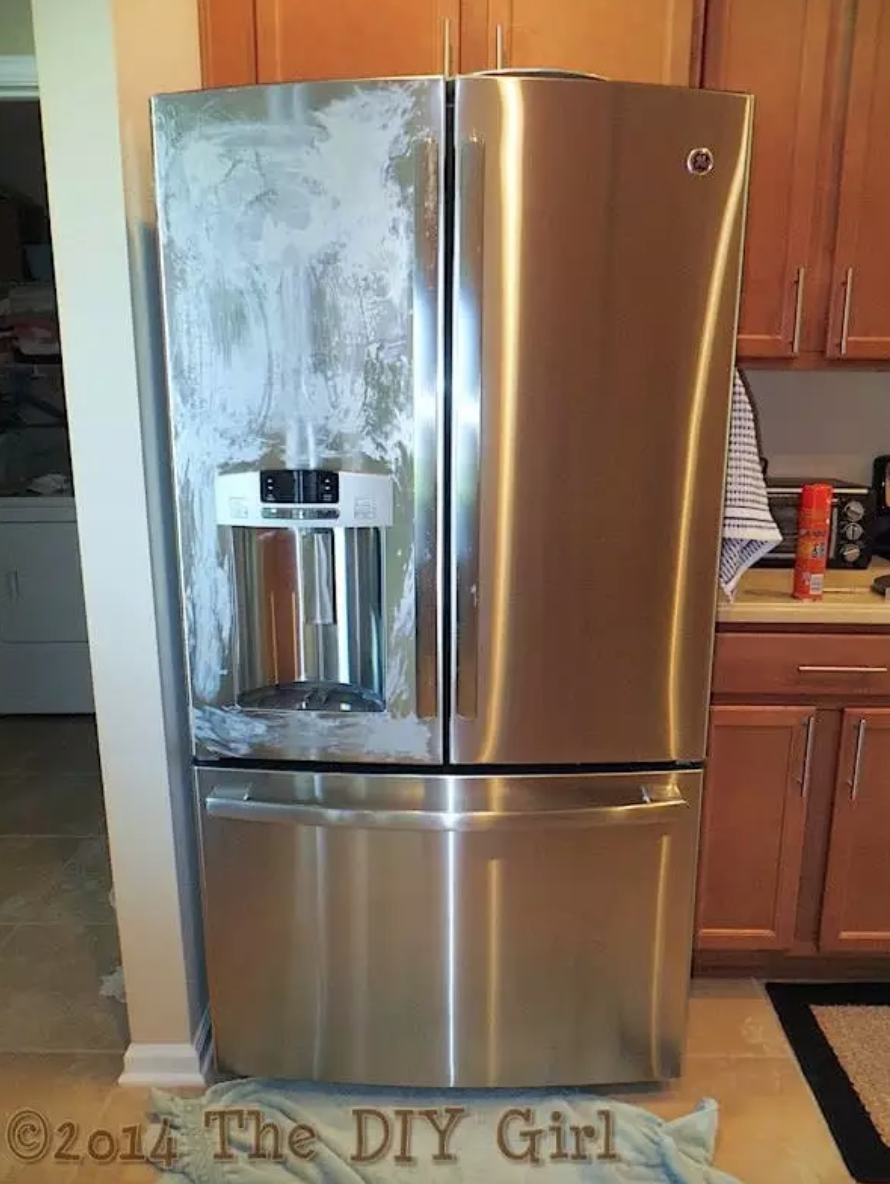 The DIY Girl, just spray the Pledge right onto the fridge and buff it off with a dry cloth. Grab a bottle of pledge on Amazon for only $4.19. 
12. Clean your stove top in only 5 minutes by using some dish soap (like dawn) and hydrogen peroxide. Use a dish soap brush to scrub it off.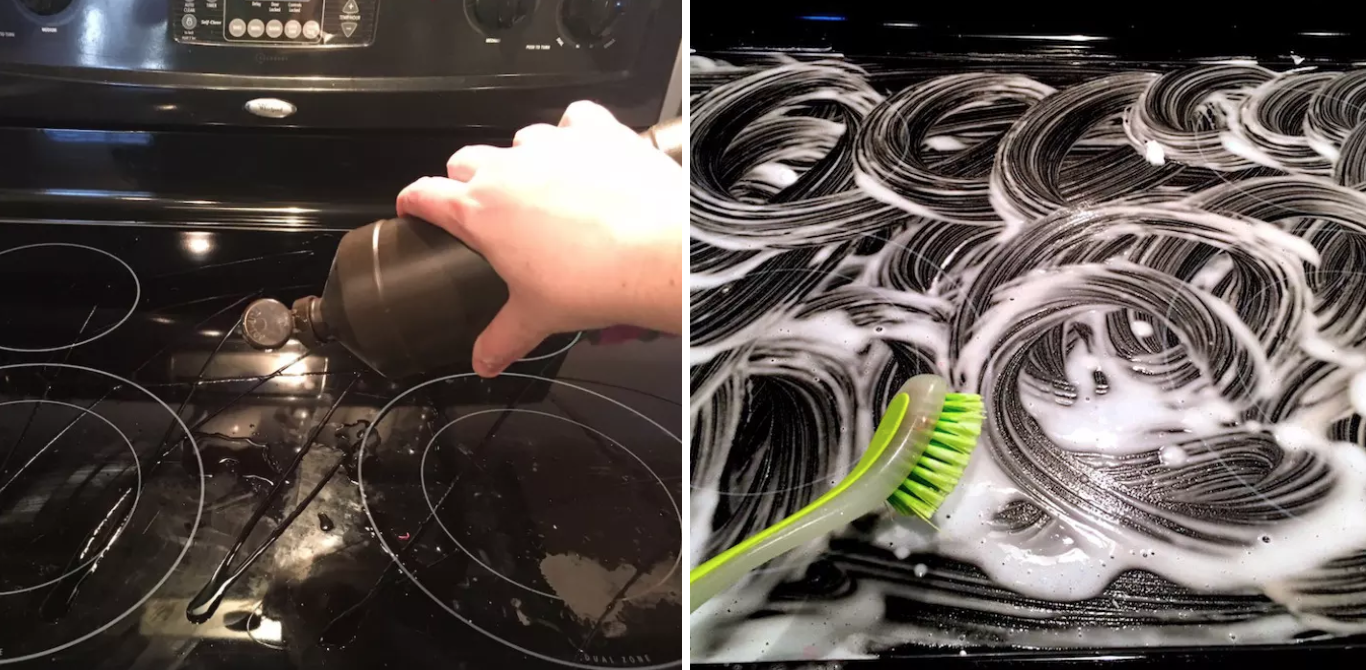 Hack from My Thirty Spot.
13. Clean any white sink easily and have it sparkling again by using baking soda and hydrogen peroxide.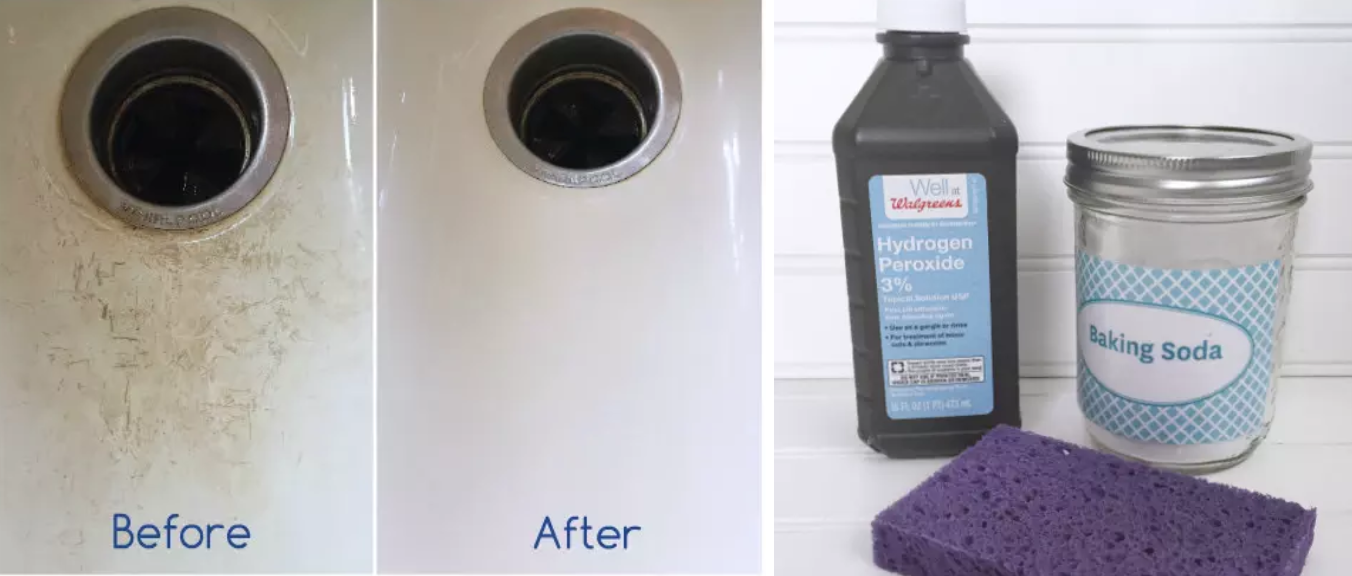 Hack from Lemons, Lavender, and Laundry.
14. Clean every inch of your keyboards by using this double sided brush.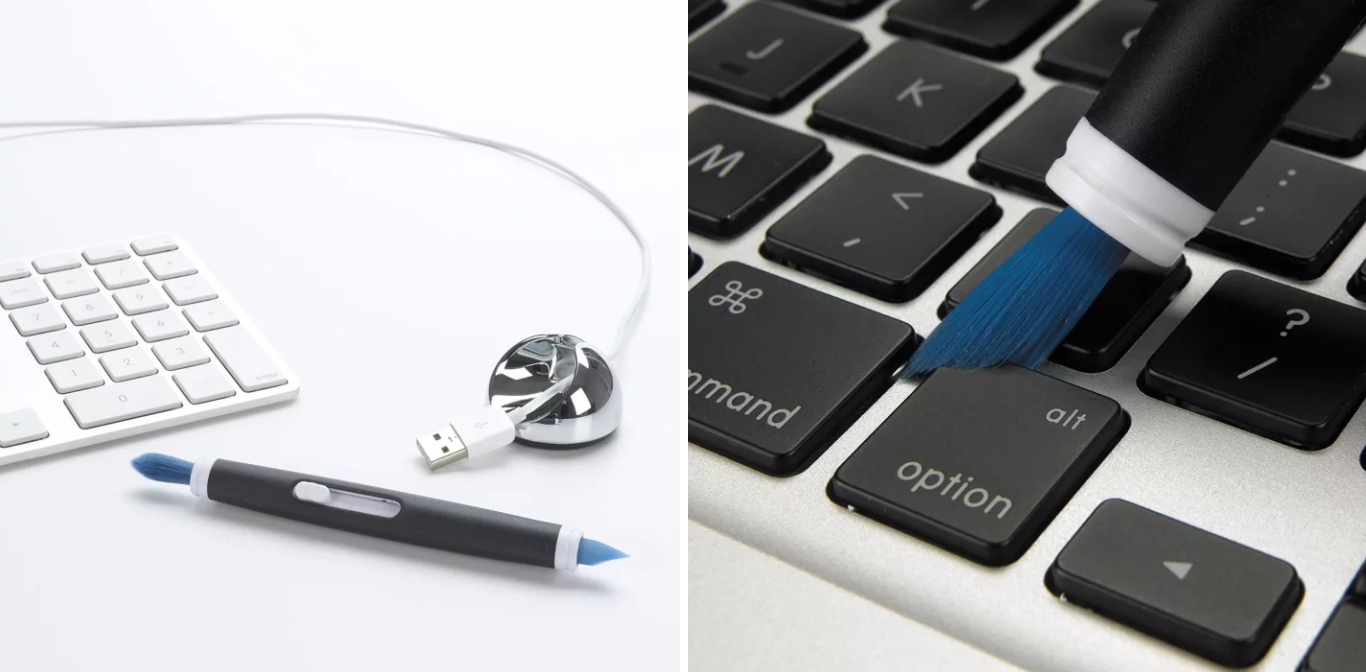 My laptop hasn't been so clean since I bought it! Much better than compressed air cleaning. Using the rubbery end, you can even clean off the finger-tracker; and using the little brush, you get out all those annoying little crumbs and pieces of stuff that both impede your keyboard performance and make it look dirty. I wish I would have taken before and after pictures—the difference is astonishing! I was skeptical, but this little tool is worth the price.
15. Use a lint roller on any lampshades that have a bunch of built-up hair and dust on them.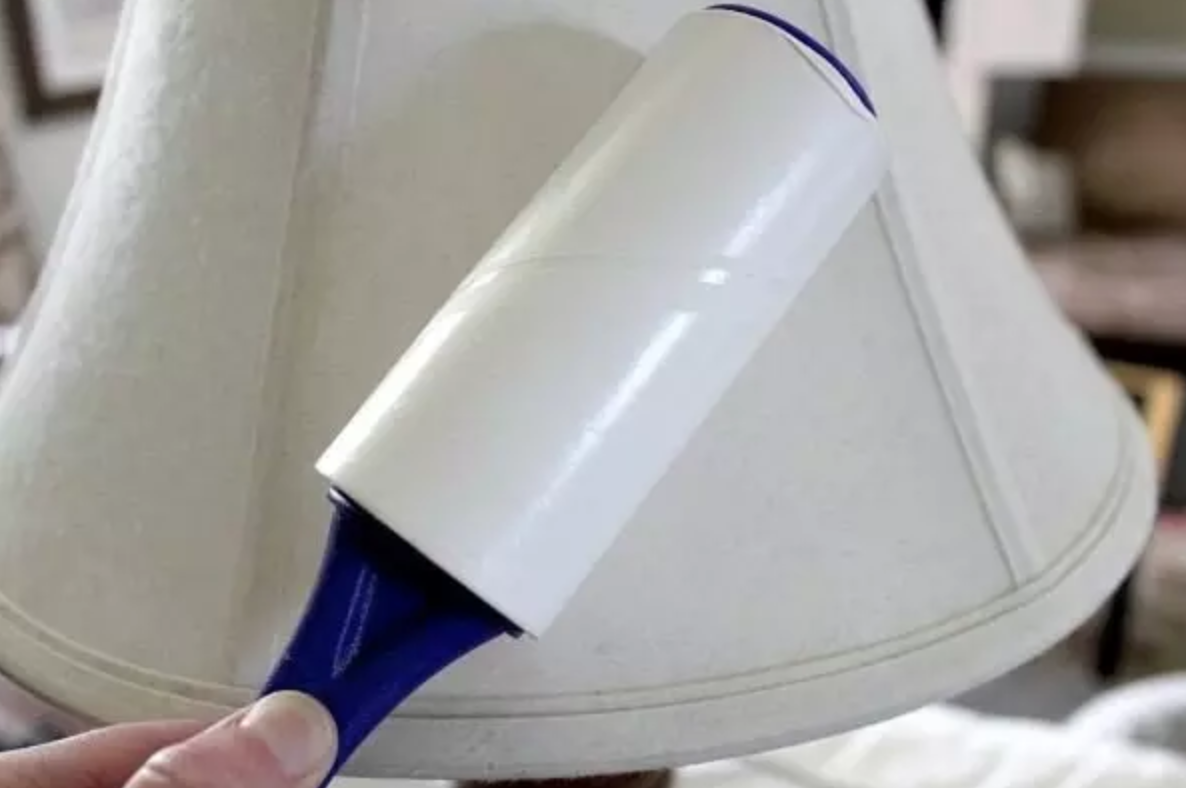 Hack from Creekline House.
16. Also, use a lint roller on any screens to capture all that pollen and dust.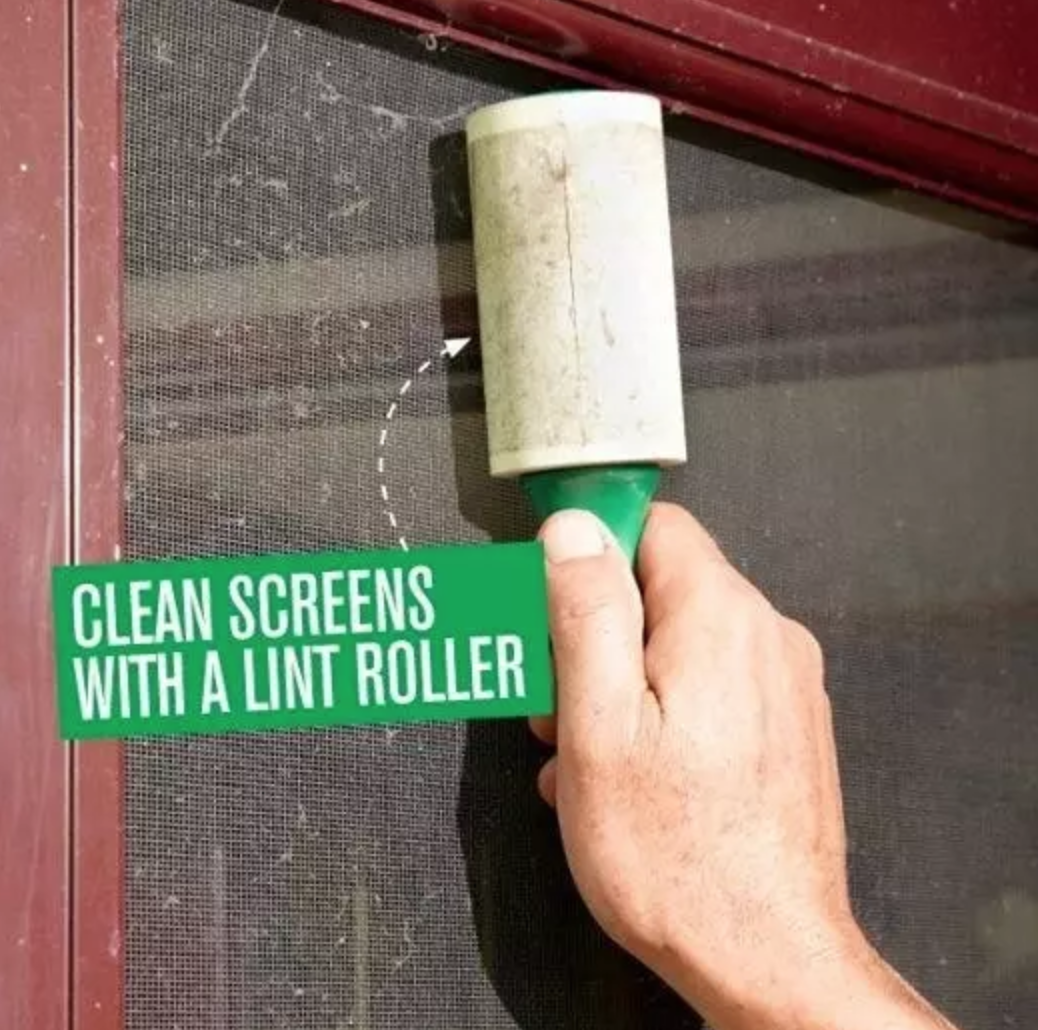 Hack from Handyman Magazine.
17. Mix baking powder and a flowery-smelling essential oil to spread all over your mattress. The scent will get soaked into it, and when you're done, just vacuum it right up.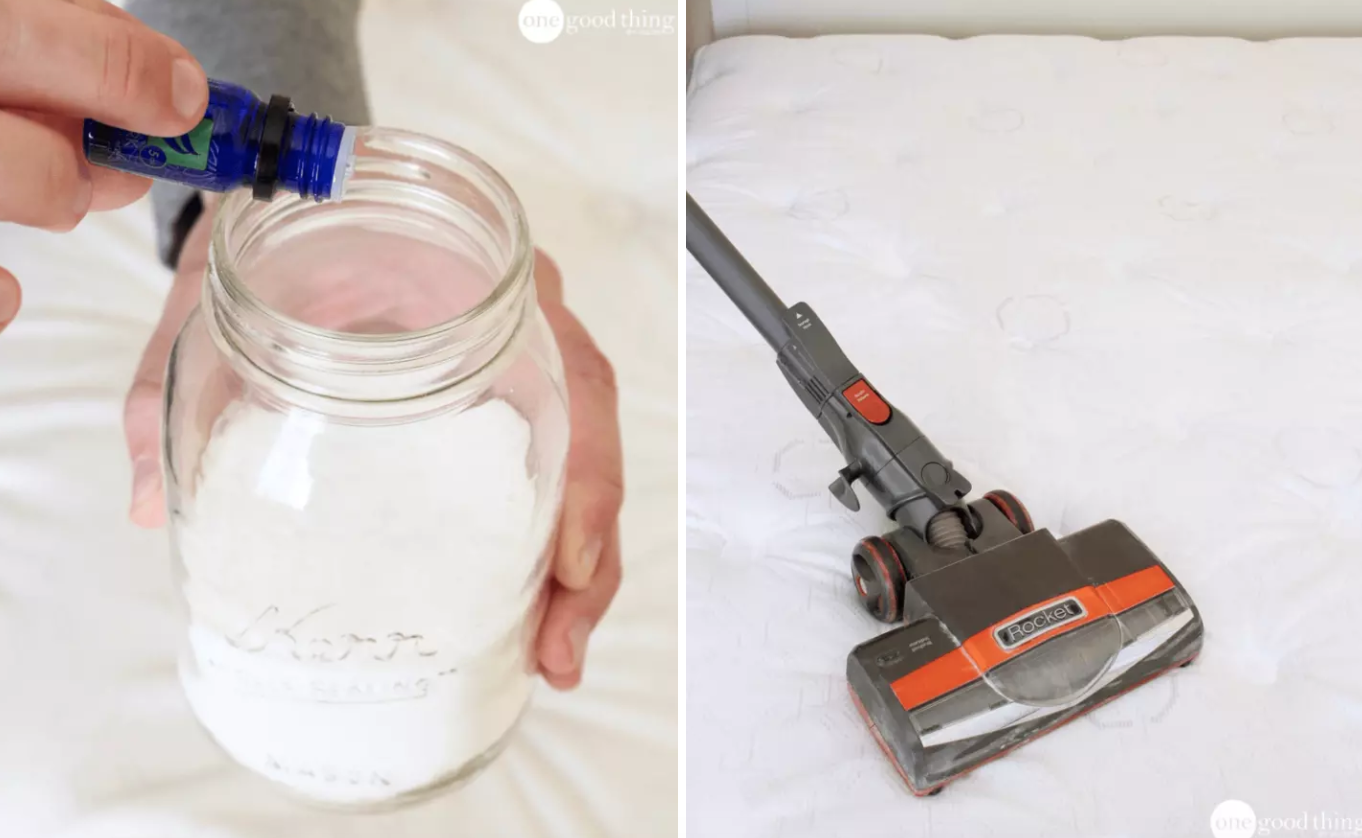 Hack from One Good Thing by Jillee.
18. Put your pillows in the washing machine while you let the baking soda sit in your bed so they smell brand new.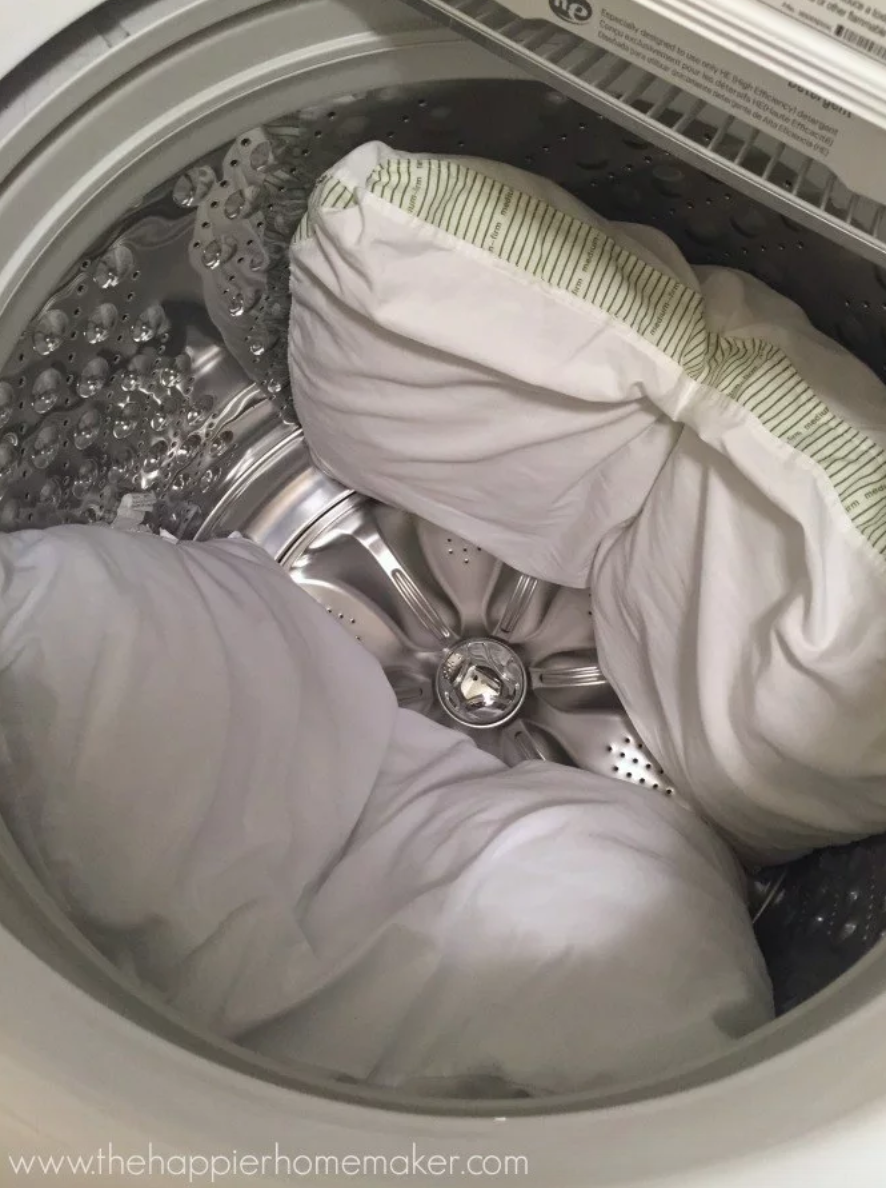 Hack from the Happier Homemaker.
19. Get rust stains out of your dishwasher by running a cycle of Kool-Aid.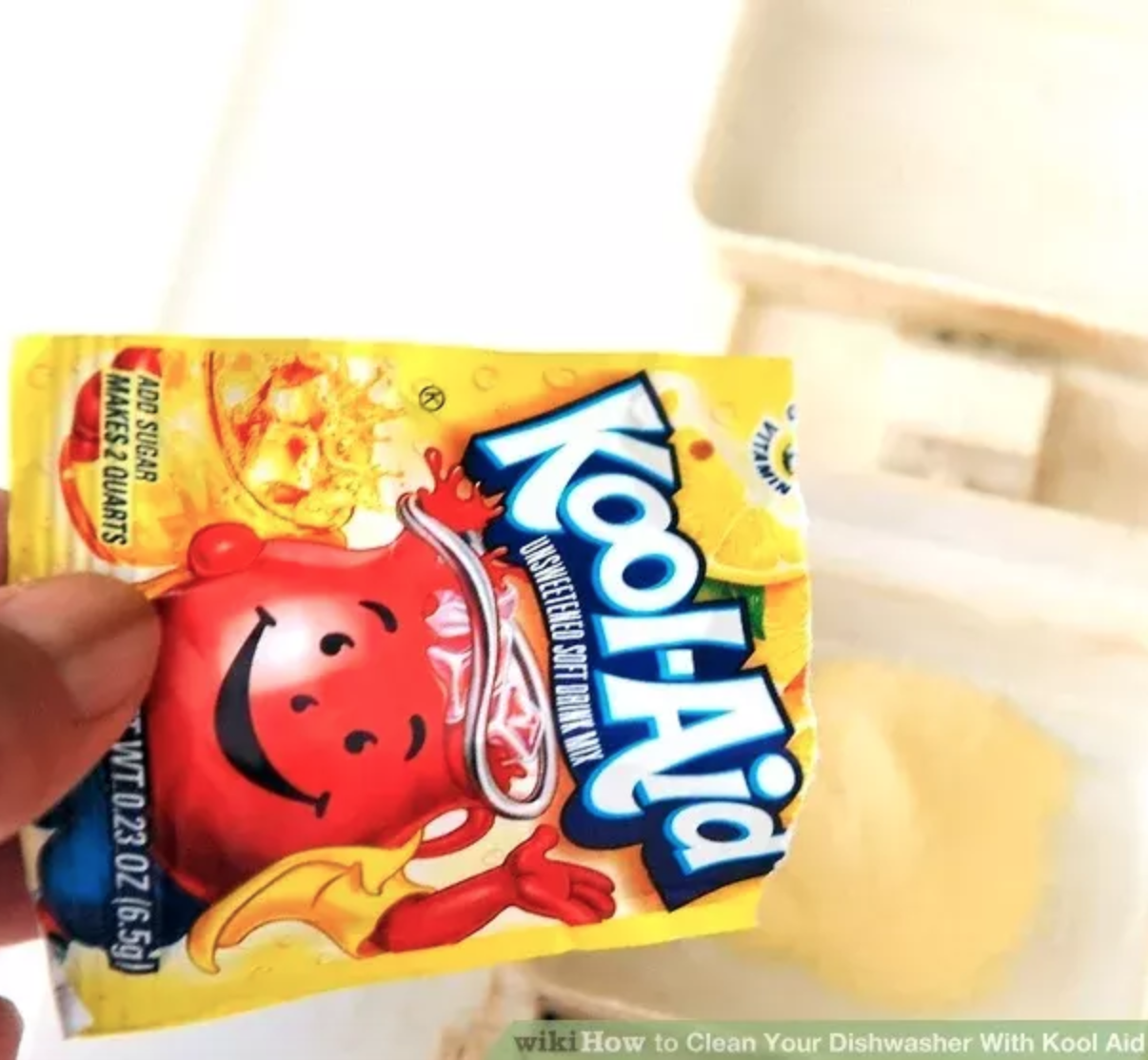 Hack from Wikihow.
20. Get weird scents out of your washing machine (like that horrible wet-dog smell) by running on an empty cycle with vinegar.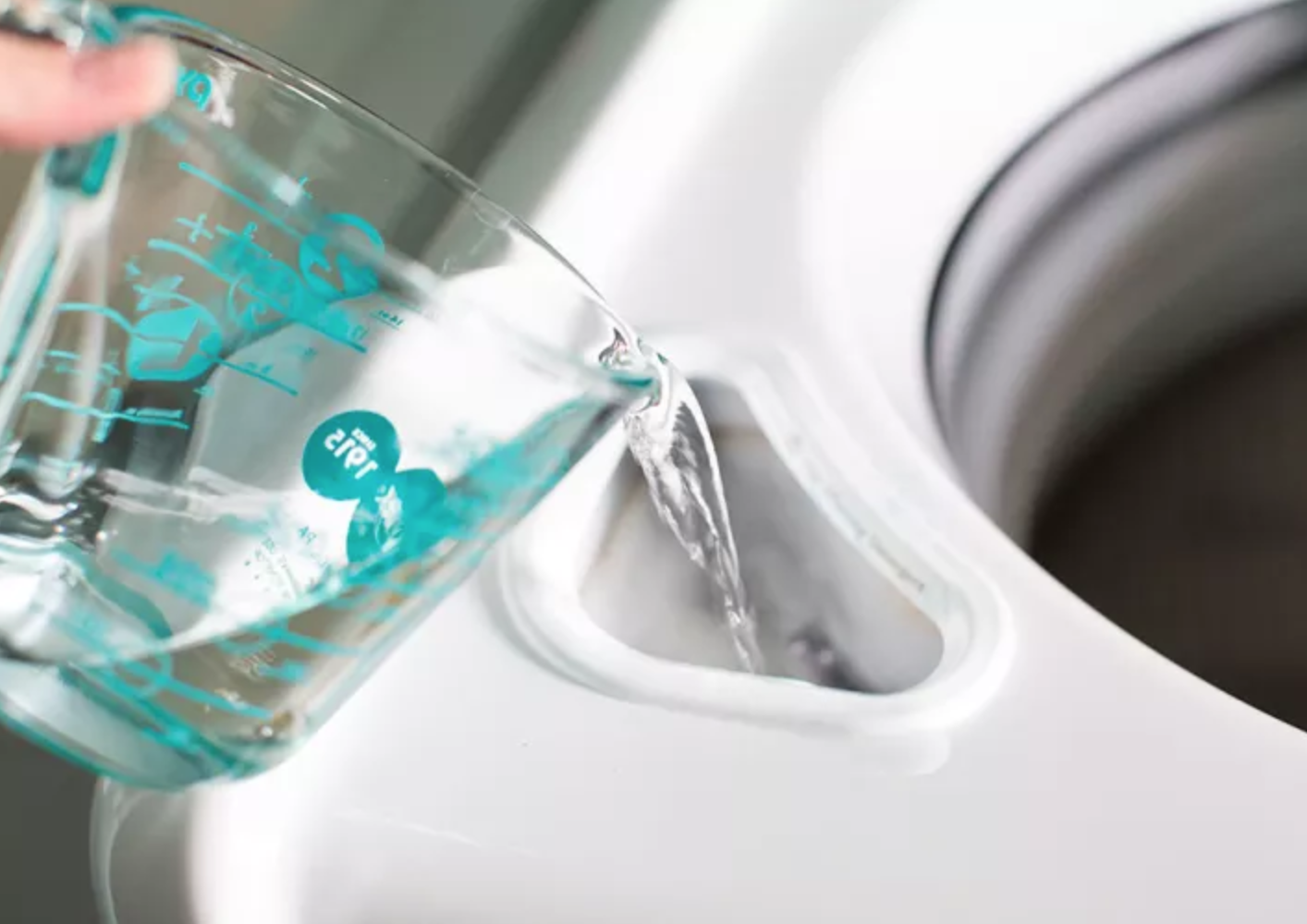 Hack from I Heart Naptime.
21. Clean your vacuum filters in the dishwasher to save time and get a better clean.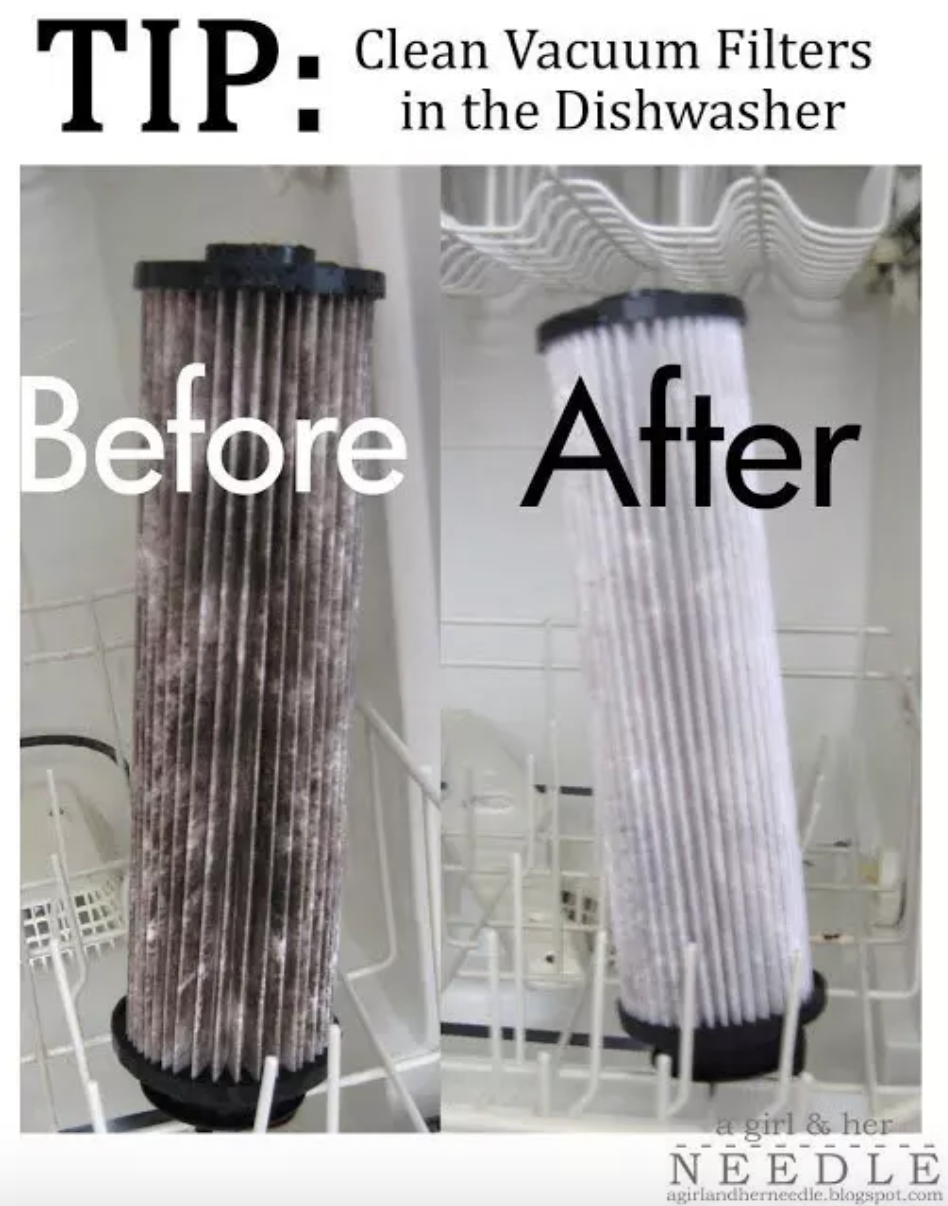 Hack from A Girl and Her Needle.
22. Also, clean your vent covers, filters, and anything else that's easily removable in the dishwasher so you can let it run and do something better with your time while it's cleaning.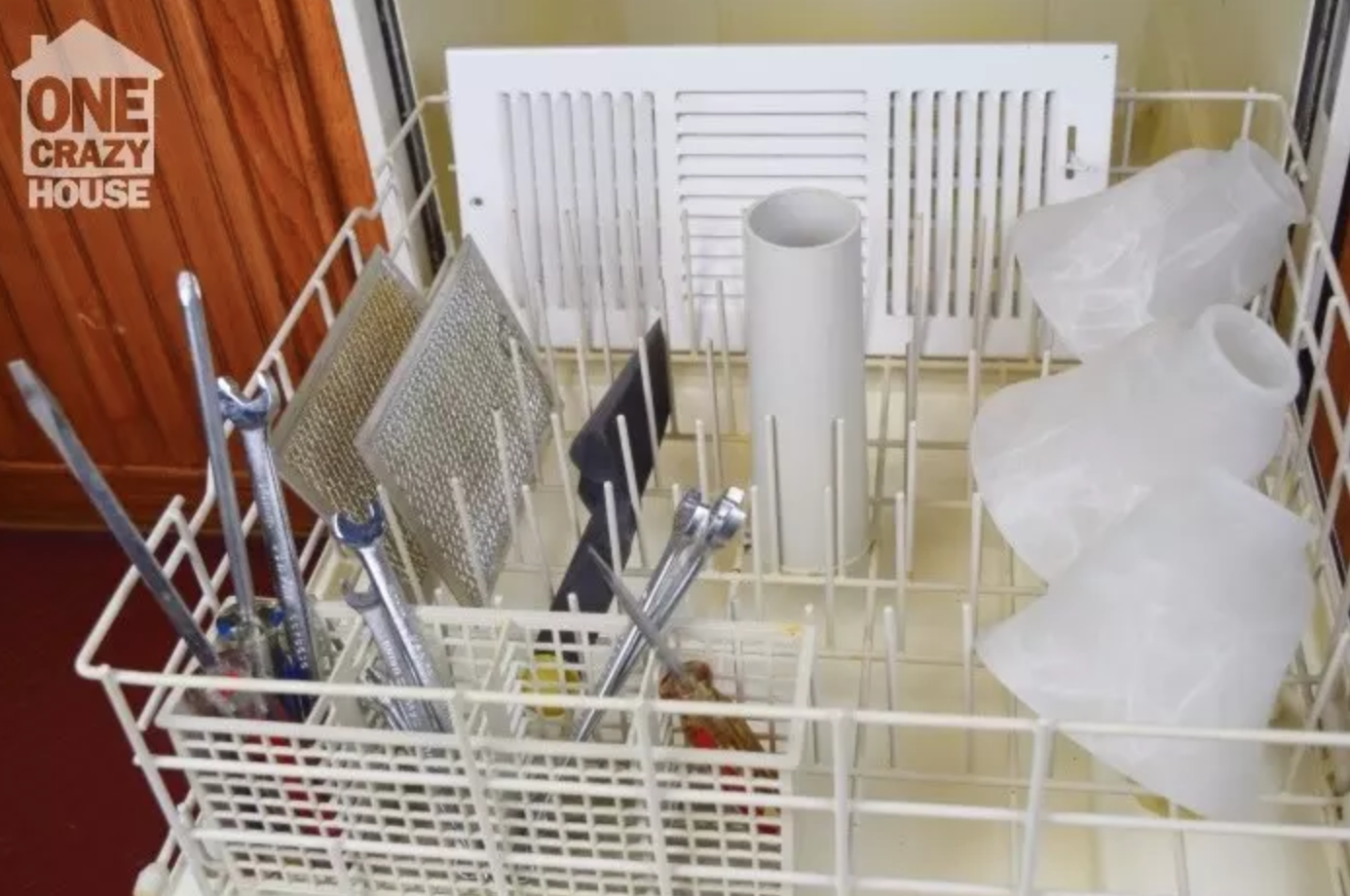 Hack from One Crazy House.