It's almost that time of the year, folks. The time we stuff our face and feel terrible afterward because we ate way too much. Yep, you know what I am talking about – Thanksgiving. What comes to mind when you think of Thanksgiving? Food, duh. The oh so yummy and delicious turkey, mashed potatoes, pumpkin pie – you name it. The good stuff. But there are ways to not feel as guilty if you decide to make healthier dishes for Turkey Day. Now I am not saying you have to have your whole Thanksgiving dinner be healthy but maybe have a recipe or two to make that are healthier so you don't feel as bad for stuffing your face. Here are 10 Great Recipes you can make this Thanksgiving.
1. Pumpkin Cheddar Muffins:
If you like Pumpkin, Cheese, and Muffins then this recipe you will love. And hey pumpkins should be cheap right now since its that time of the year.
Makes 12 Muffins per batch.
Ingredients:
1 c. canned pumpkin puree
3 TBS sour cream
2 eggs
1 stick butter, melted, then cooled slightly
2 c. flour
1 tsp black pepper
1 1/2 tsp baking powder
1/4 tsp cayenne
1/2 c. brown sugar
5 oz. extra sharp or raw milk cheddar cheese, grated
Directions:
Preheat the oven to 375°F.  Line muffin tin with paper muffin liners and set aside.
Mix together pumpkin and sour cream until evenly combined.  Whisk in eggs and butter until mixture is smooth, and set aside.
Whisk together flour, pepper, baking powder and cayenne until evenly combined.  Whisk in brown sugar, then pour wet ingredients into dry and stir to combine.  Batter will be fairly thick, not runny.
Stir in 3/4 of the grated cheese.
Spoon batter into muffin cups, filling to the top.  Sprinkle each muffin with some of the remaining cheese.  Bake for 17-20 minutes, until golden-brown on top and a toothpick inserted into the middle comes out clean of any batter (it may have melty cheese on it, but you don't want still wet batter).  Let cool for 5 minutes, then remove from pan. Serve warm!
2. Herb Roasted Turkey Breast: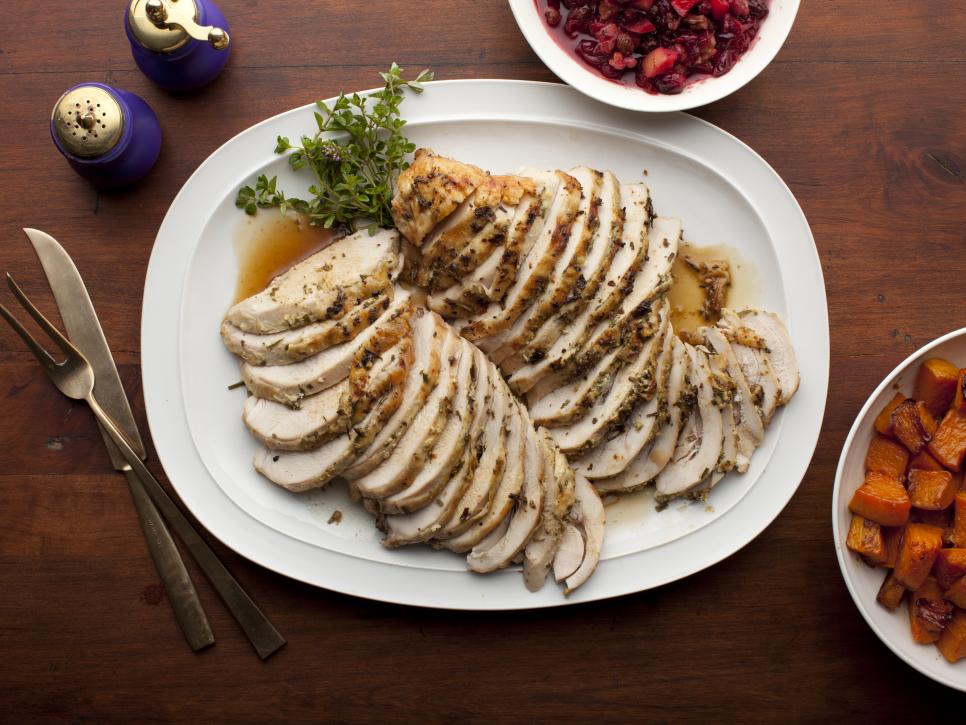 If you love turkey and need a healthier version then here you go!
Yields: 6 Servings
Prep Time: 25 Minutes
Cook Time: 2 Hours
Ingredients:
1 tablespoon minced garlic (3 cloves)
2 teaspoons dry mustard
1 tablespoon chopped fresh rosemary leaves
1 tablespoon chopped fresh sage leaves
1 teaspoon chopped fresh thyme leaves
2 teaspoons kosher salt
1 teaspoon freshly ground black pepper
2 tablespoons good olive oil
2 tablespoons freshly squeezed lemon juice
1 cup dry white wine
Directions:
Preheat the oven to 325 degrees F. Place the turkey breast, skin side up, on a rack in a roasting pan.
In a small bowl, combine the garlic, mustard, herbs, salt, pepper, olive oil, and lemon juice to make a paste. Loosen the skin from the meat gently with your fingers and smear half of the paste directly on the meat. Spread the remaining paste evenly on the skin. Pour the wine into the bottom of the roasting pan.
Roast the turkey for 1 3/4 to 2 hours, until the skin is golden brown and an instant-read thermometer registers 165 degrees F when inserted into the thickest and meatiest areas of the breast. (I test in several places.) If the skin is over-browning, cover the breast loosely with aluminum foil. When the turkey is done, cover with foil and allow it to rest at room temperature for 15 minutes. Slice and serve with the pan juices spooned over the turkey.
3. Herb and Apple Stuffing: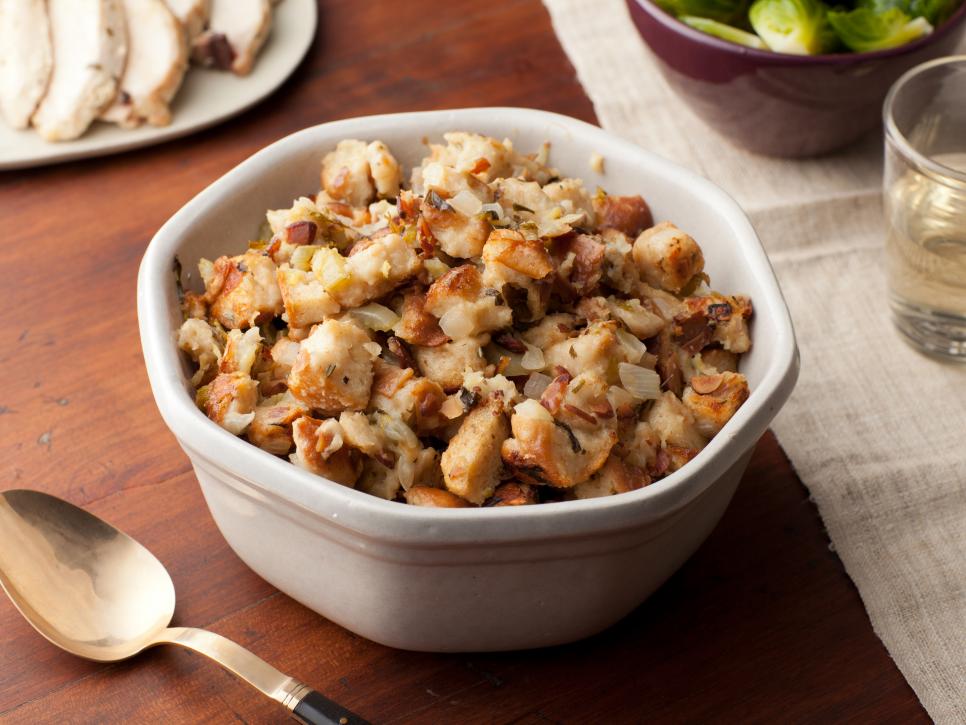 Some people are stuffing fans, so if you are looking for a healthy alternative or just a different flavor instead of your basic turkey or chicken stuffing then this recipe is a must.
Prep Time: 20 Minutes
Cook Time: 2 Hours 30 Minutes
Ingredients:
16 cups 1-inch bread cubes, white or whole wheat (2 baguettes)
4 tablespoons unsalted butter (1/2 stick)
2 cups medium-diced yellow onion (2 large)
2 cups medium-diced celery (3 large stalks)
2 Granny Smith apples, unpeeled, cored and large diced
2 tablespoons chopped flat-leaf parsley
1 1/2 teaspoons minced fresh rosemary leaves
2 teaspoons kosher salt
1/2 teaspoon freshly ground black pepper
1 cup chicken stock
1/2 cup sliced blanched almonds, toasted, optional
Directions:
Preheat oven to 300 degrees F.
Put the bread cubes on a 13 by 18 by 1-inch baking sheet and bake them in the oven for 7 minutes.
In a large saute pan, melt the butter and add the onion, celery, apples, parsley, rosemary, salt, and pepper. Saute for 10 minutes, until the mixture is soft.
Combine the bread cubes and cooked vegetables in a large bowl and add the chicken stock, and almonds, if desired.
Place the stuffing into the main cavity of the turkey and into the neck of the bird. I cook a 12-pound turkey for 2 1/2 hours at 350 degrees F in a preheated oven. Make sure the stuffing in the cavity is secured by wrapping the legs tightly with string.