7. Pan Roasted Sweet Potatoes with Dried Cherries & Pecans: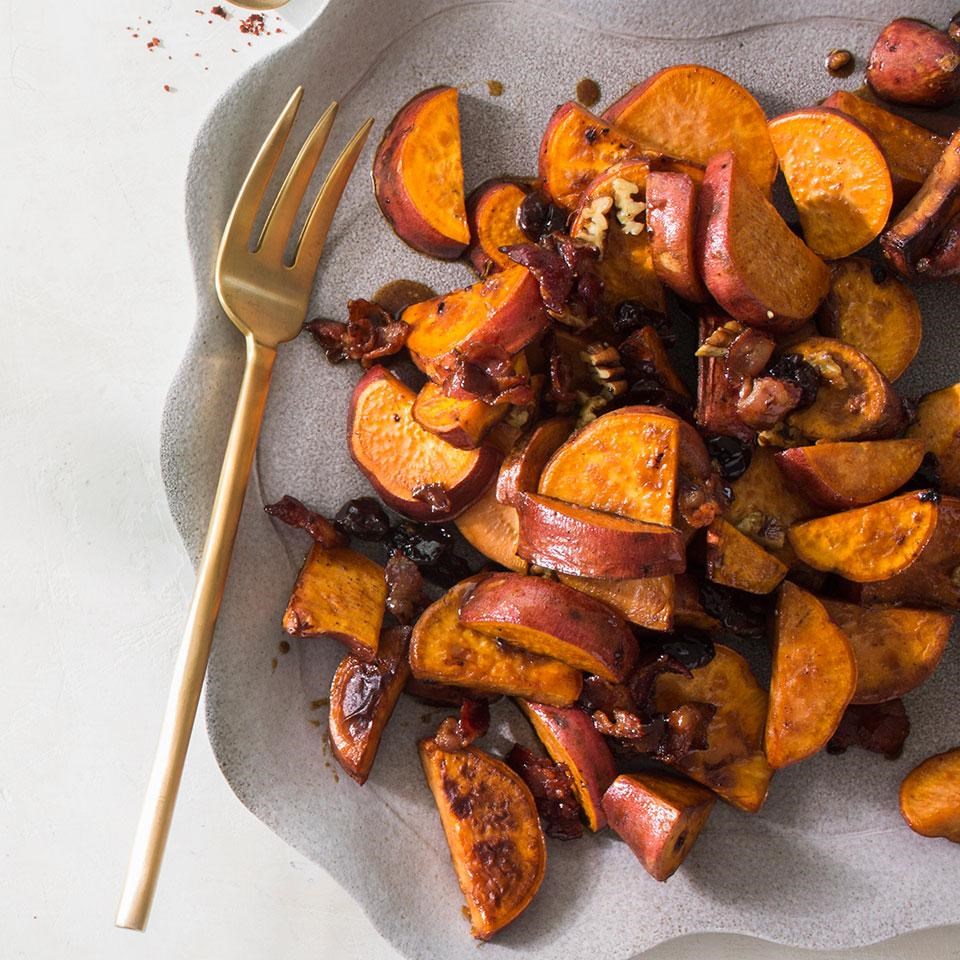 Yields: 8 Servings
Ingredients:
2 pounds small sweet potatoes, peeled if desired
3 tablespoons extra-virgin olive oil, divided
2 tablespoons butter, divided
1 tablespoon honey
2 teaspoons reduced-sodium tamari
½ teaspoon Aleppo pepper (see Tip)
½ teaspoon ground turmeric
¼ teaspoon kosher salt
Freshly ground pepper to taste
2 slices bacon, chopped
2 tablespoons dried sour cherries
2 tablespoons coarsely chopped pecans or walnuts
Directions:
Halve sweet potatoes lengthwise, then cut crosswise into ½-inch-thick slices. Heat 1 tablespoon each oil and butter in a large skillet over medium-high heat. Add half the sweet potatoes and cook, turning once, until starting to brown in spots, 2 to 4 minutes total. Reduce heat to medium-low and cook, turning frequently, until tender, 3 to 5 minutes more. Transfer to a large bowl; cover to keep warm. Repeat with 1 tablespoon oil and the remaining butter and sweet potatoes. Transfer to the bowl and keep covered.
Meanwhile, combine honey, tamari, Aleppo pepper, turmeric, salt and pepper in a small bowl.
Add the remaining 1 tablespoon oil and bacon to the pan and cook over medium-low heat, stirring often, until the bacon is crispy, 6 to 8 minutes. Add the honey mixture and simmer, stirring, for 30 seconds. Remove from heat.
Return the sweet potatoes to the pan along with cherries and nuts; toss to coat. Serve warm or at room temperature.
Tips: Named for the Syrian town, crushed dried Aleppo pepper has a moderate heat with a hint of fruity tang. Use it as you would other crushed chile peppers. 
8. "Skinny" Mashed Potatoes:
We all love our mashed potatoes during Thanksgiving, here is a great recipe if you want a little healthier version.
Ingredients:
2 pounds Yukon gold potatoes
¼ cup chicken broth
¼ cup whipped cream cheese with chives
¼ teaspoon salt + more to taste
pepper to taste
Fresh herbs for garnish (parsley, chives, thyme)
Directions:
Wash and cut potatoes into large chunks
Place in slow cooker and fill with water to cover
Cover and cook on high for 2-4 hours or low for 4-8 (depends on how large you cut potatoes, smaller will cook faster)
Carefully drain potatoes into a colander and return to crock
Add broth, whipped cream cheese, salt, and pepper
Using handheld mixer mix on medium-high speed until whipped to desired consistency
Adjust seasoning if desired, garnish with herbs and serve
Cooked these on high in my 3.5-quart slow cooker for 3 hours.
9. Green Salad with Apples, Cranberries, and Pepitas:
This recipe is delicious, especially if you love apples and cranberries!
Ingredients:
Green salad
5 ounces (about 5 cups) spring greens salad blend
1 large Granny Smith apple
⅓ cup dried cranberries
¼ cup pepitas (green pumpkin seeds)
2 ounces chilled goat cheese, crumbled (or about ⅓ cup crumbled goat cheese)
Apple Cider Vinaigrette
¼ cup olive oil
1 ½ tablespoons apple cider vinegar
1 ½ teaspoons honey
1 teaspoon Dijon mustard
Salt and freshly ground black pepper, to taste
Directions:
1. Toast the pepitas: In a medium-sized skillet, toast the pepitas over medium heat, stirring frequently, until they are turning golden on the edges and making little-popping noises. Transfer the pepitas to a small bowl to cool.
2. Make the dressing: In a cup or jar, whisk together the olive oil, vinegar, honey, and mustard until emulsified. Season to taste with salt and black pepper.
3. Just before serving, chop the apple into thin, bite-sized pieces. Place your greens in a large serving bowl. Top with sliced apple, dried cranberries, and toasted pepitas. Use a fork to crumble the goat cheese over the salad. Drizzle the salad with just enough dressing to lightly coat the leaves once tossed (you probably won't need all of it). Gently toss to mix all of the ingredients and serve!
10. Apple Crisp: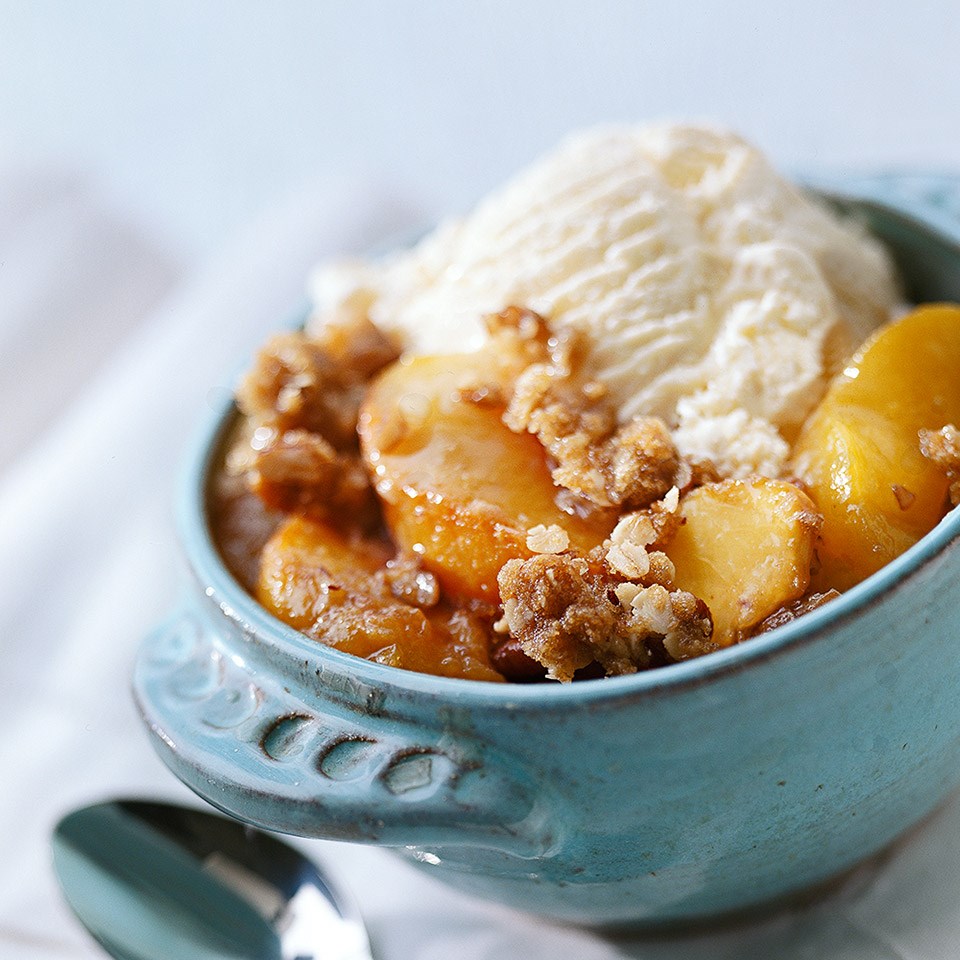 One of my all-time favorites. Apple Crisp. Who doesn't love warm apples and cold vanilla ice cream!
Ingredients:
5 cups sliced peeled baking apples
2 tablespoons sugar or sugar substitute-sugar blend equivalent (see Tips)
1 teaspoon lemon juice
½ teaspoon apple pie spice
Topping
½ cup rolled oats
¼ cup sugar or sugar substitute-sugar blend equivalent (see Tips)
3 tablespoons all-purpose flour
¼ teaspoon apple pie spice
3 tablespoons butter
Frozen light whipped dessert topping, thawed (optional)
Directions:
For filling: Preheat oven to 375°F. In a large bowl combine apples, 2 tablespoons sugar or sugar substitute, lemon juice, and ½ teaspoon of the apple pie spice. Transfer apple mixture to a 2-quart square baking dish.
For topping: In a medium bowl, combine oats, ¼ cup sugar or sugar substitute, flour, and ¼ teaspoon apple pie spice. Cut in butter until mixture resembles coarse crumbs. Sprinkle topping over filling.
Bake for 30 to 35 minutes or until apple is tender and topping is golden brown. Serve warm. If desired, top with whipped topping.