4. Devilish Eggs:
Can't go wrong with Deviled Eggs. These are an all-time favorite so why not make it healthier!
Prep Time: 15 Minutes
Cook Time: 9 Minutes
Ingredients:
1 dozen eggs
2/3 cup silken tofu, drained
1 tablespoon mayonnaise
1 tablespoon Dijon mustard
1/2 teaspoon hot sauce, plus more to taste
2 teaspoons prepared horseradish
2 tablespoons chopped chives
Salt
Freshly ground black pepper
1/4 teaspoon paprika
Directions:
Place the eggs in a large saucepan and cover with water. Place over high heat and bring to a boil. Reduce the heat to low and simmer for 9 minutes. Remove the eggs from water and run under cold water for about 1 minute or until cool enough to touch. Peel eggs under cold running water.
Slice the eggs in half lengthwise. Scoop out the yolks and discard 6 of them or save for another use. Set aside the whites.
Place the remaining yolks in a medium bowl and mash with the tofu, mayonnaise, mustard, hot sauce, horseradish, and chives. Season with salt and pepper.
Spoon the mixture into the corner of a plastic bag and snip off the end. Pipe the yolk mixture into the egg whites. Arrange on a platter and sprinkle with paprika.
5. Frozen Pumpkin Slices: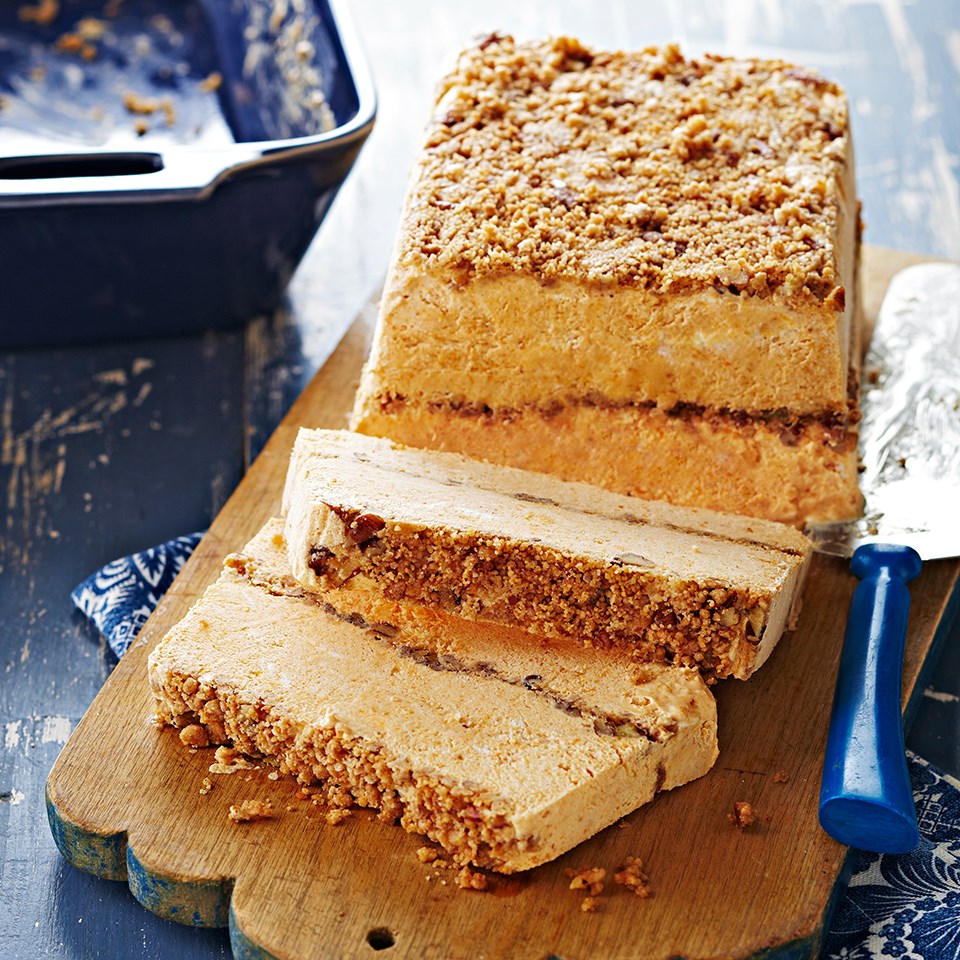 Now I'm not even a Pumpkin fan but this recipe definitely looks good and worth making.
Makes 12 Servings
Ingredients:
4 2½-inch-square cinnamon graham crackers, crushed
¼ cup chopped pecans
2 tablespoons all-purpose flour
1 teaspoon granulated sugar
¼ teaspoon salt
⅛ teaspoon ground cinnamon
2 tablespoons butter, melted
3 tablespoons dried egg whites, such as Just Whites brand
½ cup warm water
2 tablespoons lemon juice
¼ teaspoon cream of tartar
½ cup powdered sugar
1 (15 ounces) can pumpkin
1 5.3 to 6-ounce carton plain fat-free Greek yogurt, drained
1 teaspoon pumpkin pie spice
½ teaspoon ground cinnamon
1 (8 ounces) container frozen light whipped dessert topping, thawed
Nonstick cooking spray
Directions:
Preheat oven to 350°F. In a small bowl stir together crushed graham crackers, pecans, flour, sugar, salt, and the ⅛ teaspoon cinnamon; stir in melted butter. Spread in a 9x9x2-inch square baking pan. Bake for 10 minutes, stirring twice. Cool completely.
In a large bowl stir dried egg whites into the warm water; whisk with a fork. Let stand for 2 minutes. Beat with an electric mixer on medium speed until the dried egg whites are dissolved and the mixture is frothy. Add lemon juice and cream of tartar. Gradually add powdered sugar, beating on high speed until stiff peaks form (tips stand straight).
In a medium bowl stir together pumpkin, yogurt, pumpkin pie spice, and the ½ teaspoon cinnamon. Gently fold egg white mixture into pumpkin mixture. Fold in the whipped topping.
Lightly coat a 9x5x3-inch loaf pan with cooking spray. Sprinkle ⅓ cup of the graham cracker mixture in the bottom of the loaf pan. Spread 4 cups of the pumpkin mixture evenly over the graham cracker mixture. Evenly sprinkle the remaining graham cracker mixture over the pumpkin mixture in a loaf pan, pressing in slightly. Top with the remaining pumpkin mixture, spreading evenly. Cover with plastic wrap. Freeze for at least 4 hours or up to 24 hours.
To serve, invert onto a chilled serving platter. Let stand at room temperature for 30 to 60 minutes before cutting into slices.
6. Pumpkin Spice Pudding: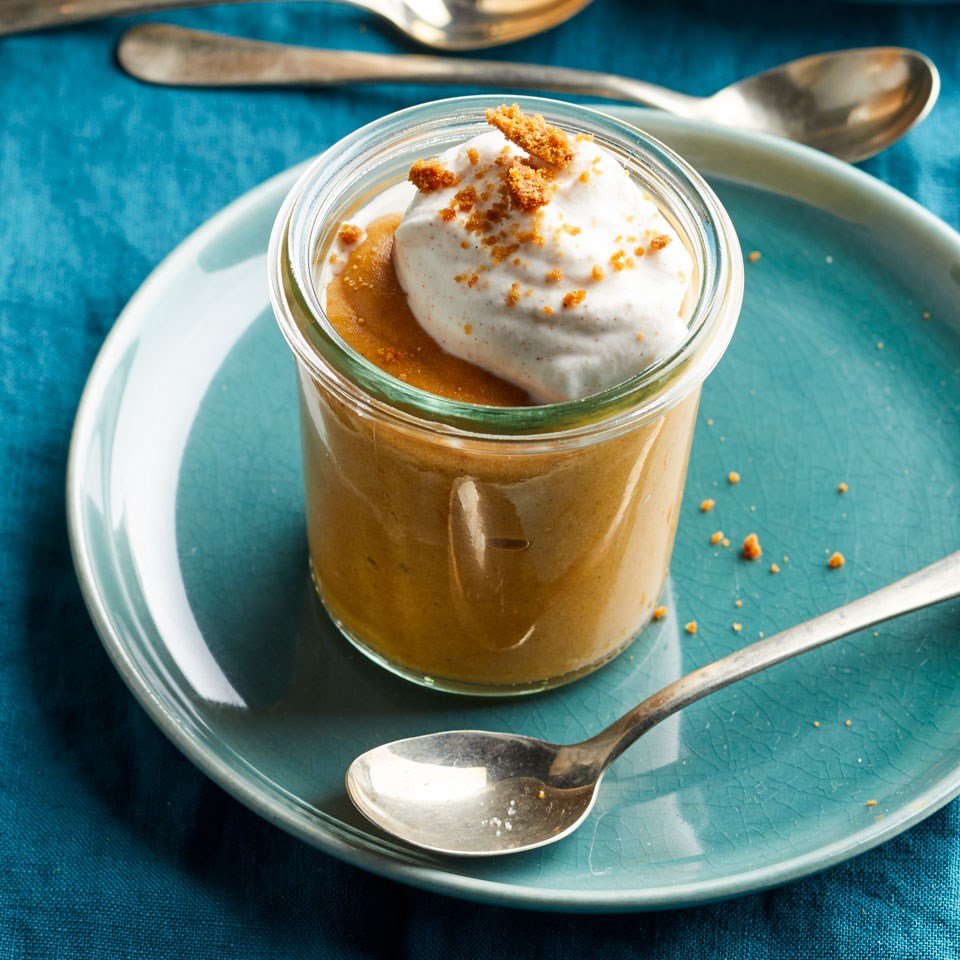 Here is for all of you Pumpkin Spice Lovers out there. Why not make this Pumpkin Spice Pudding Recipe
Makes 10 Servings
Ingredients:
Pudding
¾ cup packed light brown sugar
¼ cup cornstarch
2 teaspoons pumpkin pie spice
1 teaspoon ground cardamom
½ teaspoon salt
Pinch of ground pepper
2½ cups milk, preferably whole
½ cup heavy cream
3 large eggs
1 (15 ounce) can pumpkin puree
Topping
½ cup heavy cream
¼ teaspoon ground cinnamon
¼ teaspoon ground ginger
Gingersnaps for garnish (optional)
Directions:
To prepare pudding: Whisk brown sugar, cornstarch, pumpkin pie spice, cardamom, salt and pepper in a large saucepan. Whisk in milk and cream. Cook over medium-high heat, whisking slowly, until steaming but not boiling. Remove from heat.
Whisk eggs in a large bowl. Slowly whisk in 1 cup of the hot milk mixture. Then whisk the egg mixture back into the pan. Cook over medium heat, whisking slowly, until steaming and just starting to bubble. Then cook, whisking, until thickened and bubbling, 2 to 3 minutes more. Remove from heat. Whisk in pumpkin puree until thoroughly combined.
Divide the pudding among ten 6-ounce dessert dishes. Let cool 30 minutes. Place on a baking sheet and cover with plastic wrap. Refrigerate until cold, at least 1 hour and up to 3 days.
To prepare to top: Just before serving, beat cream with cinnamon and ginger in a medium bowl until soft peaks form. Serve the puddings topped with whipped cream and crumbled gingersnaps, if desired.
To make ahead: Refrigerate for up to 3 days. Top with whipped cream (Step 4) just before serving.