Game of Thrones season 7 spoilers below!!!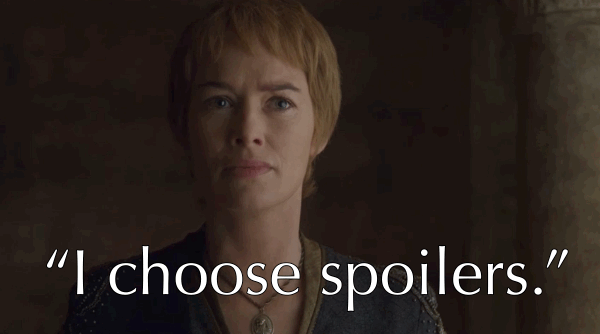 Westeroses hottest new couple is Jon Snow and Daenerys Targaryen. I don't care if they're aunt and nephew — they will be together and they will make beautiful half dragon/half hipster babies.
For this entire season, Jon and Dany have been locked in a will-they-won't-they not seen since Ross and Rachel. The entire Game of Thrones fanbase is waiting, with bated breath, to see if one of them will make a move, or "bend the knee" as the kids are calling it.
Last night, things got closer than ever.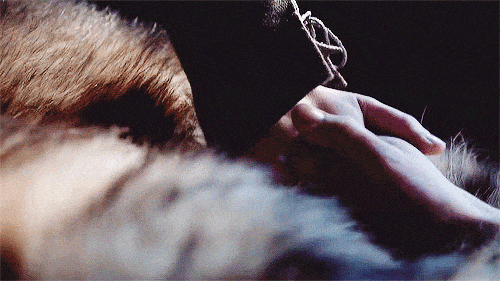 They held hands! They also stared longingly at each other! Then Jon called her "Dany," and she was like "nah" and then he called her "my queen," and she was like "hell yeah" and everyone watching was like "omgomgomgomgomg."
The point is, it's going down harder than a White Walker eating Valyrian Steel cereal, and people have FEELINGS:
Danny On The Outside: "Jon Snow's in love with me?"
Danny On The Inside: #DemThrones #ThronesYall #GameOfThones pic.twitter.com/1damsLpICI

— Danielle Allen (@MuvaDesign) August 21, 2017
Raven message: Jon Snow is in danger

Daenerys:#thronesyall #gameofthrones  #demthrones pic.twitter.com/2gIxW1rs4r

— Frequency Podcast (@Frequency_Pod) August 21, 2017
DANY RISKING IT ALL AND GOING TO RESCUE HER MAN JON #GameOfThrones pic.twitter.com/Wmm1TZ7Tdj

— syd mikaelson (@klausspuddin) August 21, 2017
#GameofThrones
Tyrion helping Dany writing a note to Jon like: pic.twitter.com/gLfQLzUcCx

— ThronesYall (@ThronesYall) August 21, 2017
Tyrion: Jon is in love with you
Dany: #ThronesYall #GameOfThrones pic.twitter.com/0DnUD3abcL

— Marissa Rose (@TheRose6291) August 21, 2017
Dany flew in to save her baephew like #GameofThrones #ThronesYall pic.twitter.com/AohOu6RXrV

— Whit (@I_Slayy) August 21, 2017
Jon had the "How dare you kill my girl's baby" face, lmao.#GameofThrones #ThronesYall pic.twitter.com/yngJeTCWv5

— Denizcan Targaryen (@MrFilmkritik) August 21, 2017
Jon was like GTFO my way I want to see my Queen #GameofThrones pic.twitter.com/3ixMv6I75P

— dragon's daughter (@yeahclarke) August 21, 2017
Dany: The dragons are my children. They are the only children I will ever have.
Jon: #gameofthrones pic.twitter.com/fjHP54CvhF

— D'Andre Bruce (@6_questions) August 21, 2017
Jon: How about my Queen?
Dany right now: #GameOfThrones pic.twitter.com/6X370R5GlY

— Chaotic Good (@SageTerrence) August 21, 2017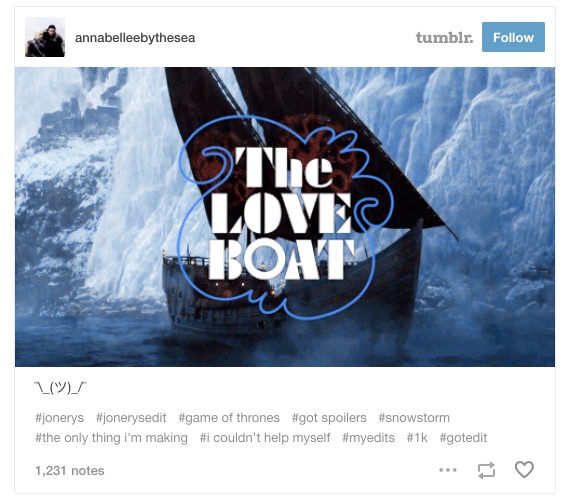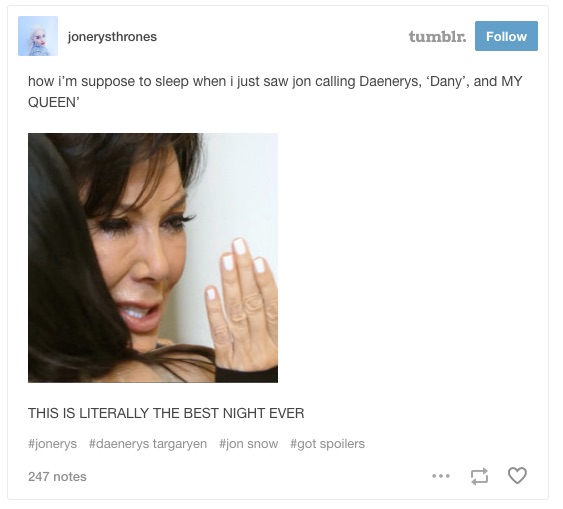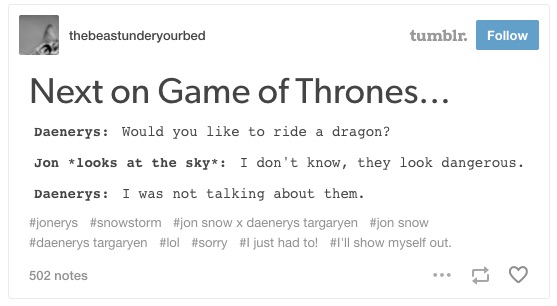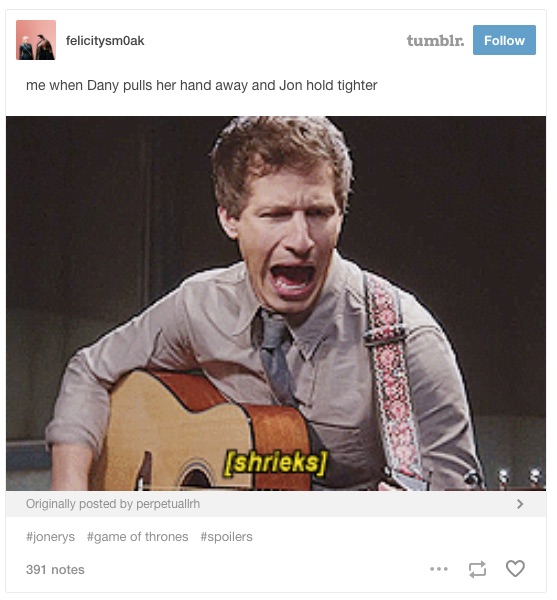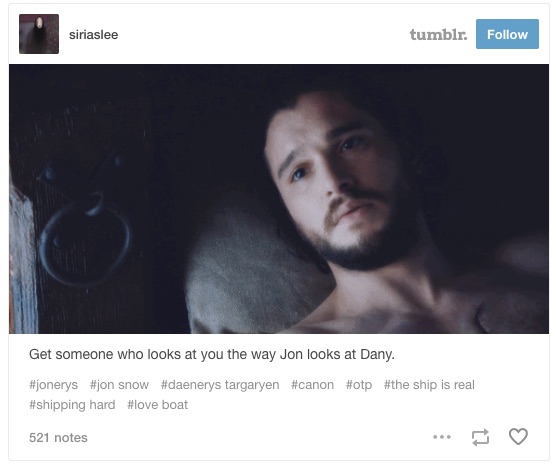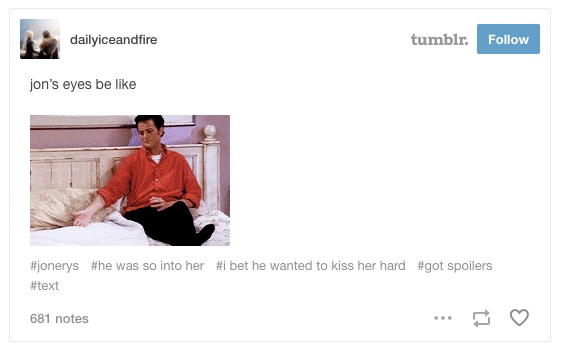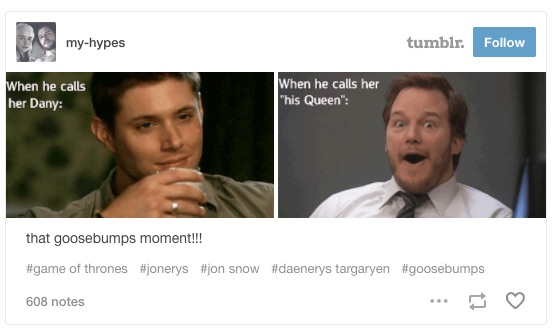 Dany and Jon sitting in a tree. K-I-S-S-I-N-C-E-S-T. #GameOfThrones #ThronesYall

— Jen Smith (@itsjenwith1n) August 21, 2017
Incest. Incest is what bwings us togethew today. Incest, that bwessed awwangement, that dweam within a dweam. And wove, twue #GameofThrones

— baemar royce (@motelsonthemoon) August 21, 2017
She might be heading for warmer temps but it looks like Dany is anticipating about 6-8 inches of Snow

#DemThrones #ThronesYall pic.twitter.com/Ll2qcvkJ0I

— Cassy Stone (@cassymstone) August 21, 2017
When you thought it was weird for Jamie and Cersei, but also rooting for Dany and Jon. #GoT pic.twitter.com/zjESklXdtm

— Brendan Darr-A-Lago (@BrendanDarr) August 21, 2017
*Repeats to myself* "Jon and Dany don't know they're related so it's okay to root for them" #GameofThrones #ThronesYall pic.twitter.com/xTAwz2rDyA

— Mica (@MicasHoneymoon) August 21, 2017
Fuck it. If Tywin Lannister can marry his first cousin, Jon can marry his aunt. I'm shipping this. #ThronesYall

— Kara Calavera (@KaraCalavera) August 21, 2017