I bet you thought the chaotic evil that was Netflix's docu-series Tiger King was over—but you're wrong. At least there isn't new gossip about the goings-on of Joe Exotic and his crew, but Carole Baskin is doing something new—making and selling face masks.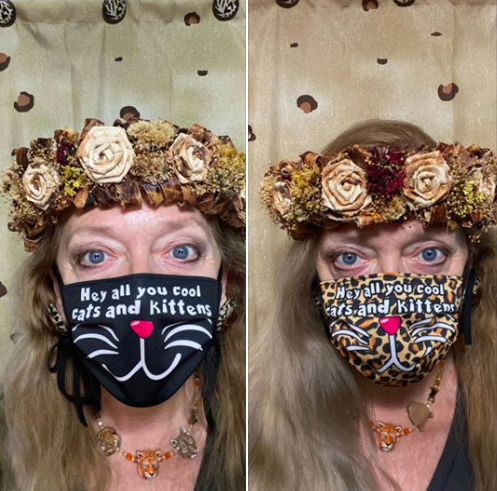 Baskin modeled the masks on Big Cat Rescue's Facebook page, where she also included a link to purchase them. The cloth novelty face masks come in black and leopard print and feature Baskin's catchphrase, "Hey all you cool cats and kittens." The masks cost $11 and are dual-layered and can be tied in a number of ways. According to Tread 365, who partnered with Baskin on the masks, proceeds will go "directly to supplying free face masks to first responders" as well as to the big cats at Baskin's sanctuary.
Big Cat Rescue is currently closed. The website explains that the big cats are doing all right during lockdown: "We have placed orders to fill our freezers, which can hold about 20,000 pounds of food, in case the production plants or transportation companies shut down. We've ordered fuel for our generators and onsite storage tanks."
However, they are losing money and need help: "In order to keep doing the important work we do, without depleting our savings, we count on your donations more than ever. Just the tour revenue we are losing right now is running about $160,000 a month and that doesn't count all of the gift shop revenue and the added cost of keeping our staff employed and our volunteers housed and fed."
While Tiger King discussed Joe Exotic's violent behaviors towards both animals and people, folks became obsessed with the rumor that Carole Baskin killed her first husband and fed him to the tigers. Investigative Discovery is currently working on an entire series exploring that angle.
"Love her or hate her, Carole is now in the center ring of the big cat circus," Investigative Discovery said in a statement. "Is she a selfless crusader and protector of animals, who found unimaginable strength despite the mysterious disappearance of her husband? Or are we witnessing Carole Baskin's master plan finally take effect?"
I mean, does her master plan involve selling face masks?
Anyway, if you're a fan, go drop some cash and support those big cats.