Did you come away from Tiger King wondering if Carole Baskin actually murdered her husband Don Lewis? You're not alone. A new special from Investigative Discovery is set to focus on Lewis' disappearance—all told from Joe Exotic's perspective. So, it might not be reliable in any sense of the word.
Investigating the Strange World of Joe Exotic will reportedly "address the lingering questions that viewers demand be answered."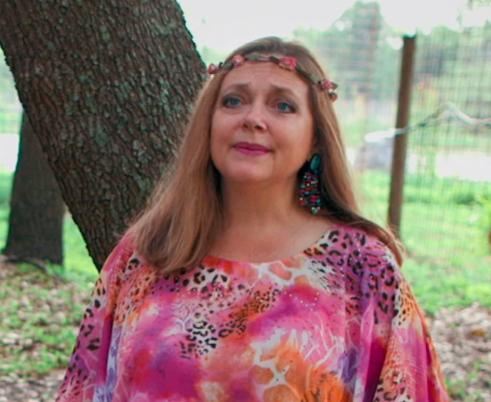 "Love her or hate her, Carole is now in the center ring of the big cat circus. Is she a selfless crusader and protector of animals, who found unimaginable strength despite the mysterious disappearance of her husband? Or are we witnessing Carole Baskin's master plan finally take effect," the press release for the upcoming show says. "Despite her claims of innocence, did she orchestrate the disappearance of Don Lewis to seize control of his fortune, consolidate power and lay waste to her foes? No one seems to be talking—except for one man—and that man is the center of ID's upcoming investigative series."
Though there is no evidence that Carole Baskin killed Lewis and fed him to her tigers, the story persists—mostly because Joe Exotic has a vendetta against Baskin. He is, after all, in jail for hiring someone to kill her.
In Tiger King, Exotic accuses Baskin of having killed Lewis. Lewis' children suspect that Baskin fed Lewis' body to the tigers at her animal sanctuary. Some believe Lewis just took off for Costa Rica and started a new life. Will this ID show offer a definitive answer? Probably not.
Hillsborough County Sheriff Chad Chronister recently posted on Twitter asking for "new leads" in the Jack Lewis case.
Baskin denies having murdered her husband and feeding his body to the tigers.
"My tigers eat meat; they don't eat people," Baskin said. "There would be bones and remains of my husband out there. I'm amazed that people would even think such a thing."
In a recent blog post on her animal sanctuary's website, Baskin wrote, "[Tiger King] has a segment devoted to suggesting, with lies and innuendos from people who are not credible, that I had a role in the disappearance of my husband."
"The series presents this without any regard for the truth or in most cases even giving me an opportunity before publication to rebut the absurd claims. They did not care about truth."