3. Lasagna Soup
If you're a pasta and soup lover like me then this one you will want to make for sure. This lasagna soup recipe will be one you will want to make over and over again.
Ingredients
1 pound lean ground beef
1 cup diced onion
3 garlic cloves minced
2 (14.5 oz) cans of diced tomatoes, undrained
1 (8 ounce) can of tomato sauce
1/4 cup tomato paste
4 cups (32 oz) Low Sodium Beef Broth
2 teaspoons italian seasoning
6 uncooked lasagna noodles, broken into 1 1/2 inch pieces (about 6-8 ounces)
Cheese Topping:
8 ounces of Ricotta Cheese
1/2 cup grated Parmesan Cheese
1/4 tsp salt
Instructions:
In a large Dutch oven or saucepan, brown beef and onion over medium-high heat. Add the garlic and cook for about 30-60 seconds. Drain.
Stir in the diced tomatoes, tomato sauce, tomato paste, beef broth, and Italian seasonings. Bring mixture to a boil and stir in lasagna pieces. Reduce heat slightly and cook for about 10 minutes or until noodles are tender. Season with salt and pepper to taste.
Reduce heat slightly and cook for about 10 minutes or until noodles are tender. Season with salt and pepper to taste.
For the Cheese Topping: In a small bowl, mixture together the ricotta, Parmesan, and salt.
To serve, spoon soup in a bowl and top with a dollop of the cheese mixture. Garnish with chopped parsley or basil if desired.
To eat, stir in cheese mixtures and enjoy!
4. Pumpkin Spice Butternut Squash Soup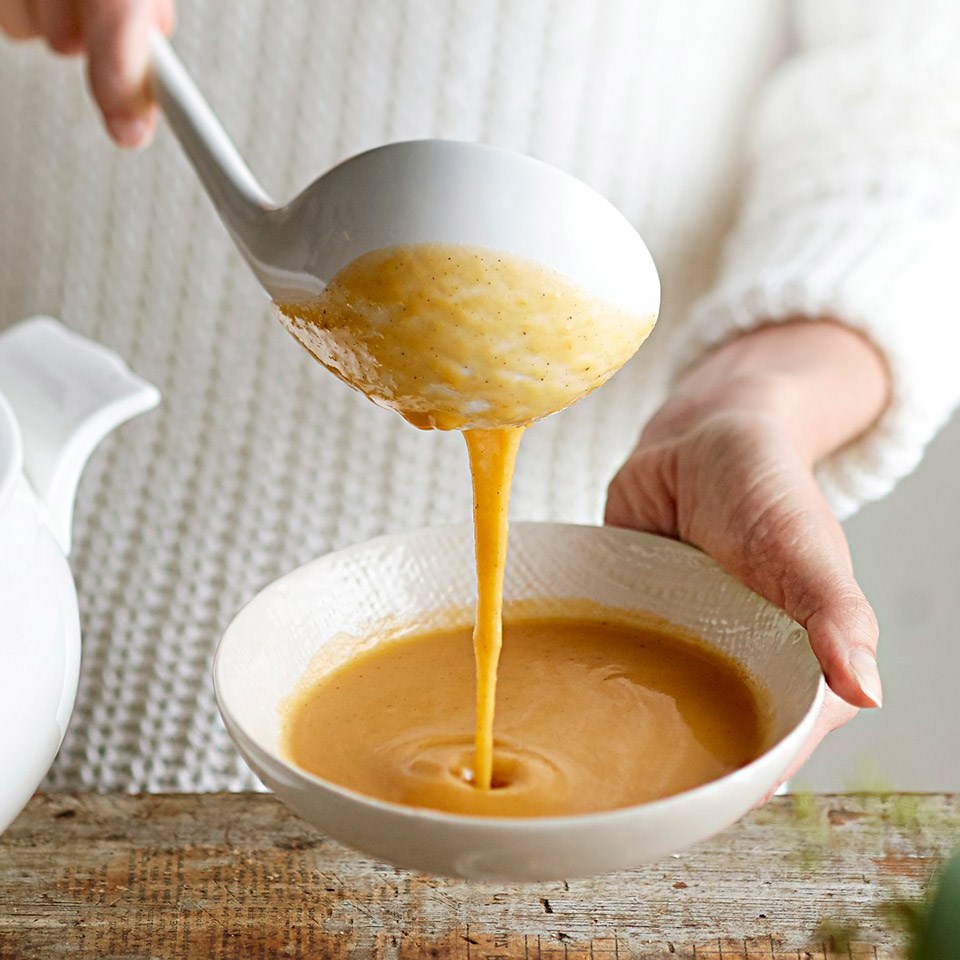 Calling all Pumpkin Spice lovers out there, you know who you are. This Pumpkin Spice Butternut Squash Recipe just might be your next favorite if you're a huge pumpkin spice fan.
Prep Time: 40 Minutes
Ingredients:
1 tablespoon olive oil
⅓ cup chopped onion
2 cloves garlic, minced
8 cups peeled and cubed butternut squash
⅔ cup chopped apple
1/2 cup chopped carrot
¾ teaspoon kosher salt
½ teaspoon pumpkin pie spice
¼ teaspoon black pepper
1 (14.5 ounce) can reduced-sodium chicken broth
1 (14 ounce) can unsweetened light coconut milk
1 tablespoon packed brown sugar (see Tips)
5 tablespoons plain nonfat Greek yogurt
5 tablespoons salted roasted hulled pumpkin seeds
Instructions:
In a 4- to 6-qt. Dutch oven heat oil over medium. Add onion and garlic; cook 5 minutes or until onion is tender, stirring occasionally. Stir in the next six ingredients (through pepper).
Cook and stir 4 minutes.
Add broth. Bring to boiling; reduce heat. Simmer, covered, 20 to 25 minutes or until squash and carrot are tender, stirring occasionally. Remove from heat. Stir in coconut milk and brown sugar.
Using an immersion blender (or working in batches in a food processor or blender), blend squash mixture until smooth, adding water if needed to reach desired consistency.
Serve soup topped with yogurt, pumpkin seeds, and, if desired, additional pumpkin pie spice.
5. Loaded Potato Soup
Loaded Potato Soup is a favorite of many. We all love potatoes, bacon and cheese!
Ingredients:
4 (6-ounce) red potatoes
2 teaspoons olive oil
1/2 cup prechopped onion
1 1/4 cups fat-free, lower-sodium chicken broth
3 tablespoons all-purpose flour
2 cups 1% low-fat milk, divided
1/4 cup reduced-fat sour cream
1/2 teaspoon salt
1/4 teaspoon freshly ground black pepper
3 bacon slices, halved
1.5 ounces cheddar cheese, shredded (about 1/3 cup)
4 teaspoons thinly sliced green onions
Instructions:
Pierce potatoes with a fork. Microwave on HIGH 13 minutes or until tender. Cut in half; cool slightly.
While potatoes cook, heat oil in a saucepan over medium-high heat. Add onion; sauté 3 minutes. Add broth. Combine flour and 1/2 cup milk; add to pan with 1 1/2 cups milk. Bring to a boil; stir often. Cook 1 minute. Remove from heat; stir in sour cream, salt, and pepper.
Arrange bacon on a paper towel on a microwave-safe plate. Cover with a paper towel; microwave on HIGH for 4 minutes. Crumble bacon.
Discard potato skins. Coarsely mash potatoes into soup. Top with cheese, green onions, and bacon.