Months ago, the Internet was in uproar over what we refer to as #WeddingGate2017. Josh Peck got married to his girlfriend in a beautiful, California ceremony and while we're sure the wedding was lovely, someone was missing.
That person would be Drake Bell – Josh's "brotha" and co-star on their hit TV series, Drake & Josh.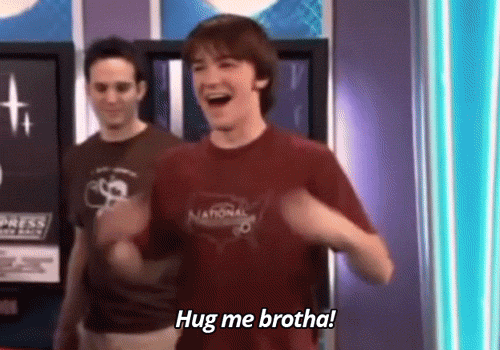 Obviously, Drake was jaded after he didn't receive an invite to the wedding because – he thought they were better friends than that.
After the tweets and story went viral online and broke every Millennial's heart, Josh Peck decided to respond to the allegations that he was the bad guy in this situation. According to several sources, Josh Peck has said that he was "deeply hurt" by the tweets Drake Bell sent out.
And, he also clarified that he and Drake have not spoken or hung out in three years. According to Josh, their relationship on social media is just that – social media. They tweet back and forth sometimes, but they haven't had a serious friendship in years.
BUT THEN –
Drake basically took back his saltiness a few weeks later, saying in an interview with People:
"I was caught off guard. … I hadn't heard of anything about it. He's been my best friend for 18 years. … In all honesty, we talk all the time, we've been talking. I was just expecting… That was a shock. I didn't think it would be that big of a deal. I did not realize that it was going to have such a viral effect… That's my bro, you know?"
He went on to say:
""It is what it is dude. I love the kid. I would work with him until I'm 80 years, you know. I wanna make Grumpy Old Men with the guy. I wanna make The Odd Couple when we're old, you know? So no hard feelings, It's just when you've been so close to somebody for so long, I mean, there's just certain things that you know, 'Hey why'd you do that? C'mon man.'"
And, to top it all off – when the idea of a Drake & Josh reunion came about:
"You gotta talk to Peck, you gotta talk to Josh. I would love to do it. I would love to. I mean, I always say in this situation, I'm the John Lennon of the Beatles. If there's time, if it's in our schedules and it's right, I would jump in it in a second. There's actors that I've done TV shows with, movies with, another TV show with, a pilot with, and still don't have the connection that I have with Josh, you know? The chemistry … and what I have with Josh is so unattainable in this business.
So, what you're saying is, we may see a Drake & Josh reunion in my lifetime? I'm here for this.