1. Opening credits – nudity and strong sexual content? Who TF is getting laid tonight?!?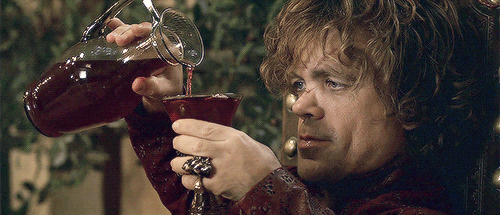 2. I hope it's not Jamie and Cersei sex again, please, gag me. Stab me. With a fork.
3. I wish someone would remix this opening song and play it at the club. Imagine girls twerking to The Song of Fire and Ice?
4. I almost forgot about Varys TBH. Where's that Buddha been for so long?
5. How old is Tyrion actually? He remembers Dany's birth night? Grandpa much?
6. Dany is the HBIC, Varys, don't you dare ever forget that.
7. RIP KHAL DROGO #BRINGBACKDADDY2017.
8. Why is the Red Woman still even here? Someone kill her. Or take off her necklace (savage).
9. Tyrion is hubby material – loyal and honest.
10. The Prince Who Was Promised can be the Princess? Way to go equality, GoT writers.
11. Does no one realize Jon Snow and Dany are related yet?
12. Imagine they hook-up – ugh, more incest.
13. Dany should come to America and overthrow Trump. Dany2020.
14. How many ravens will it take to kill Cersei already?
15. If fire kills White Walkers and Dragonglass kills White Walkers – the key to everything is Dany. #GirlPower
16. Katniss Everdeen would do well in Game of Thrones.
17. Cersei needs to respect the HBIC and not call her the "Mad King's daughter."
18. I'm going to start calling Cersei "The Kingslayer's Incest Lover."
19. Samwell Tarly's dad is going to fight against Jon Snow? Nah, not cool.
20. LOL this guy is named Dickon. Oh. I'm immature.
21. Samwell Tarly's dad is a boss. Like Samwell.
22. Look at all these women sitting around and planning a war.
23. This is the best female empowerment scene I've ever seen.
24. Someone call Arya Stark and bring her on down.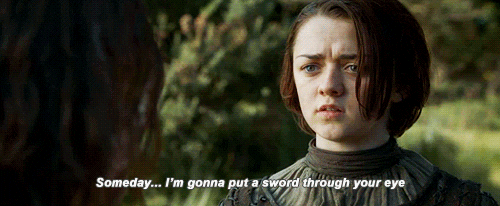 25. OLENNA TYRELL IS EVERYTHING.
26. I will forever be telling myself to "be a dragon," as motivation for the rest of my life.
27. Also ignoring men from here on out.
28. Missandei and Grey Worm are goals.
29. Wait, isn't Grey Worm missing something?
30. "I want to see you," GIRLLLLLLL.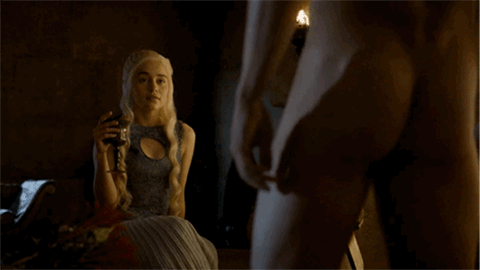 31. Oh. This is the sex scene they were talking about. Phew.
32. OH GREY WORM – WHAT THAT MOUTH DO?!?
34. Living for this.
35. Wait. This is too romantic for Game of Thrones.
36. ONE OF THEM IS GOING TO DIE.
37. WHY DO YOU DO THIS TO MY WEAK HEART?!?
38. Poor Jorah and his poor skin.
39. I'm itchy looking at this.
40. Samwell Tarly is literally George from Grey's Anatomy performing open heart surgery in the elevator when he was an intern.
41. THEY DID NOT JUST USE JORAH'S OOZING SKIN TO CUT TO SHEPARD'S PIE.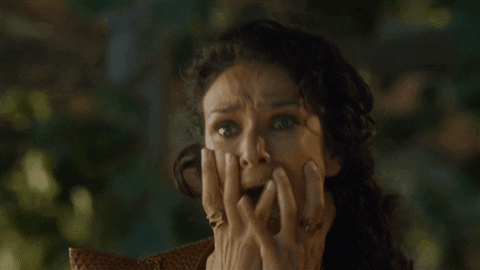 42. Need to pause and vomit.
43. Arya and Hot Pie reunite?!? Also here for this.
44. Arya – your favorite brother is alive.
45. Arya – GET TO WINTERFELL.
46. Arya, remember when Jon gave you Needle?
47. YOU WOULD BE NOTHING WITHOUT JON SNOW.
48. Lyanna Mormont is everything I aspire to be in a human being.
49. Sansa Stark is pissing me off.

50. SHUT UP SANSA.
51. I wonder if Jon Snow will realize that Ned Stark ain't his daddy. #YouAreNotTheFather
52. Ned Stark's a great brother for pretending to be Jon's dad – and getting into it with his wife over it.
53. Why is Littlefinger even relevant? He's got that "I sleep with little children" look.
54. REMEMBER WHEN NED STARK CHOKED LITTLEFINGER TOO? Someone give me a screen cut.
55. Yara and Ellaria? Ok I'm here for this too.
56. Who the f*ck??
57. Is that??
58. Euron??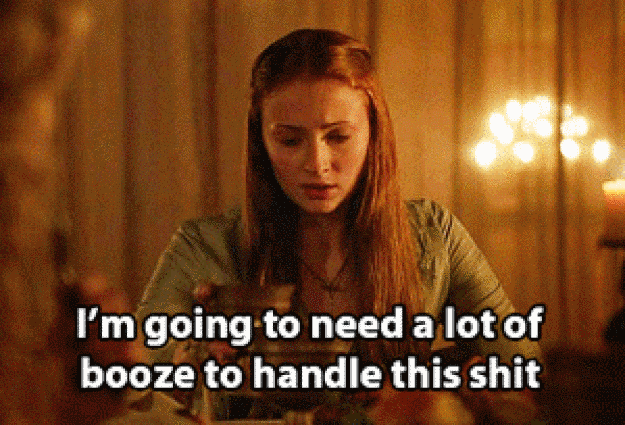 59. WHY DOES EURON LOOK LIKE A BROADWAY MUSICAL ACTOR EVERY TIME I SEE HIM?
60. Wait, how is Euron even alive? Did he not just get stabbed?
61. These graphics are insane.
62. I wonder how long it took to do this scene.
63. It's TOO DARK WHO JUST DIED?
64. Where's Jack Sparrow?
65. SOMEONE CALL JOHNNY DEPP.
66. No Yara, NO.
67. Theon….
68. THEON….
69. GOD DAMNIT THEON!!!!!!!!!!
70. WE WERE ROOTING FOR YOU, WE WERE ALL ROOTING FOR YOU!!!!!!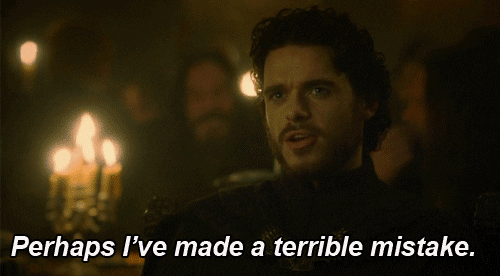 71. Wait.
72. Maybe Theon tried to just save Yara by not attacking Euron?
73. Or, maybe he's just a p*ssy still.
74. No balls.
75. LOL. LITERALLY.