If you're a Game of Thrones fan – you know that Ygritte is a bad-a** wilding who has the balls to mutter – "You Know Nothing Jon Snow." And, you were high-key heartbroken when she was killed off – a big F you to George R.R. Martin…how could you do us so dirty?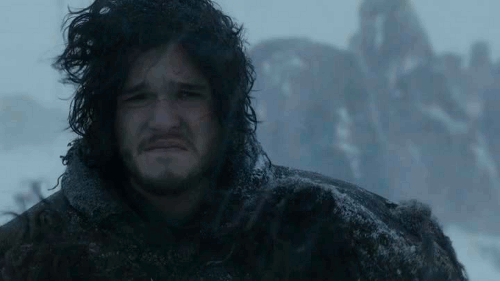 Little did you know (of course you knew) Rose Leslie (Ygritte) and Kit Harington (Jon) have been dating in real life for a while now. And, while their reps have not confirmed the news officially, it appears they just got engaged. My Game of Thrones heart cannot take this.
Can we just cue the Game of Thrones intro as she walks down the aisle?
#Goals.
According to Marie Claire, the proposal was very romantic and heartfelt. Kit cooked Rose a beautiful, intimate dinner with candles and the whole nine yards – and, he proposed to her at the end of the evening. How. Adorable.

Side note – good thing Jon Snow's not a Crow anymore (hehe).
Life & Style broke the news and had the Internet in an uproar overnight as everyone was crying over Jon Snow no longer being eligible to marry any of us.
In June, Kit had told TV host James Corden that he and Rose had moved in together and he couldn't have been any happier.
"I've moved in with my best friend, Rose. So, I'm very, very happy and it's going well. She has all sorts of ideas for the house…. I said to her, because she moved into my house, 'Look, darling, this is important that it's our space, that it feels like our space, that you haven't just moved into mine. Move anything you want around—change anything, chuck anything out. I went to the shops and I came back and said, 'What did you decide?' And she said, 'We're moving the kitchen downstairs.'"
Seems like Rose is just as bad-a** as her character on the show – get it girl. Hold on while I try and figure out why no one loves me that much. Also – can you imagine how much fun the wedding will be? All of the Game of Thrones cast members together, drinking, partying – celebrating without the threat of White Walker death upon them.
But, the real question we all have is –
Do Kit and Rose stay home on Sunday nights curled up on the couch anxiously awaiting Game of Thrones to come on like the rest of us?
KIT, ROSE – LET ME KNOW – ASAP.
UPDATE: After several sources had reported Kit and Rose's engagement online – PizzaBottle has now learned that the couple has spoken out and denied the reports. They have, however, purchased a £1.75 million home together in the English countryside and are still very much in love.