With so many dating apps coming out, it's hard to keep up with which one is the "best to use" to find your "soulmate." While some people use dating apps to find their one true love, others use it to just hookup (or, get some social validation).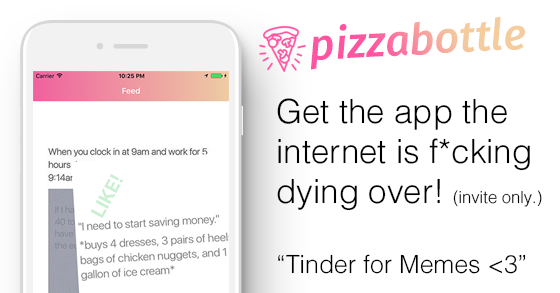 If you like memes you need an invite to this!
Dating apps give me anxiety – I'll be honest. There's so many people out there wanting so many different things from you – most of them just want to lick weird things off of me – it's stressful.
Now, there's a new app that's supposed to make "dating fun again," by turning your dating app experience into a game. Long gone are the days where you aimlessly swipe on people you know barely anything about.
Instead, you can make yourself a dating roster – or a "bracket" – and become a "winner" when you land dates and conversations with your "crushes." You basically feel like a true winner – like NCAA brackets, ya feel?
Elite Daily spoke to the founder of the App, which is called Bracket, and she said:
"What's better than winning? On Bracket, you always feel like a winner. Whether you've been chosen as a winner for another user's bracket, or you get a chat back from your own bracket winner of the day, it feels great knowing impersonal, unconscious swiping was not involved. I created Bracket to make mobile dating fun again!" 
Yeah – fun.
Here's how it works:
You make a dating profile on Bracket and you get matched with 16 other people, every single day. That's a lot of f*cking men.
Then, you narrow your selections down by having "head-to-head" tournaments everyday – and, you end up with one true winner, which, you get to have a conversation with. So, you randomly get a person to speak to, based on what the app thinks will work for you best.
Think of it as blind dating in 2017.
Fun? Yeah. Would I try it? Probs not. But hey, GO FOR IT, GIRL.
Bracket Dating App is now available on the App Store! Download today to get your first bracket. #DateAWinner https://t.co/ejGpegeEhv pic.twitter.com/FpN9wa4jYB

— Bracket Dating (@bracketdating) June 20, 2017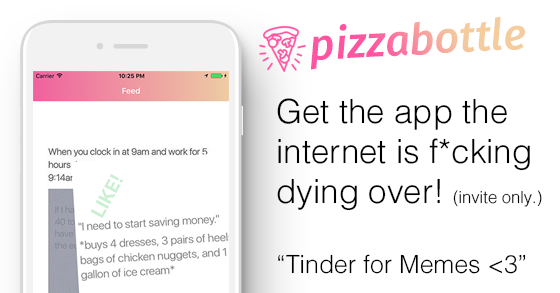 If you like memes you need an invite to this!