21.
You know how when a child is cranky, we always say "oh, they're hungry" or "oh, they're tired" and then we feed them or put them to bed, and then they're much better?

It's the same for us adults.

— Gennifer Hutchison (@GennHutchison) October 30, 2019
22.
There are only four country songs:

– Quittin' is for Quitters (Hard Work Anthem)

– Things Ain't Like They Used To Be

– Beer When You're Happy, Whiskey When You're Sad

– My Bitch Ex Wife (Come Home Baby)

— ellory smith (@ellorysmith) October 30, 2019
23.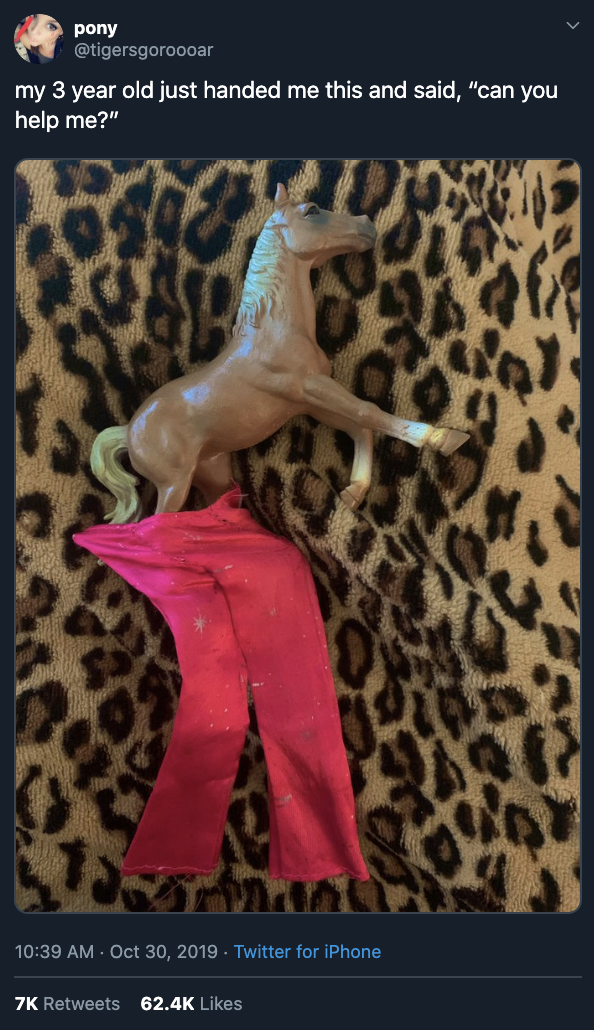 24.
McRib stands for "My Chemical Romance Is Back"

— Exit 114 (@exitonefourteen) October 31, 2019
25.
When you're using Apple Maps and realize you've been walking the wrong direction for two blocks pic.twitter.com/pB2zR1vgyX

— B. (@Bridgianity) October 23, 2019
26.
subscribe to my onlyfans to peep my ankles pic.twitter.com/pr73aaUc8e

— neon anica werewolf hunter (@anicacoela) October 22, 2019
27.
When everyone warns you about your crush, but you don't care pic.twitter.com/USEjumVDXU

— Diamond Brown (@HereIsDime) October 23, 2019
28.
— Christin Bailey (@hexprax) October 24, 2019
29.
How is it that the Madame Tussauds wax model of Mark Zuckerberg looks way more like a real person than Mark Zuckerberg does? Oh my god pic.twitter.com/pdkHLbN488

— Gravelord NEETo (@coherentstates) October 25, 2019
30.
Y'all still pull your luggage? ???????? amateurs. #lifehacks pic.twitter.com/RtcG1zQUlh

— D Rose (@DamnDRoseTweets) October 19, 2019