Chris Pratt in a lengthy Instagram Story post on Monday responded to Ellen Page's accusation that his church is anti-LGBTQ.
Page had retweeted an article from The Hollywood Reporter last Friday about Pratt's appearance on Stephen Colbert's The Late Show, captioned "Fresh from fasting, @prattprattpratt talks about his spiritual side."
"Oh. K. Um. But his church is infamously anti lgbtq so maybe address that too?" wrote the actress.
She had also made an appearance on the talk show a week before, during which she made an impassioned plea for tolerance and denounced Vice President Mike Pence for promoting violence against the LGBTQ community.
.@EllenPage is fed up with leaders who promote hatred and intolerance. #LSSC pic.twitter.com/apxXzye5SF

— The Late Show (@colbertlateshow) February 1, 2019
The Colbert clip has since gone viral across Twitter and Facebook.
Pratt identifies as a non-denominational Christian and attends services at the Zoe Church—modeled after Hillsong— and favored by the likes of the Biebers and the Kardashians.
Hillsong has a long history of anti-LGBTQ behavior, and while it allows gay people "to attend, worship with us, and participate as a congregation member with the assurance that you are personally included and accepted within our community," it does not allow members of the LGBTQ community to take active leadership roles.
"We are a gay welcoming church but we are not a church that affirms a gay lifestyle," Hillsong leader Brian Houston has written.
Page followed up her initial tweet to say, "Being anti LGBTQ is wrong, there aren't two sides."
And replied to a fan who defended Pratt's right to practice whatever religion he pleases under the "1st Amendment."
The church has a history of sexual abuse allegations and is purported to support conversion therapy.
Pratt finally replied to the backlash several days after Page's initial callout, writing that when it came to allegations of his church being anti LGBTQ, "nothing could be further from the truth."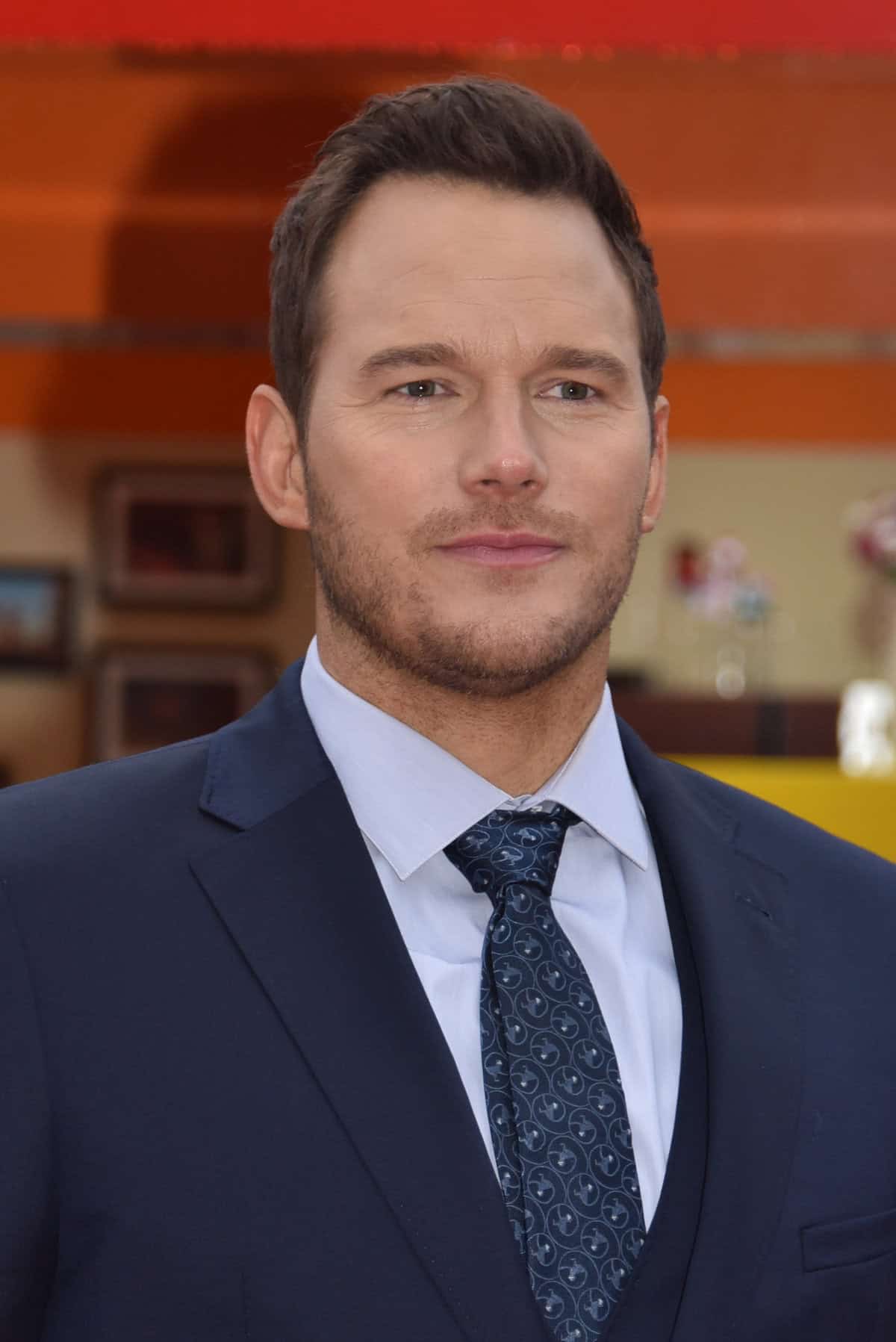 The actor then proceeded to draw parallels between the church's acceptance of his divorce from Anna Faris, and its feelings towards the LGBTQ community:
"Despite what the Bible says about divorce my church community was there for me every step of the way, never judging, just gracefully accompanying me on my walk. They helped me tremendously offering love and support. It is what I have seen them do for others on countless occasions regardless of sexual orientation, race or gender."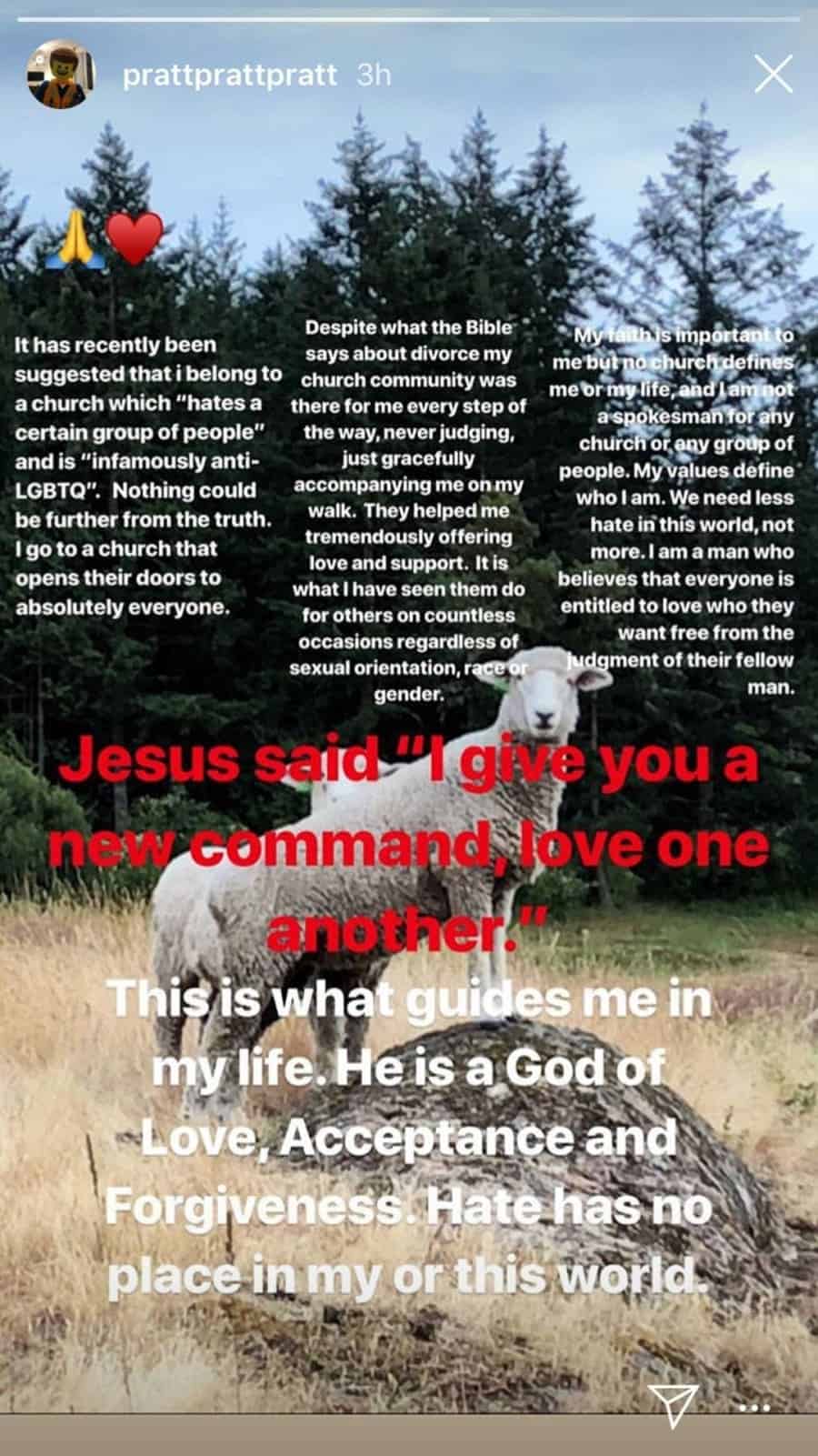 "My faith is important to me but no church defines me or my life and I am not spokesman for any church or any group of people. My values define who I am. We need less hate in this world, not more. I am a man who believes that everyone is entitled to love who they want free from the judgment of their fellow man."

"Jesus said, 'I give you a new command, love one another.'"

"This is what guides me in my life. He is a God of Love, Acceptance and Forgiveness. Hate has no place in my or this world."
While Pratt has his share of supporters, people were for the most part confused about how divorce factors into the church's stance on the gay community.
chris pratt is really here being the worst chris https://t.co/qov8fybZMO

— lord tony of the house stark (@tonystankstan) February 11, 2019
Chris Pratt's non reply to Ellen Page's comments reeks of privilege.The "I've only seen them be welcoming"remark dismisses what ppl from the lgbtq community deal with.Excerpts from an interview w/his pastor last year & what the HRC says about pentecostals: pic.twitter.com/Ig0nYXxsTF

— Cher (@thecherness) February 12, 2019
I'd love a Venn diagram of people who think it's unfair to associate Chris Pratt with his church's bullshit and people who think all Muslims have an obligation to denounce every terror attack

— Eliot (@EliotETC) February 10, 2019
Chris Pratt believes that this church family of his will always give him a sense of belonging. And since he's a cisgender, straight white dude, that's totally 100% true. But as we speak, he's ignoring the parts that are concerning. The anti-LGBTQ piece being the most glaring.

— Charlotte Clymer?️‍? (@cmclymer) February 10, 2019
chris pratt: my church isn't racist or homophobic because it accepted me, a PoD (Person of Divorce).

— alanna (@finnsspilot) February 12, 2019
Who's gonna tell Chris Pratt Jesus said more about divorce than being gay?

— Jon Cozart (@joncozart) February 10, 2019
Andy Dwyer would not like Chris Pratt.

— Jules LeFevre (@jules_lefevre) February 12, 2019
"We are a gay welcoming church but we are not a church that affirms a gay lifestyle."

So basically this Church's position is "We love your gay money, but not your queer lifestyle"?

FUCK these guys, and FUCK Chris Pratt, you wishy-washy prick. https://t.co/dKCFZb3H1v

— Derek Halliday (@DTHalliday) February 12, 2019
I used to have a big crush on Chris Pratt…no mas. pic.twitter.com/YCGs333BW8

— TATIANNA (@TATIANNANOW) February 9, 2019
Chris Pratt feels shooting animals brings him closer to God, got reported to the ASPCA for his pets, and attends and financially supports a church who promotes queer conversion therapy. I said he was trash a year ago and thirsty white women chased me into lockdown.

— Hillary Monahan (@HillaryMonahan) February 9, 2019