Ryan Reynolds and Blake Lively are one of those couples we could never get sick of. While they steer clear of major celebrity controversy, they're always making headlines for relentlessly trolling each other to no end on social media.
Clearly, these two are #couplegoals. This week, Lively posted a picture to her Instagram feed to promote her new movie, A Simple Favor. The photo, like many others for this particular film, displayed Lively in a suit–a true authoritative power. Instead, this particular photo had her standing over a naked man, holding a martini for her.
She simply captioned the post:
My turn…
 

View this post on Instagram

 
Obviously, a photo like this was not going to be up very long before her hilarious husband, Ryan Reynolds, got a hold of it for a witty and funny comment. The Deadpool actor simply left a funny, and somewhat jealous, comment saying:
Clearly, fans found it amusing.
Ryan Reynolds, always here with the jokes.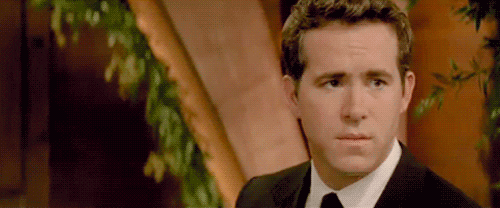 While they're our favorite couple online, there are a lot of things about this iconic relationship that we didn't know. If you love to swoon over celebrities as much as I do, here are 25 things you didn't know about Blake Lively and Ryan Reynolds' relationship.
1. Blake Lively and Ryan Reynolds met in 2010 when they were cast as the leads in Green Lantern.
2. At this time, Blake was dating Gossip Girl co-star Penn Badgley while Ryan was married to Scarlett Johansson.
3. After Blake and Penn broke up and Ryan got divorced, the two went on a double date; Blake was there for another man, and Ryan there for another woman.
4. Of that date, Ryan said: "That was the most awkward date [from their perspective] probably because we were just like fireworks coming across."
5. Blake didn't exactly feel that way, though. She said, "[That date] went well for him. I don't know about fireworks for me."
6. They'd sit around and try to think of people the other could date. "Oh, who would be good for you?" We'd sit around being like, "Oh jeez, do you know anyone?" And it didn't click for, I mean, a good year and a half. Like, "Oh hey, wait, hold on. We could date!" says Blake.
7. After they were spotted together in Boston in 2011, sources confirmed they were a couple.
8. They fell in love in Japanese restaurant O Ya in Boston.
9. Blake and Ryan requested a coloring book so they could play Tic-Tac-Toe while on a dinner date in Vancouver.
10. In September 2012, Blake and Ryan held a secret wedding in South Carolina.