As you get older and mature in life, it becomes increasingly difficult to decide whether a guy is better looking or not than his dad. Trust me, I've seen some fine-looking fathers in my day–and, some of them are even better looking than their sons, even though their sons are my age (or somewhat close to my age). There's nothing wrong with having a thing for a dad or two–but, acting on it, well that's a whole different story. Time and time again, we hear girls casually joking around about "sleeping with an ex's dad" after he's broken our heart–as revenge, ya know? But, to do it? I'm not sure I've met a girl who has. Until, right now.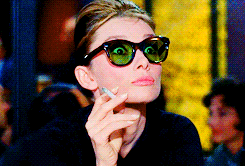 A 19-year-old girl posted on a Reddit "Ask Me Anything" forum about the situation–she's been sleeping with her ex-boyfriend's dad for the past six months. Six whole months. I'm not even mad, I'm impressed. She and her ex had been together for almost two years but broke up before they went away to separate colleges. When she had come home in September, she ran into her ex's dad at the grocery store and apparently, reminded him of a pretty X-rated moment from the past.
My ex and I dated for almost two years, but broke up last summer before going to different colleges. Ran into his dad at the grocery store in September. I playfully reminded him of the time he caught his son and I having sex. I teased him saying that part of me wished that he stayed, and he admitted to thinking the same thing. 20 minutes later I was back at his house.
The situation was pretty much the typical "dad walking in on your kid having sex with his girlfriend," but…with a weird pornographic twist.
Summer before senior year I'm over at his house swimming. (They have a pool, so where else would I be?) His dad wants to grill dinner, so he goes to the store. Since we figured we would have at least an hour, my bf and I go inside to have sex. Well, he forgot his wallet, so less than 20 minutes later he returns and finds us on my boyfriends bed where we are enjoying some reverse cowgirl. I see him about two seconds before my boyfriend did. I saw him and got super turned on because he could see everything, and I was just about to cum. Then my bf saw him and freaked. I left soon after, and my bf got into trouble.
Apparently, the situation is casual–but also, kind of serious seeing as the girl answered some of the questions saying that she's "only sleeping with the dad right now." And, for the record, he's a widower, so there's no cheating involved. She also has no intention of telling her ex.
I honestly don't see any reason to tell him. We aren't dating anymore. I doubt he would be pleased anyway.
But, she said she wouldn't be opposed to having a threesome with the dad and son.
I wouldn't say no.
But, for the record, the dad is seriously packing heat. Someone had asked if the dad or son was  "better in bed and kinkier" and "who was bigger." She answered simply:
Dad on all three counts.