In today's edition of "boyfriends who really need to get their sh*t together," we bring you this man who we can do nothing but shake our heads at. Bella, a pretty well-known social media influencer on Twitter, shared with her 22,600 Twitter followers the text messages between her and her now ex-boyfriend as to what happened when she found out he had cheated on her.
When it comes to cheating – it's never okay. But, if you're going to get caught, just own up to it and save everyone the trouble. Or, you can be like this guy who basically says he cured cancer because he let a girl suck his d*ck.
I'm serious.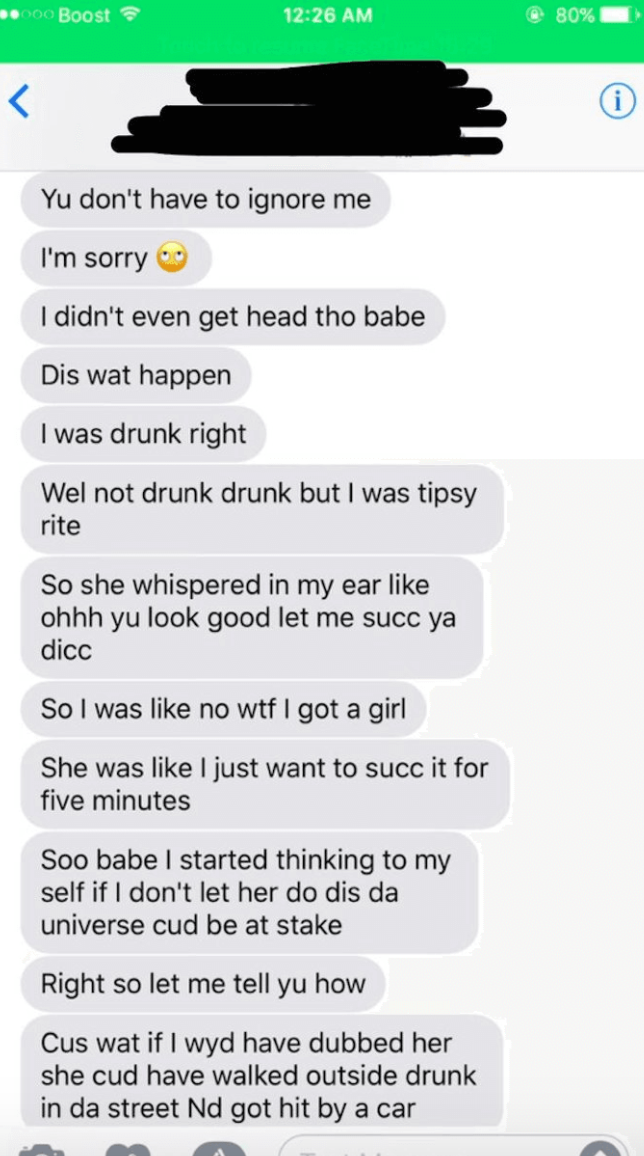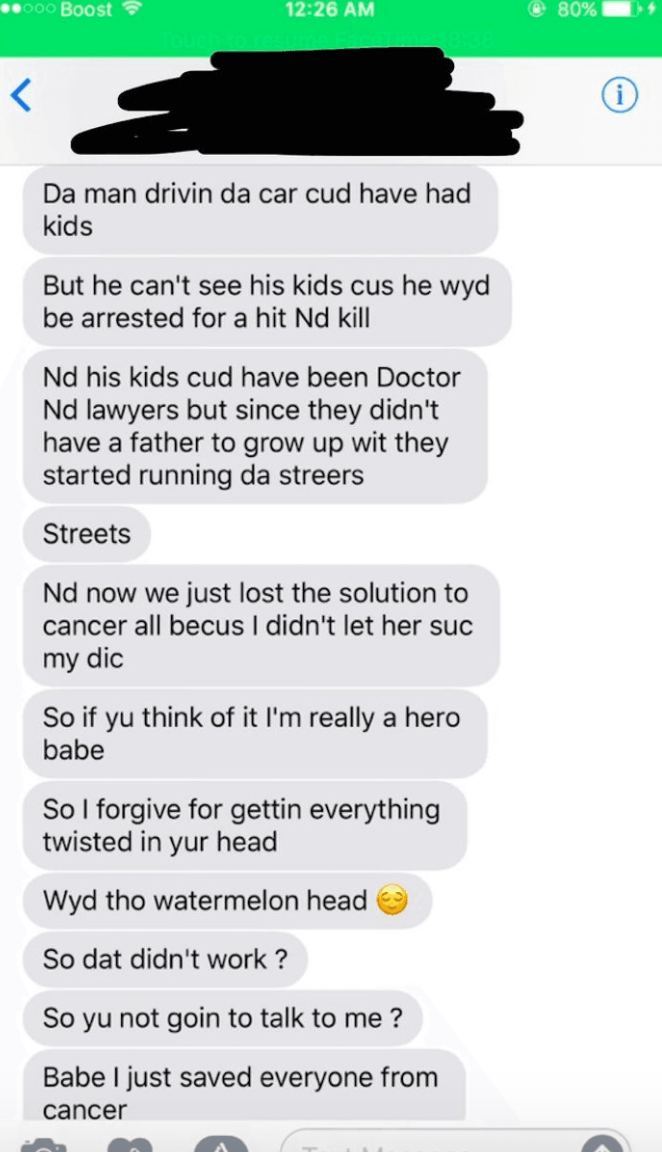 I can't begin to even describe the fuckery that's going on in this conversation. Actually, I can't wrap my head around it. At all. No. Just…no.
Twitter of course was like…WTF?
this nigga cheated and… ??‍♀️ pic.twitter.com/t1I416fXjW

— bella ? (@bxllaneira) July 31, 2017
"i didn't even get head tho" after he explains the story of how he got head GIRL he IS TRASHHHHHH YOURE A GODDESS

— miss frizzy (@keepit2gtherkid) July 31, 2017
She need to leave him anyway bc he clearly is not educated well in spelling

— big baby (@BruhChilI) July 31, 2017
i like how out of all the grammatical errors he fixed streets.

— ✭Col✭ (@cje91011) July 31, 2017
"I was drunk right..
Well not drunk drunk but I was tipsy rite"………………………. girl lmfao

— tre (@NajiahTaughtYou) July 31, 2017
Nigga said the universe was at stake pic.twitter.com/ImyiBQSVXc

— OLD MAN MOE (@Afro_Clutch) July 31, 2017
Is this real ???? pic.twitter.com/zA7Ik5GUKj

— Parris Alexander (@Zandersanz) July 31, 2017
"If I don't let her do dis da universe cud be a stake" pic.twitter.com/Je4bxSAqed

— lani. (@dontbetheprey) July 31, 2017