The Internet is home to some of the most extra people in the world. When it comes to doing the most, we're sure to find dozens of people online. Between Facebook, Instagram, and Twitter, it's easy to find some of the most extra humans alive. And, 2017 served us some wild, wild times. I'm sure 2018 will bring even more over-the-top ish from these Internet heroes, but we'll have to wait and see.
1. This girl who dressed as Cher from 'Clueless' for her school ID picture.
Ugh, as if! #NFID18 pic.twitter.com/l4SmGPK4SZ

— Shelby Sheridan (@ShelbyySheridan) September 14, 2017
2. This mom who's 8TH CHRISTMAS TREE was covered in real roses and baby's breath.
My mother is out of control, y'all. Her 8th Christmas tree is a roses & baby's breath and they're real. pic.twitter.com/mh2tOa7RAq

— Holly Jolly ???? (@HollyGoNightly1) December 9, 2017
3. This guy who hung up a poster of his girlfriend in his dorm room.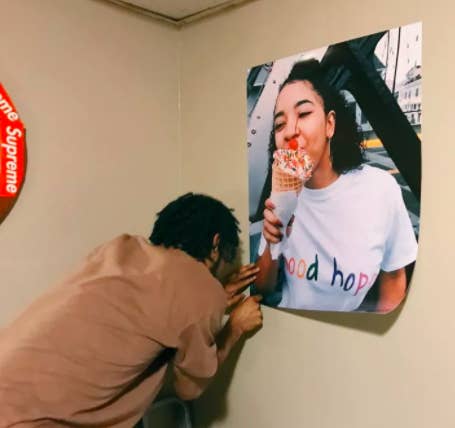 4. This guy who made his bathroom into a 5-star resort for a cricket.
Last night it was cold & windy & when I opened my door this cricket hopped in, so I set him up good for the night:

– lil' pot of water
– pickle & Swiss cheese
– left airpod w/ Frank Ocean playing

This morning I let him go & he hopped away happily.

I miss him & hope he's good pic.twitter.com/iNnSGq3NUY

— Garrett Watts (@Garrett_Watts) December 8, 2017
5. This girl who gave a guy her phone number on a pack of gum, literally.
i've asked this girl in my math class for a piece of gum every day for the whole semester. today was our last day and i asked her for gum and she gave me the whole pack as a parting gift… if this ain't the smoothest thing i've ever seen. ?? #giveextragetextra pic.twitter.com/ELd9CukEUW

— jake (@squidslippers) December 4, 2017