When you're a celebrity, it's almost impossible to lead a "normal life" in public. Most celebrities can't go food shopping without being stopped and asked for a photo or an autograph. As an adult, it's pretty f*cking annoying. But, as a kid, it's you have to think it's pretty traumatizing. Imagine being 13-years-old and being totally bombarded whenever you leave the house? While you think it's pretty cool, it's actually pretty damn tiring after a while. And, fans need to learn to respect that. Actors/actresses/singers/artists work really hard to provide the entertainment we love, sometimes, they need a break. 
Some people, however, don't really understand that – which, they proved on Twitter this week. "Stranger Things'" Finn Wolfhard was leaving a hotel this week when fans tried to stop and get an autograph/video/photo with him. Apparently, fans tried to "meet" Fin, but he cooly responded with just "hi." They took this as a total snub and called him "heartless" and "so rude."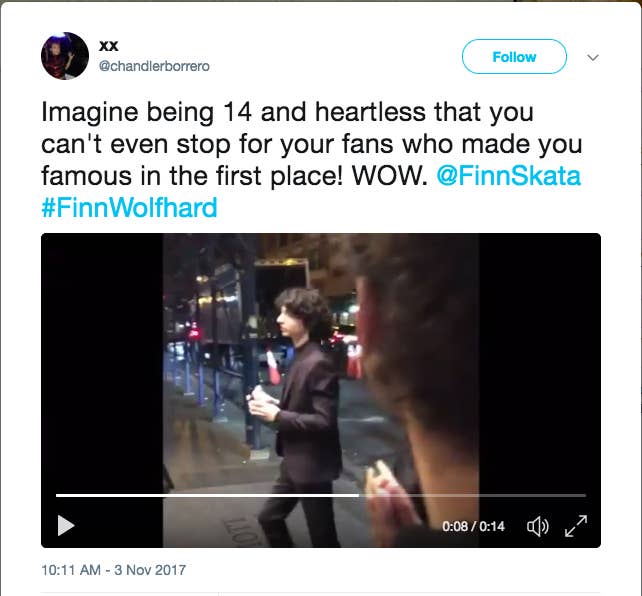 Honestly, it's pretty f*cked up to think that famous people have to come over and meet you, sign your products and even take photos of you when they're trying to live their own lives on their off-time. Get it together people, they're humans just like you and I. After being attacked on Twitter, Finn's castmates took to their own accounts to stand up for the actor who plays Mike.
Shannon Purser, who plays everyone's favorite character Barb, took to Twitter and issued a series of tweets in response to the video saying that no actor is under any obligation to stop for any fans. Also pointing out that they often times need a break.
Noah Schnapp, who plays Will, also responded to Shannon's tweets saying that as kids, they do love their fans, but they do need a break, too.
So true. we really love the fans. Finn is the nicest guy u will ever know. we all work so hard, and need a break sometimes. #Compassion ❤️❤️ https://t.co/On3Fo8NeB8

— Noah Schnapp (@noah_schnapp) November 5, 2017
Obviously, fans on Twitter were loving the fact that this cast sticks together and has each others backs both on-screen and off.
when the cast defends the cast >>>>>>>>>>>>>>

— andy (@finnshaven) November 5, 2017
I love this friendship pic.twitter.com/FG4RWmm8CL

— bella… (@daviddobrk) November 5, 2017
??ACTORS??YOUTUBERS??AND?? MUSICIANS??ARENT?? OBLIGATED??TO??STOP??FOR??YOU??

— vic? (@urxvityhunk) November 5, 2017
When Bard tells you to back off…you do that.

— Abi Normal (@AbiNotNormal) November 5, 2017
aww friendship goals ♥

— -6 ?? (@strangerxjoel) November 6, 2017
QUEEN SHANNON SLAYS

— ㅤmaika (@lodijanehopper) November 5, 2017
When you sit back and just let Shannon handle this ?? pic.twitter.com/AuEJZk4CRZ

— KacieAlexis (@KacieAlexis) November 5, 2017
— Aline (@focusonfinn) November 5, 2017
Just another PSA that celebrities are human beings and not puppets who owe us their downtime and attention. Happy Monday, a**holes.