Episode five of Game of Thrones left us with one dark, snow-filled anxiety attack. Basically, Jon Snow took some of his wilding friends, The Hound, Jorah, Gendry and the brothers without banners over the wall to capture a member of the Army of the Dead aka a White Walker. The walk out was something from a Marvel movie, where all the superheroes puff out their chests and get ready for battle. But, we know the White Walkers are savage – so, it's almost certain someone is going to die.
But, of course, the Internet could not stop freaking out over this scene.
1.
End of tonight's #GameOfThrones be like pic.twitter.com/wZmItxklFt

— Joshua Yehl (@JoshuaYehl) August 14, 2017
2.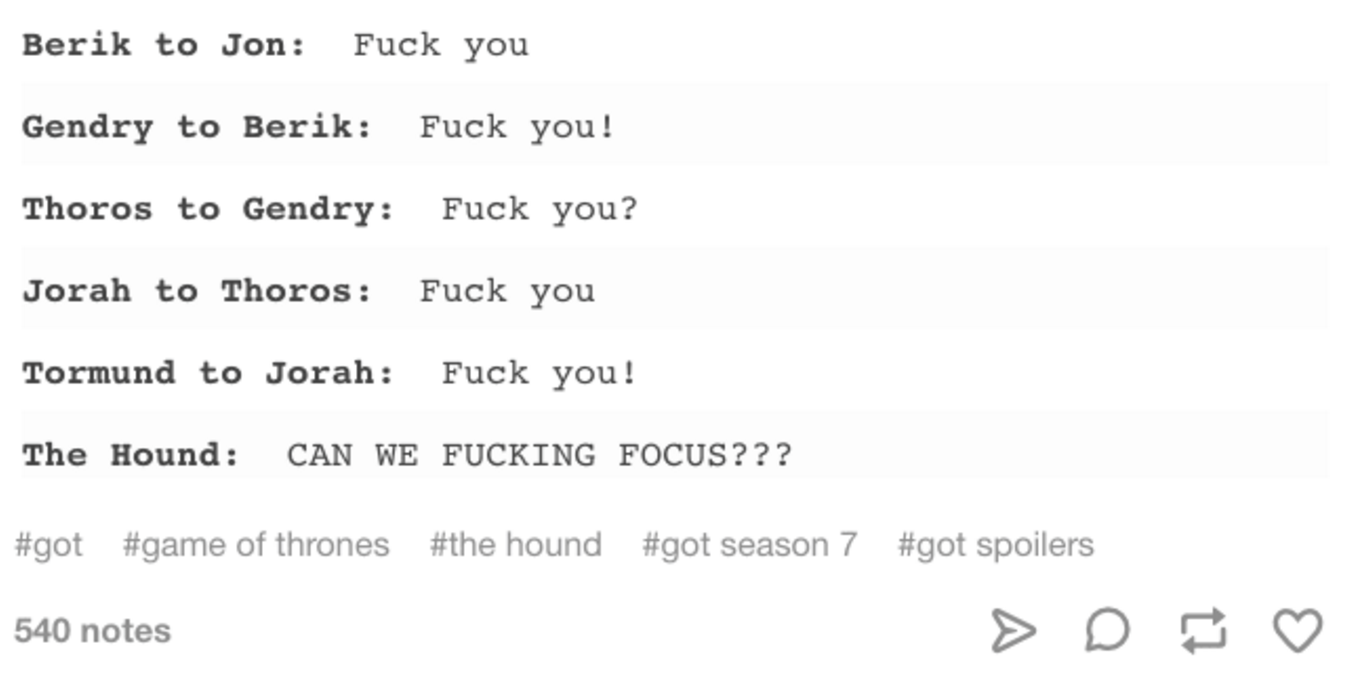 3.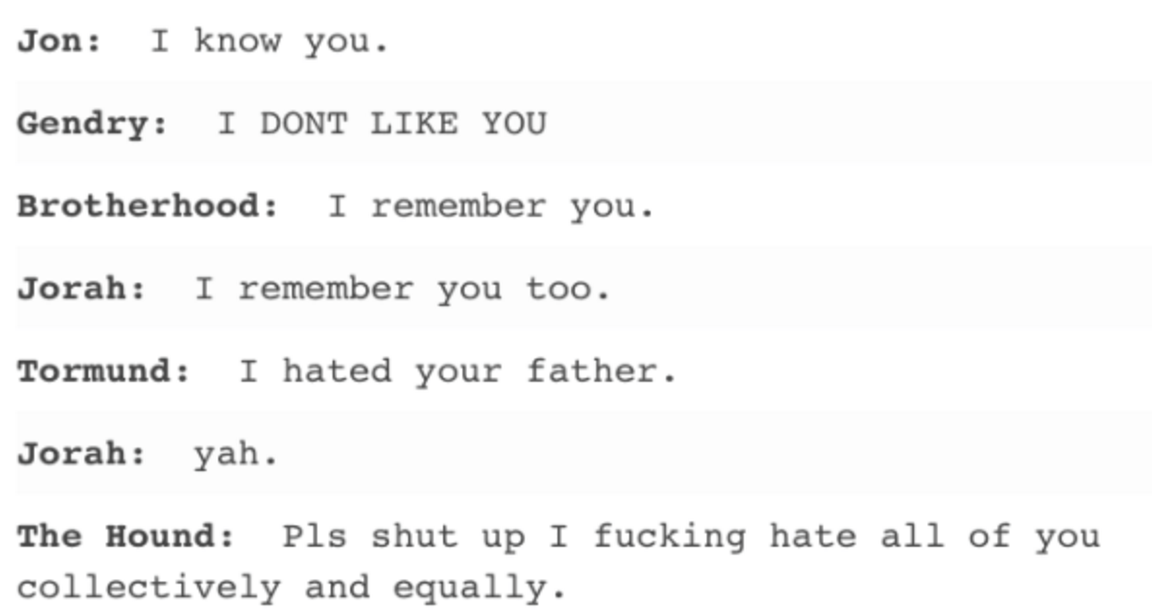 4.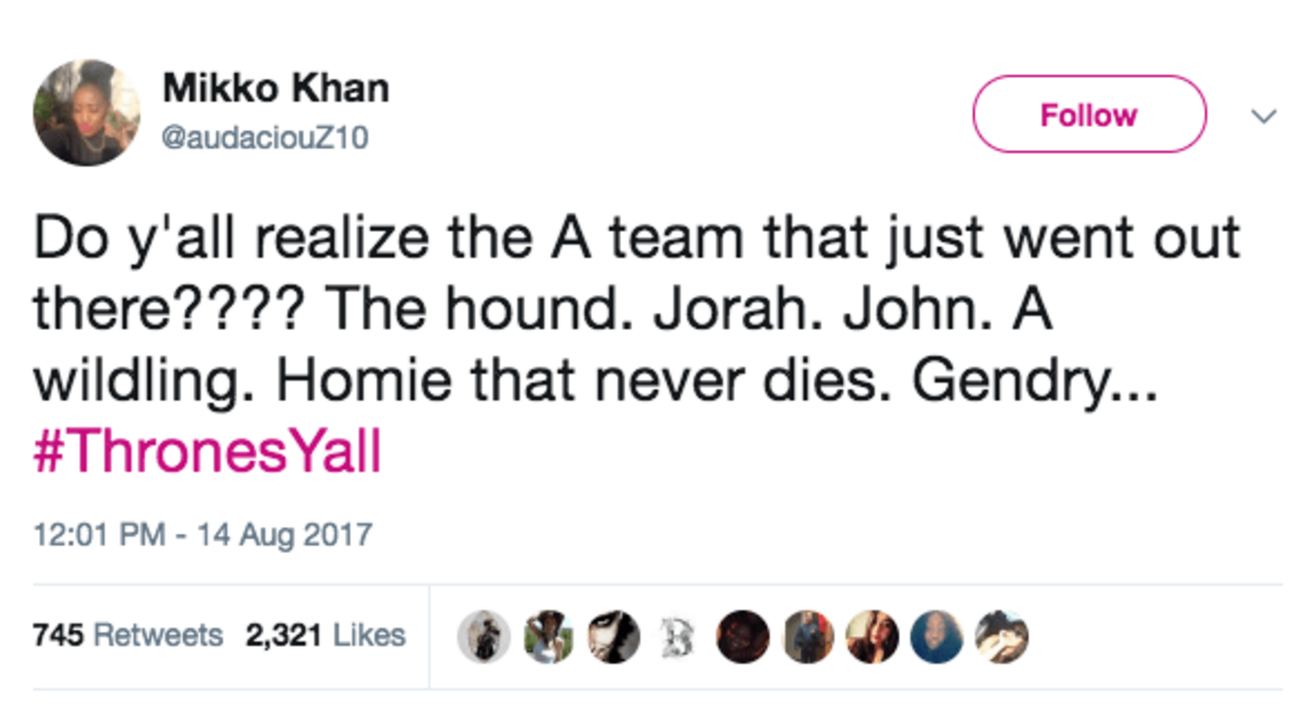 5.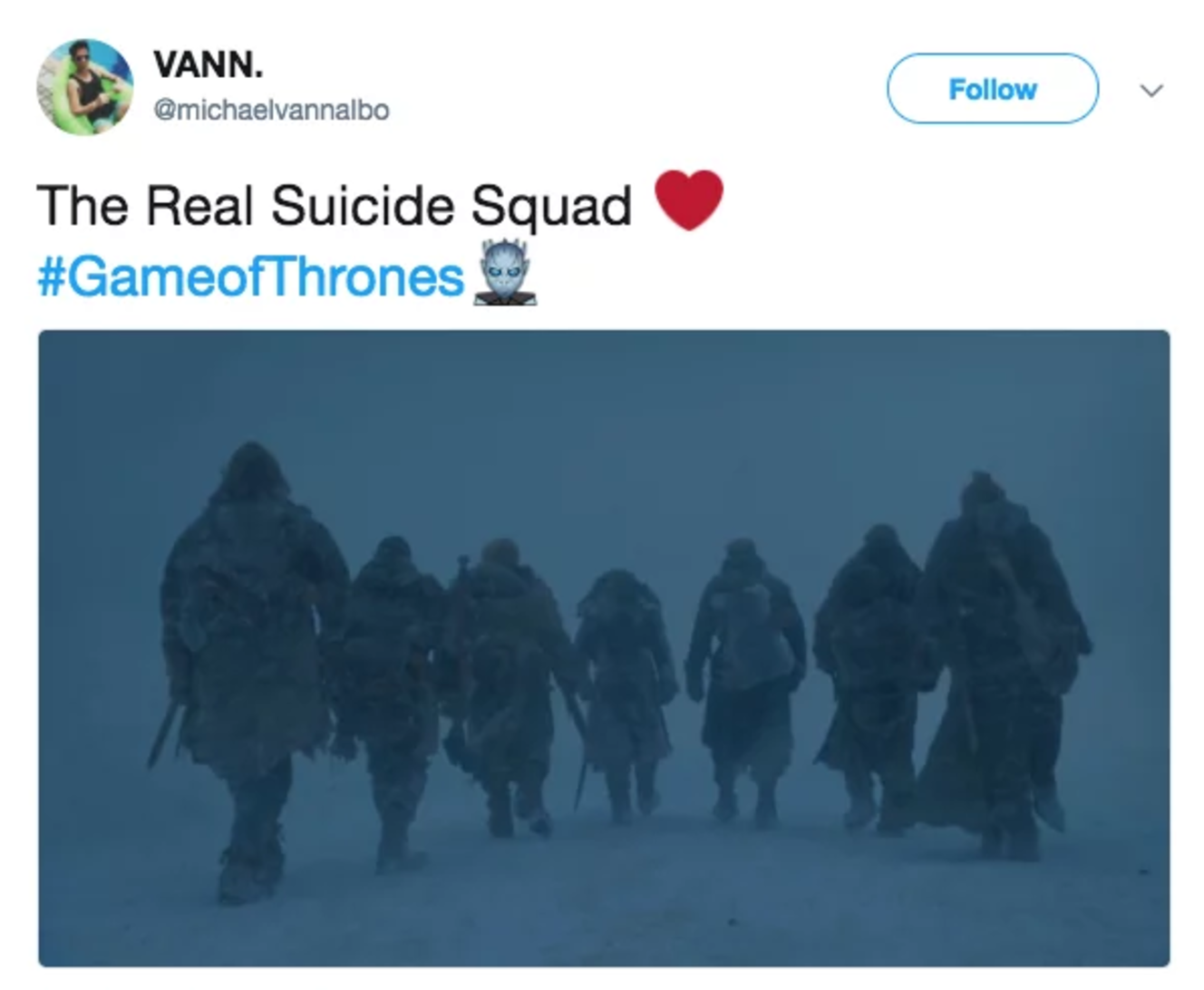 6.
Jon Snow & his crew just dropped the hottest music video of 2017 #GameOfThrones #DemThrones #ThronesYall pic.twitter.com/iMSEEe8T4E

— Arian Rustemi (@ArianHRC) August 14, 2017
7.
So Jon snow assembled the most badass crew he possibly could, to go back across the wall. Jesus. This got sooooooooooo juicy

— Greg (@The_OGreg) August 14, 2017
8.
When Jon Snow leads an all star crew to fight the white walkers pic.twitter.com/jVn7mjjGJW

— Alex Yudelson (@AlexYudelson) August 14, 2017
9.
This crew with Jon Snow is the most savage group of people and I would be honored to fight white walkers with them

— Kristen (@holaaimkristen) August 14, 2017
10.
Jon Snow has got himself a proper crew. #GameOfThrones #squadgoals pic.twitter.com/H1XczmREqp

— Neil Parr (@LordBillinge) August 14, 2017
11.
Jon Snow and crew going beyond the wall is made better by the comparisons to The Magnficent Seven #spoilers – they all die in that film pic.twitter.com/yk82mWgZiK

— Joshua De Luna (@justjoshuahere) August 14, 2017
12.

13.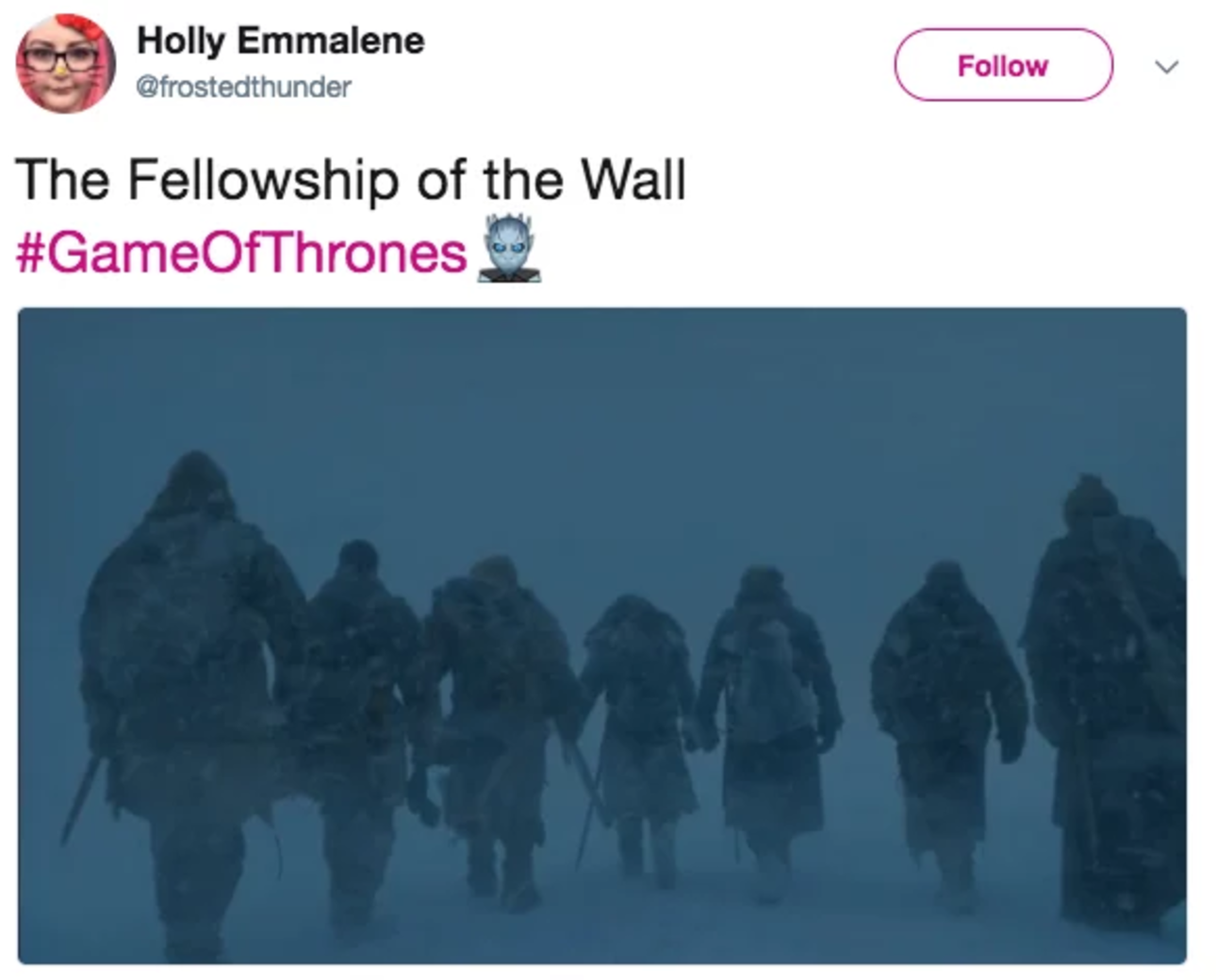 14.

15.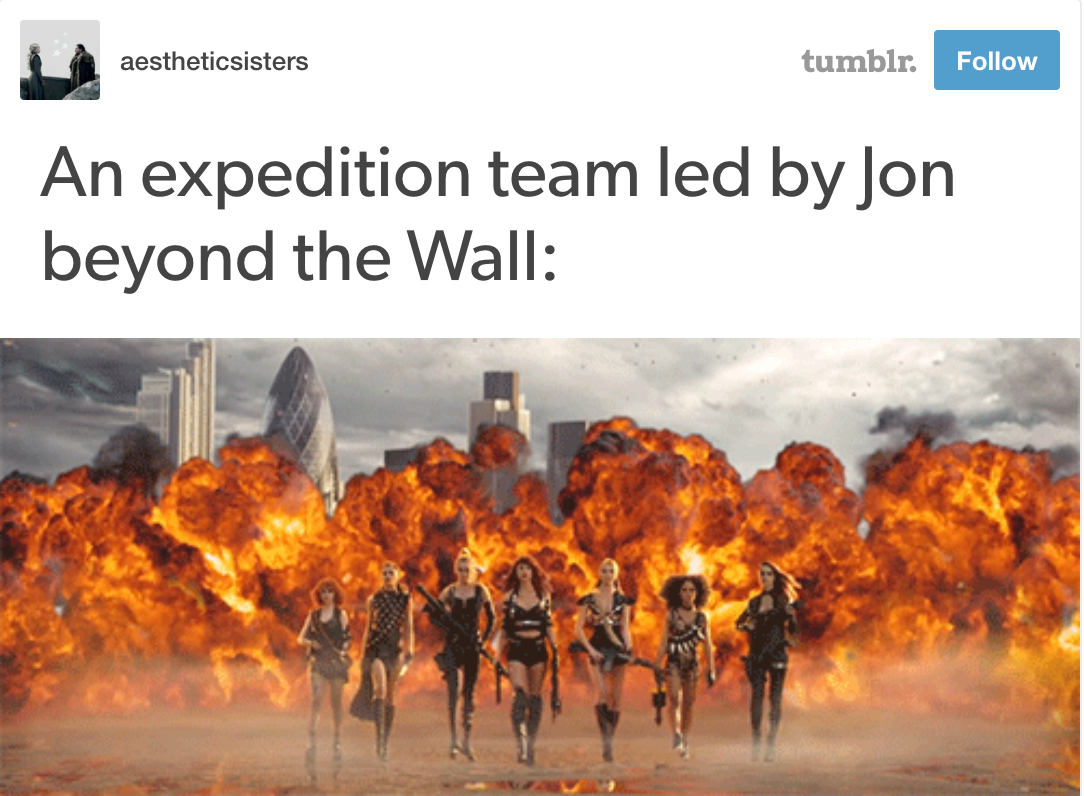 16.
EVERYMAN THAT WENT OUT THE WALL IN GAME OF THRONES ARE REAL SKENGMAN #GameofThrones

— poey® (@PoeSoprano) August 14, 2017
17.
That squad in The Wall. ?#GameOfThrones pic.twitter.com/YwVPzSx0Rv

— Ser Gendry Baratheon (@ForniCarias) August 14, 2017
18.
I won't be surprised if Little Finger has actually crossed the Wall and made an alliance with the Night King ?
#GOTS7#GameOfThrones

— Prakash Dubey (@_prakash_dubey) August 15, 2017
19.
Leaked footage of the White Walkers traveling to the wall. #GameOfThrones pic.twitter.com/utBSG6vsDc

— Lilly Singh (@IISuperwomanII) August 14, 2017
20.
Jon's squad heading North of the wall be like #GOT #GameOfThrones pic.twitter.com/XrRUenodt7

— Mj Labenia (@Lalalalalabenia) August 14, 2017
21.
The suicide squad have landed North of the Wall #worried #GameOfThrones pic.twitter.com/i58zyD4Oq2

— Unapologetically Me (@chiwuta_karina) August 15, 2017
22.
So basically the Justice League of Game of Thrones is about to go North of the wall?

— Benjamin Allbright (@AllbrightNFL) August 14, 2017
23.
So – Jon, Jorah, Gendry, Beric, Thoros, the Hound + Tormund heading north of the wall

IT'S THE FREAKING A-TEAM OF WESTEROS#GameOfThrones pic.twitter.com/hawbQEbhvd

— Wesley Potts (@weskpotts) August 14, 2017