Blind dates can often times be nerve-wracking and horrible. Other times, they can be blissful and introduce you to "the one." And, then, there are those times when one person has a great time on the date and the other person is a complete and utter f*cking d*ck.
Cue: the tale of Alyssa and Billy.
Time Out New York runs a vertical called "Undateables," and pairs two people together who deem themselves, well, undateable. 24-year-old video production manager Alyssa from Astoria and 24-year-old actor Billy from the Upper East Side were paired in this particular rendition of their section.
While the blind date was not wedding bells and white dresses, it was clear that Alyssa tried to make the night semi-fun and Billy, well – Billy f*cking sucks.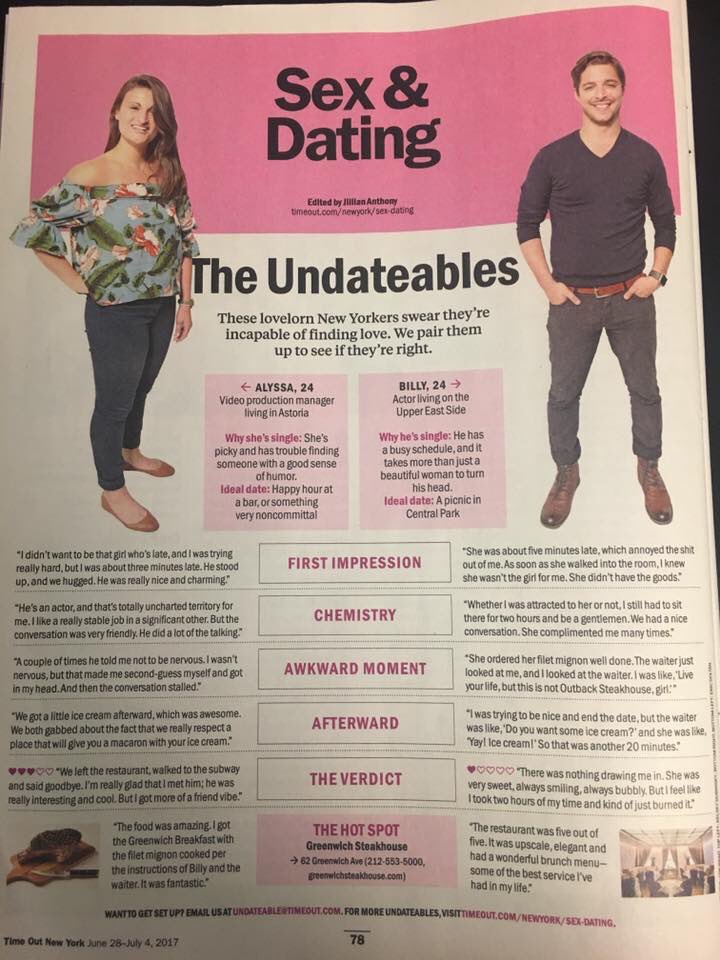 What happened you may ask?
Well –
The first impressions were both off – Alyssa thought Billy was nice and charming while Billy thought there was no connection from the get-go.
Onward –
Alyssa felt that throughout their date, there was no spark. But, she did say she had a nice time with Billy and would enjoy his company as a friend.
Billy on the other hand…
Billy said the date was a complete waste of time. He flipped out because Alyssa ordered her steak "well-done," and, she ordered dessert. Apparently, this not only upped the bill, but upped the amount of time he had to spend on the date. He said that she basically "burned two hours of his time."
Well – F*CK THIS GUY.
Twitter was not having it.
i love when men out themselves as being complete dicks via their responses in the undateables section of time out new york pic.twitter.com/oX8MB434Xd

— Maya Kosoff (@mekosoff) June 28, 2017
I love how she seems nice and like "we ordered ice cream I guess it was a little weird" and he's like "this dumb bitch ordered ice cream"

— nuanced opinion guy (@charles_kinbote) June 28, 2017
Btw, 5 minutes late is the most on time anybody i know has ever been to anything in this city

— Jordan Freiman (@JordanFreiman) June 28, 2017
Starting a petition to have Alyssa star in her own dating show (maybe the premise is that it takes place at a steakhouse???)

— Melissa Radzimski (@melissaradz) June 28, 2017
any man who wants to take you on a picnic cannot be trusted

— Polly Mosendz (@polly) June 28, 2017
wait so he judged her for getting the filet after he recommended it? this is incredible stuff

— Alex Fitzpatrick (@AlexJamesFitz) June 28, 2017
"She complimented me many times."

— Portia Crowe (@PortiaCrowe) June 28, 2017
SHE
DIDN'T
HAVE
THE
GOODS????
UGH. pic.twitter.com/tVHjUUUXqo

— Sara Yasin (@missyasin) June 28, 2017
"Why he's single" – no, dude, that is not the reasons you're single!!

— Annie Heath (@Annie3H) June 28, 2017
I KNOW HIM!!! Holy crap. Trust me this article isn't the least of it. There's honestly SO MUCH.

— Christian (@Amadeus_CV) June 28, 2017