Starbucks is our favorite topic to write about lately – just kidding – they keep doing things that we deem newsworthy so you're forced to read about it. #SorryNotSorry
But, good news is, you can get free coffee this week at any Starbucks location – WIN, WIN!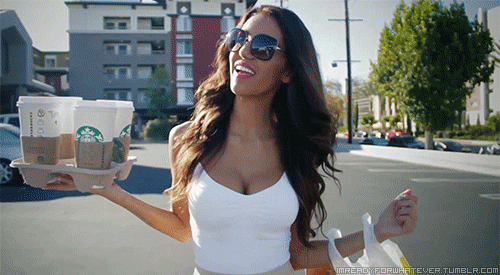 Here's how it works:
Starbucks is having a BOGO sale – like Payless – buy one, get one free. So, take your mom, your dad, your sister, your brother, your boyfriend or girlfriend to Starbucks and make them order something so you can get an iced bev FO' FREE!
From 2 p.m.-5 p.m., if you order and pay for any drink at Starbucks, you can get a free iced espresso drink of equal or lesser value – so basically, anything to give you a little afternoon delight (hehe).
The press release insists that these are the best iced bevs to give it a go at:
Starbucks Doubleshot on Ice
Iced Caffé Americano
Iced Caramel Macchiato
Iced Soy Latte
Iced White Chocolate Mocha
YUM.
It only lasts until July 2nd – which is Sunday – so you better get on it ASAP.