People have been talking about Lindsay Lohan's career comeback for quite some time. For a few years, Lohan has struggled immensely with drug use and other personal issues, which has put a stall on her career in acting. But, fans have still, longingly been by her side through her problems – because lets face it, Lohan some of our favorite childhood movies.
Recently, Lohan has spoken about getting clean and jump-starting her career again. And, while it may not be a Disney movie – it's official – she is making a slight comeback to the big screen.
According to her Instagram, Lohan is getting a little help from another famous red-head – Rupert Grint – or as we know him, Ron Weasley.
She posted this photo on her Instagram page, promo-ing the show Sick Note, which is a British TV show she is currently filming for.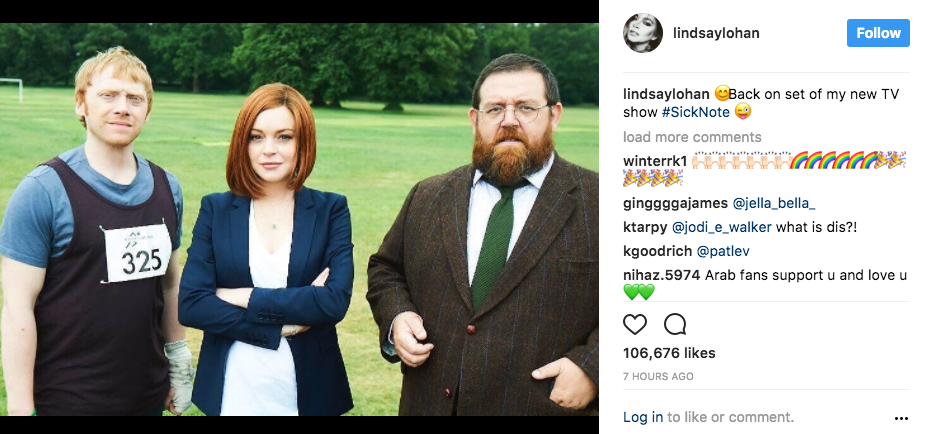 The TV show airs on British channel Sky1 and is currently filming for their second season, which Lohan will be featured in.
Fans have been so excited about her acting comeback, that they've taken to Twitter to congratulate her and share the love.
OMG LINDSAY LOHAN IN COSTUME FOR HER FIRST ROLE SINCE 2013 IT's 5 AM AND I LITERALLY JUST SCREAMED !!!!!! pic.twitter.com/ETjHcn8H3D

— LiLo's Sober Coach (@LiLosSoberCoach) June 12, 2017
https://twitter.com/ITSPARISBXTCH/status/874255173425795077
I'm shaking. Lindsay Lohan is coming! pic.twitter.com/l1obP631NK

— dakota moss (@mileygrunge) June 12, 2017
LEGEND LOHAN COMING FOR THAT OSCAR

— crldsnts (@CandidlyCarlo) June 12, 2017
Good to see you back in the game. Stay clean and healthy!. pic.twitter.com/fiPAmrU7DN

— Obi-Wan Kenobi (@SirBenKenobi) June 12, 2017
queen of being professional. queen of being a boss. old white men are shook. queen of getting gigs. queen of work. you 5 years ago is shook

— ㅤthot?$$ (@PUSSYSTUNTlNG) June 12, 2017
https://twitter.com/lindsayiconic/status/874195177669373953
https://twitter.com/crazyinfectious/status/874213544056762368
Honestly I love it how people are thrilled by the QUEEN coming back to the game and are talking how Emma Stone is QUAKING lmao

— Paris Duarte (@ParisDuarte) June 12, 2017
People have also been excited since Amanda Bynes had given her first interview in four years, and discussed her acting comeback, as well.
if Lindsay Lohan and Amanda Bynes can make a comeback nothing can stop me

— NEGATIVE CREEP (@locallpunk) June 12, 2017
Lindsay Lohan and Amanda Bynes are making their comebacks ❤?

— Thato Kgoele ? (@ThatoKgoele) June 12, 2017
We're excited to see what Lohan has in store for us!