If you were a fan of the TV show One Tree Hill, you'd know there's no truer friendship than the one between Peyton Sawyer and Brooke Davis.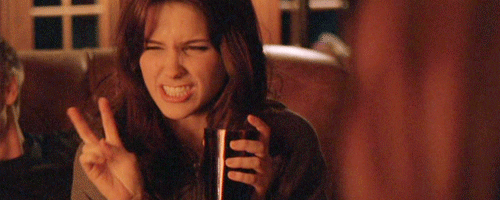 For years, fans watched their friendship go through its ups and downs – but in the end, these two always had each other's back (except for when Peyton hooked up with Lucas while he was dating Brooke – but *spoiler alert* it all turned out A-OKAY).
Years later, since the show ended, the cast still remains close friends and keep in touch – doing reunion tours and just hanging out casually.
To show how true this friendship really is off-screen, Hilarie Burton, who played Peyton Sawyer on the show, created her very first Twitter account this week. And, who was her first tweet ever to?
Sophia Bush – or Brooke Davis – of course.
1st tweet HAS to be to thank this golden woman – for being my defender against imposters and my voice for years. Love you @SophiaBush !!! pic.twitter.com/t3TjdOqXD6

— Hilarie Burton (@HilarieBurton) May 23, 2017
Honestly – how can you not feel nostalgia all over from this adorable friendship?
Seriously, I'm crying.
Bush tweeted right back at her sister-friend saying:
Love you sister. Welcome to the batshit crazy, wonderful world of Twitter. I've got your back ? https://t.co/0yGYIb2dGy

— Sophia Bush (@SophiaBush) May 24, 2017
All. The. Feels.
Fans were so happy about this, they couldn't control their emotions.
❤❤❤❤ pic.twitter.com/xsIkOsV3JD

— Emanuela Di Giovanni (@EmanuelaDG) May 23, 2017
Oh so many feelings! So much love for this friendship, on and off screen!❤️ #FriendsOverTrolls pic.twitter.com/demj5y93Qu

— Emer O' Sullivan (@msemerosullivan) May 23, 2017
*cries in 46 different languages*

— annie✻ (@braleybunch) May 23, 2017
MY OTH HEART IS SO HAPPY WOW❤️

— bella! (@omgsophiabush) May 23, 2017
??? pic.twitter.com/rsKUSSBBJS

— noƎmi; ✌? (@crockerina_) May 23, 2017
Really cute! Love you both❤❤❤ pic.twitter.com/mMB0iYEYYK

— Mathilde (@Miss_Mathilde_S) May 23, 2017
All the feels ? beautiful friendship and nice first tweet ❤ pic.twitter.com/21ruLGYAzl

— Kika ? مليكة (@kika_n) May 23, 2017
ALL. THE. FEELS. pic.twitter.com/8sBUTyPrDX

— corinna (@corinna_p) May 23, 2017
If this doesn't make your day, I don't know what will.