Stephanie Pratt, who stars in "The Hills: New Beginnings," is catching heat for her comments on Twitter Sunday. The 34-year-old reality show star was called out for hypocrisy as well as encouraging violence for tweeting, "Shoot the looters — using this tragedy as their excuse to rob and burn all of our towns down" in response to ongoing protests.

Pratt seemed to be echoing Donald Trump's tweet, which included the phrase "when the looting starts, the shooting starts." Twitter later said in a statement that the President's statement "violated the Twitter Rules about glorifying violence."
While Pratt's remark has not yet been flagged by Twitter, users are criticizing her statement by bringing up the time she was arrested in 2006 in Oahu, Hawaii for shoplifting $1,300 worth of merchandise from Neiman Marcus. Pratt was charged with second-degree theft and pleaded guilty.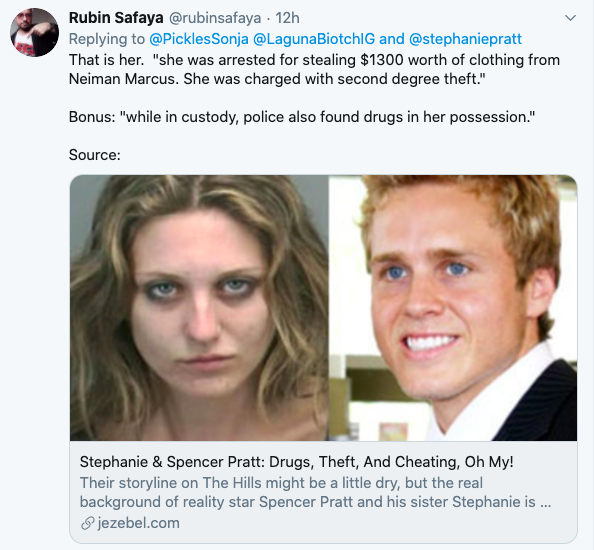 Social media users also accused Pratt for speaking out about businesses being vandalized instead of Black people being killed by the police, suggesting that she cares more about buildings than lives. Pratt ignored the criticism and continued to tweet about businesses, writing "My heart breaks for all of these businesses around LA affected. First the quarantine & now this."



On Monday, Pratt attempted to clarify her statement by tweeting, "There's some confusion between the words looter & protester on the news. The protesters are trying to make changes & end decades long police violence which we all want-we love them. Looters, however, are assholes."
Social media is not really feeling her revision, though.