Celebrities! They're just like us! Getting hand-delivered coronavirus tests on their couches! I mean, it's better than walking fifteen minutes every morning to see if there's a line outside CityMD. But honestly, I can't say I would turn a home visit down. 
Chrissy Teigen documented her COVID-19 nasal swab on Twitter, sparking a debate about privilege during these trying times when many folks aren't able to access testing centers or are nervous about waiting on long lines with other people who might be sick.

Teigen clapped back, reminding people that there all tests in Los Angeles are currently free and anyone can get them regardless of whether or not they are displaying symptoms.
Other social media users felt grateful that Teigen made the process so transparent with her video, easing their fears about getting their own tests.

"It's not bad at all, really," Teigen tells the health care worker testing her in the video. "It tickles!"

Teigen also responded to a Twitter user who felt like posting the footage of her test might scare people out of getting one.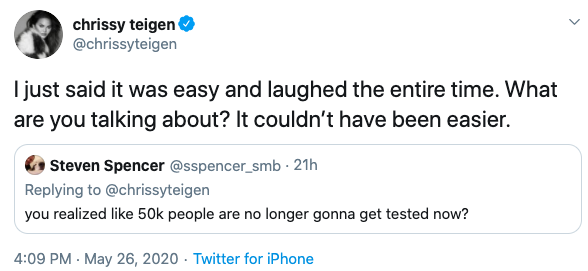 Later, on Instagram, the model and cookbook author clarified that she had to get the COVID-19 test because she's having surgery to remove her breast implants.
"So I posted myself getting a covid test on the twitter, as I'm getting surgery soon. A lot of people are understandably curious (and nosey!) so I'll just say it here: I'm getting my boobs out!" Teigen wrote.
"They've been great to me for many years but I'm just over it. I'd like to be able to zip a dress in my size, lay on my belly with pure comfort! No biggie! So don't worry about me! All good. I'll still have boobs, they'll just be pure fat. Which is all a tit is in the first place. A dumb, miraculous bag of fat."