Chrissy Teigen loves trolling her husband John Legend. Her latest? A dig at lyrics from his upcoming album Bigger Love and a threat to release the whole album on her Instagram.
Teigen tweeted on Sunday that she was listening to Bigger Love for the first time—and she wasn't exactly thrilled with some of the lyrics, especially this one: "You know there's a lot of women tryin to take your place."

"B*tch, what the f*ck," Teigen wrote, presumably in jest. Then she explained that if Legend had a coterie of ladies in waiting, she was going to have her own with the men of Better Call Saul.
Legend responded to Teigen's tweet, saying that she didn't exactly include the entire lyric.

"You didn't tell them the punchline. 'But I'm focused. I'm focused on you,'" he wrote.
To which, Teigen responded (nine hours later) with her signature snark: "Do u know what a punchline is"

Teigen also said one of her favorite songs on the new album is with Jhene Aiko and that Aiko should just go and get married to Legend…

Which prompted Aiko to joke that when the two of them are signing to each other, they are actually both singing to Teigen.

Teigen also took her angst to Instagram, where she posted videos of herself supposedly listening to clips from some songs on Bigger Love.
"Currently leaking John's album on my stories," she wrote. "Out on June 19th. Or free when I get mad enough."
Legend's response?
"I call this free promotion. Leak on."
This isn't the first time Legend's music career has sparked jealousy between the couple. Teigen had a fit on the set of the "Green Light" music video a few years ago while watching Legend dance with an extra.
She explained what happened in 2018 on Twitter. She wrote that seeing John on set—much in a similar way to how they met—triggered jealousy, which turned to a sobbing event.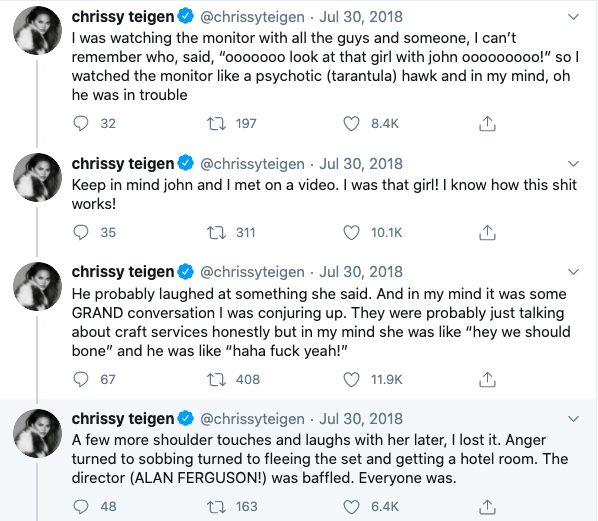 Happily, it seems like the two can joke about their insecurities now—I think.