Can you imagine calling Ashley Graham fat? The body-positive supermodel and new mom recently talked with legend Naomi Campbell on Campbell's YouTubeSeries No Filter With Naomi and shared a story of how a prominent model said just that (the comments begin around the 19:22 mark).
"There was another model who was so upset that I had gotten the cover," Graham said. "She said I was very large, and that women my size should not be on the cover."
Graham's talking about her iconic 2016 Sports Illustrated Swimsuit Issue's cover, which broke barriers for being the first swimsuit issue to feature a plus-size model. Since then, Graham has encouraged the fashion and beauty industry to stop being fatphobic and start featuring more diverse bodies in their campaigns.
In the interview, Campbell makes a face and asks Graham to tell her who the fat-shaming model was.
"Uh, you can go look it up," Ashley said, not wanting to name names. "It was before your generation…It starts with a C."
Though Graham didn't say it outright, she's most likely referring to Cheryl Tiegs, who appeared on the cover of Sports Illustrated throughout the '70s and '80s.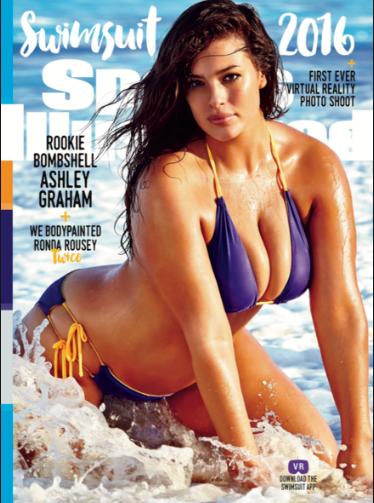 Tiegs blasted Graham's cover in 2016, saying, "I don't like that we're talking about full-figured women because it's glamorizing them, because your waist should be smaller than 35 [inches]."
Apparently, that's what Dr. Oz said, and everyone knows Dr. Oz is totally right all of the time!
"That's what Dr. Oz said, and I'm sticking to it," Tiegs explained further of this magical number 35. "No, I don't think it's healthy. Her face is beautiful. Beautiful. But I don't think it's healthy in the long run."
Graham reflected on how the whole Sports Illustrated controversy caused her to think about more significant issues. "It was interesting because it brought a whole perspective to the industry…Of course you're going to get negativity, you're always going to get negativity. It brought up a great conversation of, 'What is health? What is beauty? What is sexy?'"
These days, Graham is more interested in trying to help expecting and new mothers get through the COVID-19 pandemic, especially by advocating that they be allowed to have a partner present for birth.
"It's crucial we help this cause by having PPE available for healthcare workers and midwives so we can protect new mothers, infants, their families, and ALL patients," Graham wrote on her Instagram. "I'm doing what I can to support my midwives, but every healthcare worker out there needs your help, for the good of all of us."