Absolutely nothing is normal, and people are trying to cope with pandemic life as best they can. Some folks are catching up on reading, some are leaning into cooking, and others are too exhausted working, watching their children—or both—to even bother to attempt a hobby other than sleeping and crying in the shower.
And then there are the influencers.
What began as a TikTok trend of posting iterations of a "mugshot" photo complete with mugshot makeup (bruises, bloody noses, black eyes) has now turned into a scandal, with critics noting that the images glorify abuse and harm domestic violence survivors.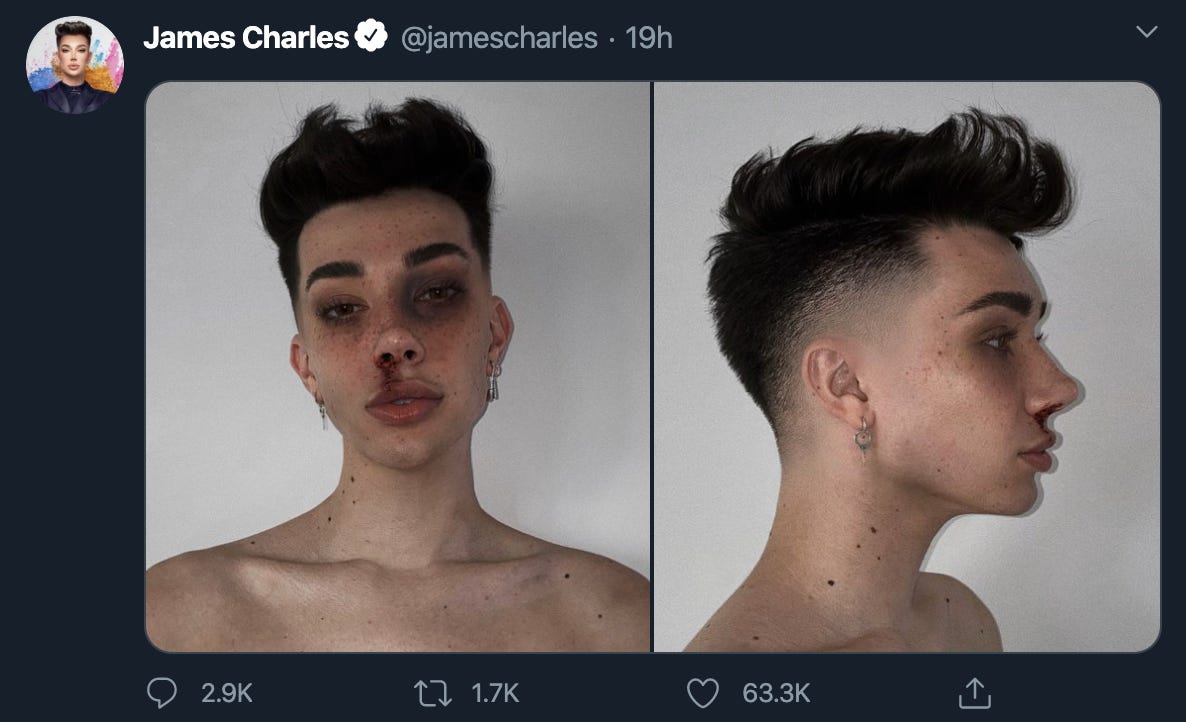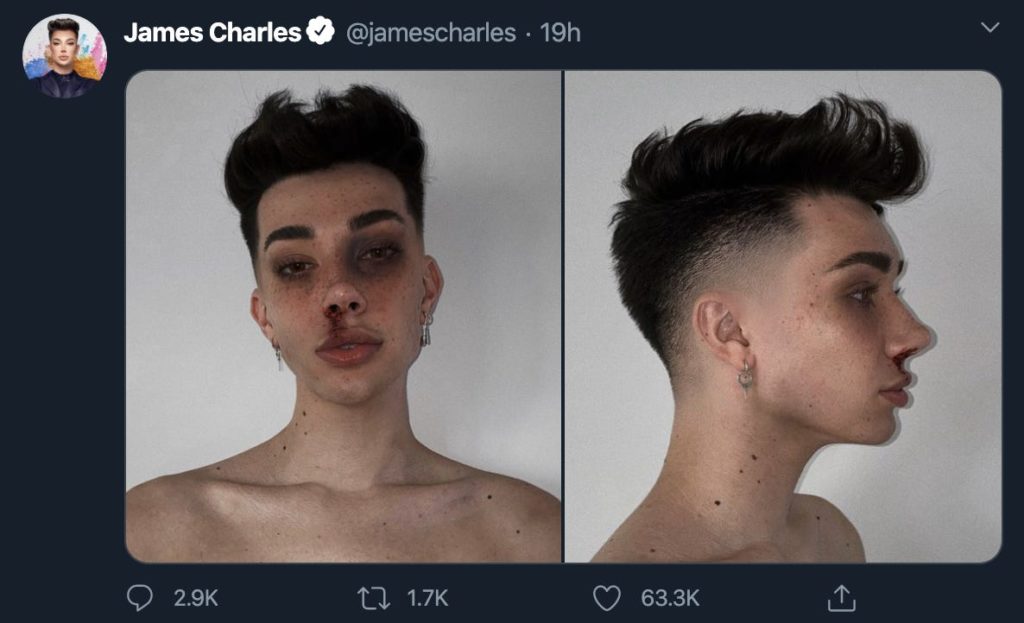 The trend has morphed into an attack on several top influencers who posted their iterations of the "mugshot" makeup look that's been circulating on the social media platform. 
Popular TikToks of questionable taste posted over the past week have centered around attractive, staged mugshots, where teens and twenty-somethings use smudged mascara and costume makeup techniques to artificially roughen their facial features—some have even added fake bruises, black eyes, and bloody noses to complement the look.
But when YouTubers and TikTokers like James Charles, Corinna Kopf, and Avani Gregg jumped on the trend, folks starting wondering if the mugshot photo had gone too far.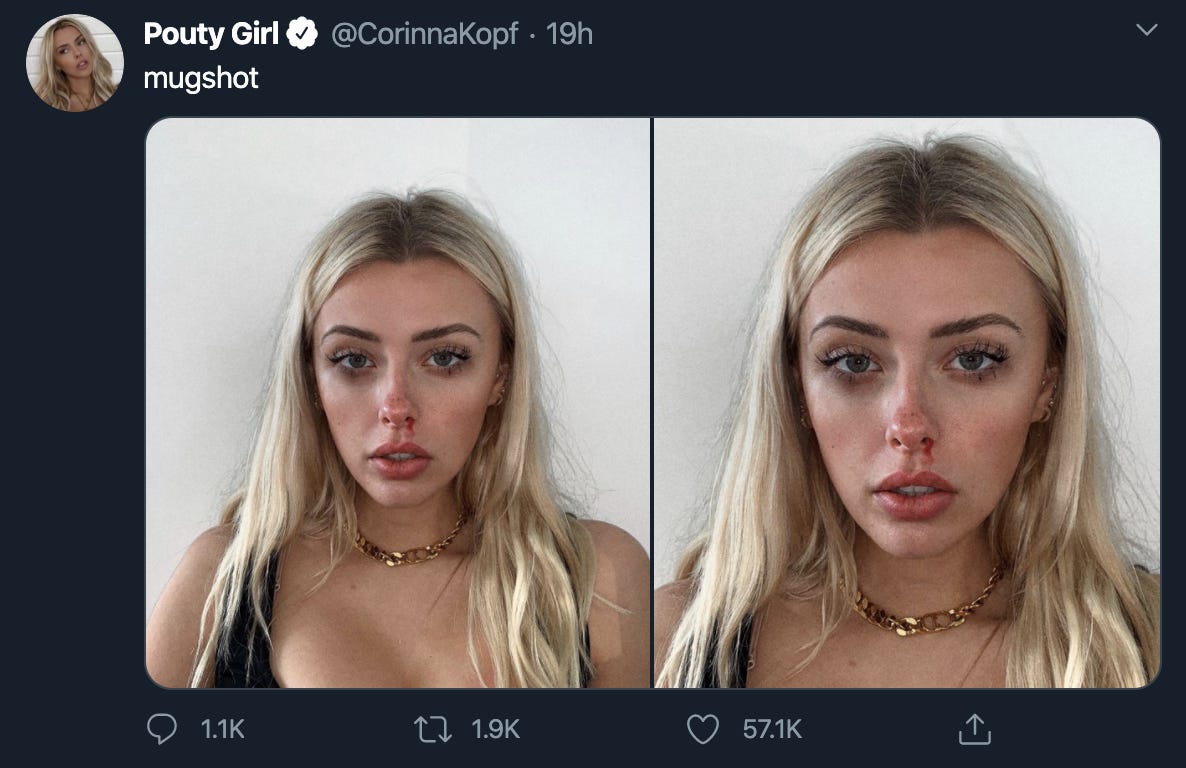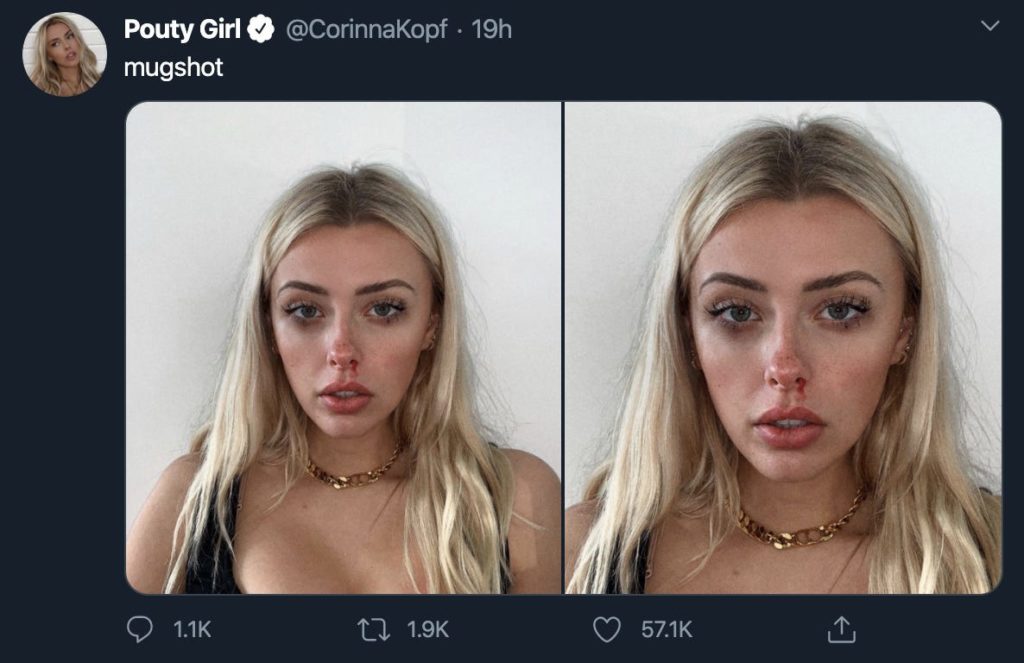 "Only I could lazily smudge on some purple eyeshadow and fake blood to recreate a dumb tik tok trend and have it twisted into an actual scandal lol," James Charles, a beauty YouTuber wrote in the since-deleted tweet.
The fake mugshots are typically taken in front of a blank wall. The subject is usually holding a card with a fake reason for their arrest. Some TikToks have a narrative element, such as the person got in a fight or some other situation. Most are intended as humorous, but as the trend has continued, people are getting more intense with their makeup choices.
Charles' and Carina Kopf's pictures lack the narrative and are devoid of captions, only relying on our interpretation of a bruised and bloodied face. Charles' Twitter audience in particular found fault with his uncaptioned photo set. Domestic violence survivors wrote in that they were disappointed that the beauty maven would glorify abuse.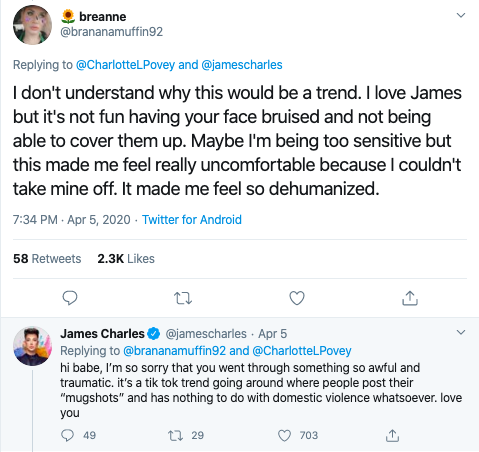 Charles kind of apologized for the mugshot scandal, saying, "despite the fact that hundreds of other influencers and artists have done something similar, I deleted the mugshot trend because it was never my intention to trigger anyone & it's a waste of time trying to have an open discussion with people who hate me regardless."
What do you think? Do the mugshot photos glorify domestic abuse?