Musical artist Grimes, known by her family as Claire Boucher, posted a pretty raw portrait to Instagram on Wednesday that was pretty quickly taken down because it revealed too much. Specifically, it revealed her nipples, which is a big Insta no-no. It also revealed a digitally rendered illustration of a baby across her stomach.
What exactly was she saying, the Internet wondered? She shared the original to Twitter, and an updated version with the nipples photoshopped away, which was put up on Instagram again:
????????_ pic.twitter.com/3WXN1H22Mz

— ༺GRIM ≡゚S༻ (@Grimezsz) January 8, 2020
"Censored for insta haha," she captioned the updated Instagram photo. "Almost got away with it."
In the Instagram comments of the original, which Buzzfeed captured a screenshot of, Grimes responded to a fan who praised her for showing her nipples with an explanation and a confirmation that she is pregnant: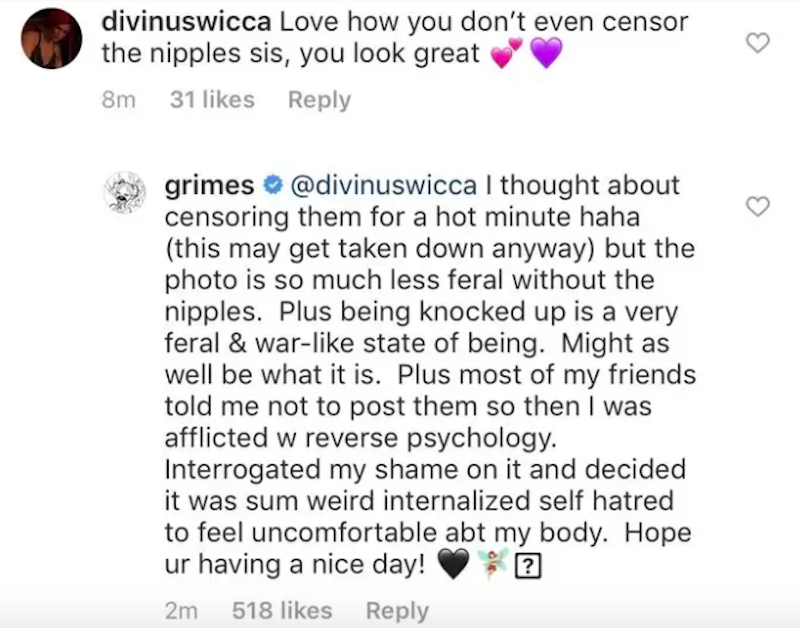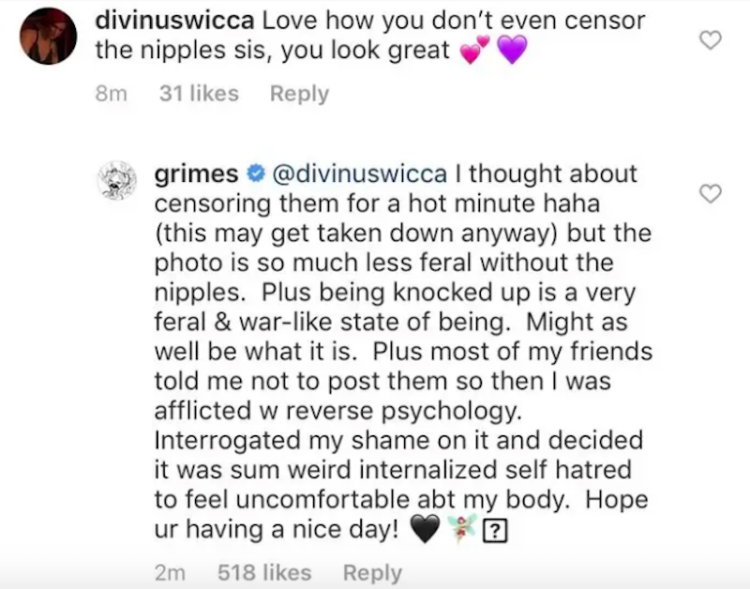 She wrote:
I thought about censoring them for a hot minute (this may get taken down anyway) but the photo is so much less feral without the nipples. Plus being knocked up is a very feral & war-like state of being. Might as well be what it is. Plus most of my friends told me not to post them so then I was afflicted w reverse psychology. Interrogated my shame on it and decided it was sum weird internalized self hated to feel uncomfortable abt my body. Hope ur having a nice day!
Great reasoning.
But with the question of her pregnancy confirmed, the next question was who is the dad? Most people are guessing that it is billionaire tech mogul Elon Musk. The two have been dating on and off over the last year after their relationship began (as so many do) with some flirting on Twitter. They were seen together in December at Kim Kardashian and Kanye West's annual Christmas party, and Grimes has appeared at a few big Tesla events in recent months as Musk's date.
View this post on Instagram
Folks are excited about the idea of Elon Musk having a baby with anyone, but especially with an experimental music weirdo like Grimes. The opportunity for jokes is just too good:
All this AND Grimes and Elon Musk are possibly having a kid? And she let everyone know in the comments section of an Instagram post of her nipples?! Truly, today the gossip gods have blessed us. pic.twitter.com/1n1ACMqPrH

— Kayleigh Donaldson (@Ceilidhann) January 8, 2020
When elon musk and grimes baby comes to this world pic.twitter.com/O1UcGT5Wut

— Skynet (@UefaBlicence89) January 8, 2020
grimes' baby carriage pic.twitter.com/ySWV55oFvD

— Quinn Moreland (@quinnmoreland) January 8, 2020
Elon Musk and Grimes are going to have a gender reveal party where they accidentally blow up the moon

— hussein kesvani (@HKesvani) January 8, 2020
Imagine if reincarnation is real all the souls in the queue fighting to be Grimes' baby right now OMG

— jake (@huntychan) January 9, 2020
grimes pregnant with elon musk's baby pic.twitter.com/voXkGxduQJ

— siu ???? (@paperssil) January 9, 2020
grimes' child exiting the womb at 4 ÆM
pic.twitter.com/pB36JqYFIB

— ༺????????????????????̃???????????? ????????????????????????༻ (@omaritopatito) January 9, 2020
Many blessings to the happy family, and the child who will one day rule us all.