**This post is dark and full of spoilers**
The last few episodes of Game of Thrones is upon us and everyone is ready to see what's going to go down and who will take the Iron Throne. In Episode 4, after the Night King was defeated and the Long Night was broken—everyone left Winterfell to head down to King's Landing. Daenerys basically told everyone in the North that she helped them, so now they best help her defeat Cersei and get the throne.
There were a few goodbyes that people had to give when leaving Winterfell, as many were leaving with Dany to help her out down South. One person who left alongside the Queen was Jon Snow. Jon said goodbye to quite a few people—including Sam, Gilly, and Tormund. When saying goodbye to Tormund, he asked him to take Ghost with him back up North with the Free Folk.
And, when he left, Jon didn't even say goodbye.
Honestly—what a fucking dick. Ghost has been a ride-or-die friend and companion to Jon all the way since Season 1. How dare he go off to King's Landing and give Ghost away without saying goodbye. Ghost has done nothing but love, protect, and fight for you, Jon, you are a heartless POS for not giving him a proper goodbye.
I will never recover from this slap in the face.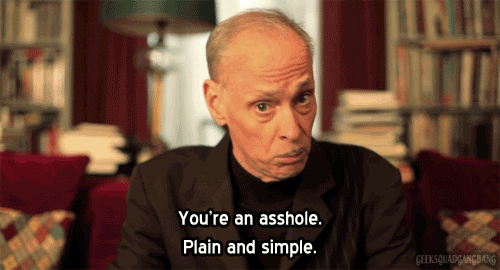 I'm not alone in feeling this way, Twitter was outraged to see Jon being such a cold MF.
THAT WAS NOT THE FAREWELL GHOST DESERVED. HE IS THE BESTEST BOI!!! #GameOfThrones pic.twitter.com/23JxvPqZu0

— Kaitlyn Gruber (@KGrubey) May 6, 2019
Jon really ain't give Ghost a hug a kiss a pat on the fucking BACK GHOST HAS BEEN NOTHING BUT LOYAL AND TRUE YOU BUM BITCH

— hot girl clegane. (@cozetteshakur) May 6, 2019
me: Jon Snow must sit on The Iron Throne because he's the most thoughtful and caring person in the Seven Kingdoms
[Jon doesn't pet Ghost when he gives him away]
me: Jon is no better than Cersei

— DL (@davelozo) May 6, 2019
WHY WHY WHY DIDN'T JON PAT GHOST ON HIS FURRY NOGGIN WHEN HE SAID GOODBYE WHAT THE FUCK IS GOING ON IN WESTEROS THIS IS NOT OK

— Josh Hara (@yoyoha) May 6, 2019
ghost fought for the north, was always on jon's side, was loyal to him his whole life and jon just decided that ghost is better off some place else… the way he put his head down when jon was leaving him behind, PLEASE, let me protect him pic.twitter.com/eH2Iil3waN

— ellie (@odairannies) May 6, 2019
Me after I saw that jon didn't even said goodbye to ghost #GameOfThrones pic.twitter.com/GlDeNjNY4C

— Gynxx ?? (@GynxxM) May 6, 2019
When Jon doesn't say goodbye to Ghost, the goodest good boy in all of the Seven Kingdoms #GameOfThrones
pic.twitter.com/BdOinFskNi

— Game Of Thrones Fan Page? (@bigdaddy__dave) May 6, 2019
Ghost lost a ear in the battle and Jon couldn't even pet him goodbye, wtf is that?! #gameofthrones pic.twitter.com/dC3CmLTIGf

— Ruke Loshaj (@rukeloshaj) May 6, 2019
y'all mad at Cersei but Jon didn't even tell Ghost he was a good boy before he left. let's focus on the REAL issues.

— Bojan BossDonavic (@Mariannoo) May 6, 2019
me, watching all my favourite characters die over eight seasons:

me, watching Jon leave without giving injured Ghost a hug: #GameofThrones pic.twitter.com/osE80Lk6WF

— mary rose (@r0syretrospect) May 6, 2019
Me phoning HBO to find out why Jon didn't say goodbye to Ghost #GameOfThrones pic.twitter.com/NLf2JPKMK3

— Hannah McCann (@hannahmccannn) May 6, 2019
ok Cersei is ruthless but Jon looking at Ghost and WALKING AWAY #GameOfThrones pic.twitter.com/tnMdAawXgr

— Adrian (@adriadamo) May 6, 2019
LOOK AT HIM CRYING FOR JON AND JON LEGIT DIDN'T BOTHER TO TOUCH OR LOOK AT HIM AT ALL.

GHOST DID NOT DESERVE THIS. pic.twitter.com/fdh5wUQL7c

— C. | all men must die, but we are NOT men (@carohuntz) May 6, 2019
I will never forgive Jon Fucking Snow Stark Targaryan Cougar Mellencamp for not hugging Ghost before he sent him away. Never. NEVER. #GameOfThrones pic.twitter.com/v67xVzn5aZ

— Marley ? (@CopperPipeDream) May 6, 2019
YOU DON'T LEAVE GHOST WITHOUT EVEN PET HIM, JON. GO BACK TO HIM AND GIVE HIM ALL YOUR DAMN LOVE! #GameofThrones #GOTS8E4 pic.twitter.com/IU7qpZsWlr

— Stark (@ohmytargaryen) May 6, 2019
That's it, Jon Snow is dead to me.