If you like TV, you know there's nothing more exciting than a crossover episode of your favorite shows. Seriously, what's better than seeing the two worlds combine—especially when they have nothing to do with each other. If you're a fan of Game of Thrones and It's Always Sunny in Philadelphia, you'll be pleased to know you may have missed out on an iconic cameo during Episode 1 of Season 8 last Sunday.
After the premiere, Rob Mcelhenney—who plays Mac on It's Always Sunny—shared this photo of himself as an extra on the season premiere. 
In case you missed the scene, he was one of the guys who got shot in the back of the head with an arrow by Theon when he was trying to redeem himself and save his sister, Yara.
After sharing the image on Instagram, some of his It's Always Sunny co-stars left some love on his pic.
Like
Glenn Howerton aka Dennis:
And, of course, The Waitress:
Some people who watched the episode did actually notice that the sailor looked similar to Mac.
One of Euron's sailors looked like Mac! #ItsAlwaysSunnyInPhiladelphia. #GameOfThrones.

— Brian O'Connell (@Batman53090) April 15, 2019
Dude looked like Mac from It's Always Sunny. #GameofThrones

— aka LW Salinas, Book Reading Freak (@sithwitch) April 15, 2019
I knew I saw you there!! https://t.co/eGqdXZVdyc

— the singklayer (@SishirChetri) April 15, 2019
I'm usually not very good at spotting cameos, but I nailed this one! https://t.co/4pwYXKonhA

— Nick Trivelis (@Squidguy97) April 16, 2019
I KNEW IT. I can spot an Sunny actor/actress even if they're only there for a literal split second. ? https://t.co/ypGom8VduD

— FireVixen (@firevixen13) April 15, 2019
As it turns out, a lot of people did miss the one-second cameo. But, when they found out, they were all too excited.
MAC WAS ON GAME OF THRONES?!!? https://t.co/FzT4GlDcKX

— endgame? more like end me (@kevlncastro) April 15, 2019
Most exciting thing about the new Game of Thrones episode is the cameo from Mac from Always Sunny. #GameofThrones #spoilers

— Sam Green (@samuelrgreen) April 15, 2019
This is awesome https://t.co/XkOD26UDtG

— The Man (@AhmedTVJunkie) April 15, 2019
This is beyond amazing. https://t.co/YQsozwrmt0

— The Dude (@Christraint) April 15, 2019
holy shit i didn't even notice!!!!!! https://t.co/4AMFCmqZvr

— ☎ (@eatthedude) April 15, 2019
Its Always Sunny in Westeros https://t.co/IXbN8v2DXl

— Rodrigo (@rodginz97) April 16, 2019
OH MY GOD THIS GUY FROM GAME OF THRONES WAS MAC FROM IASIP ?!?!?! pic.twitter.com/Zer9Nu3amp

— chelseajrey (@chelseajrey) April 16, 2019
As it turns out, Mac wasn't the only cameo in the episode. As it turns out, another familiar face was featured as one of Theon's victims—Martin Starr, from Silicon Valley. He was shot with an arrow immediately following Rob.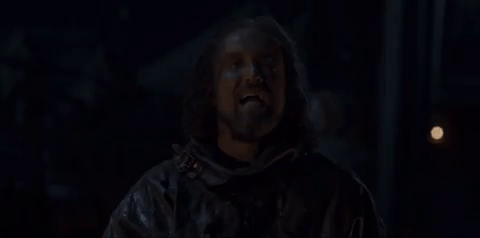 Looks like Game of Thrones is looking to get us at literally every single moment this season. Better keep our eyes peeled.
h/t: BuzzFeed