Congratulations are in order for the newly hitched Game of Thrones actress Sophie Turner and her beau Joe Jonas—1/2 of the popular band, The Jonas Brothers.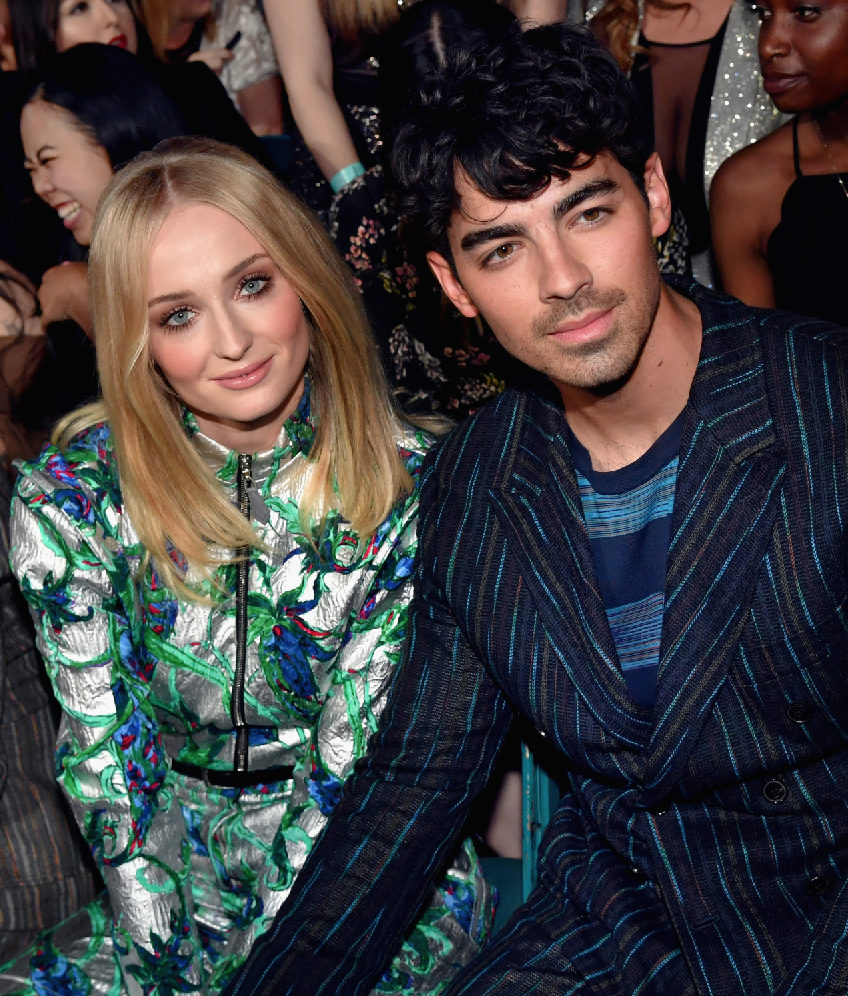 According to a report by Entertainment Tonight, the couple tied the knot in a surprise ceremony at a local chapel following the Billboard Music Awards on Wednesday evening, where the Jonas Brothers performed their first awards show as the JoBros in over a decade.
All the images we currently have are from…Diplo, who posted photos and videos to his Instagram story.
Diplo really streamed while Joe and Sophie were getting married I- pic.twitter.com/jsW9LVGAD6

— Jonas Brothers News (@jbrosnews) May 2, 2019
The DJ first shared glimpses of the celebration with an image of Turner in a white dress walking into a chapel alongside Joe and his brothers. "Gonna hit this wedding real quick," Diplo captioned the photo.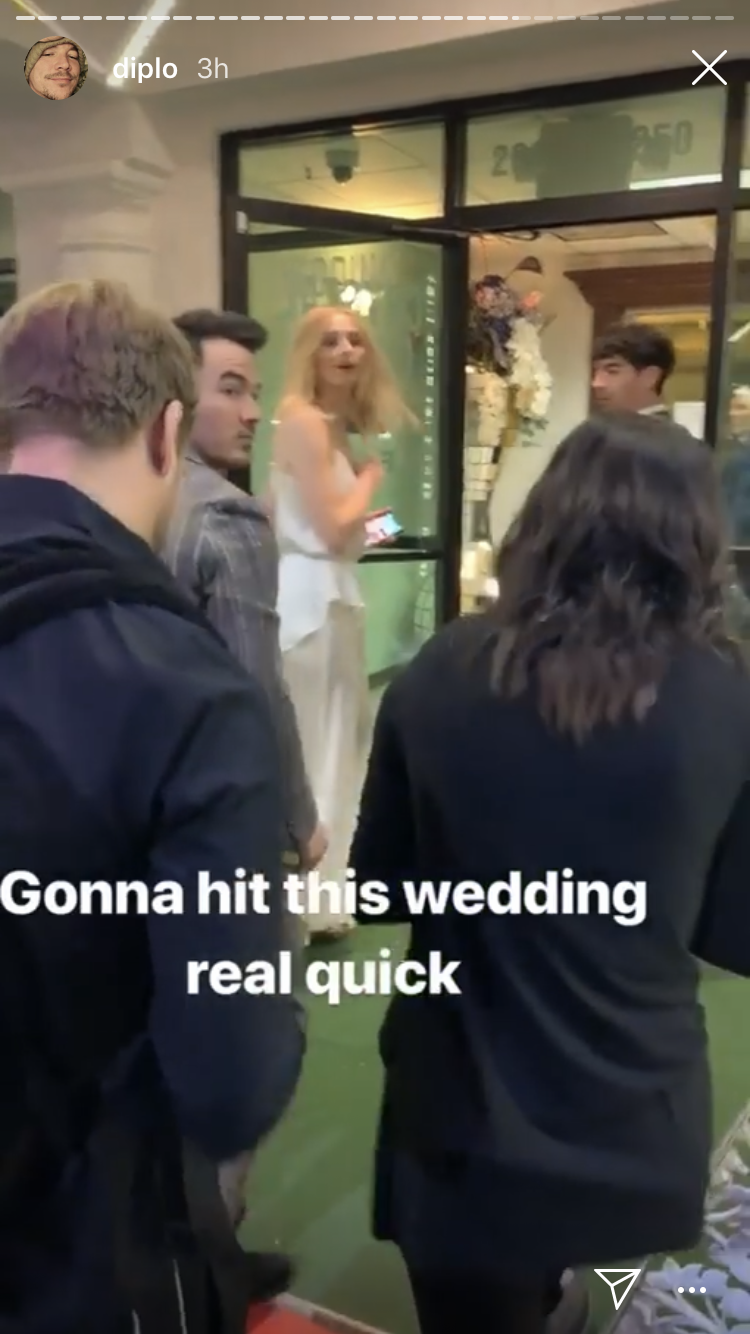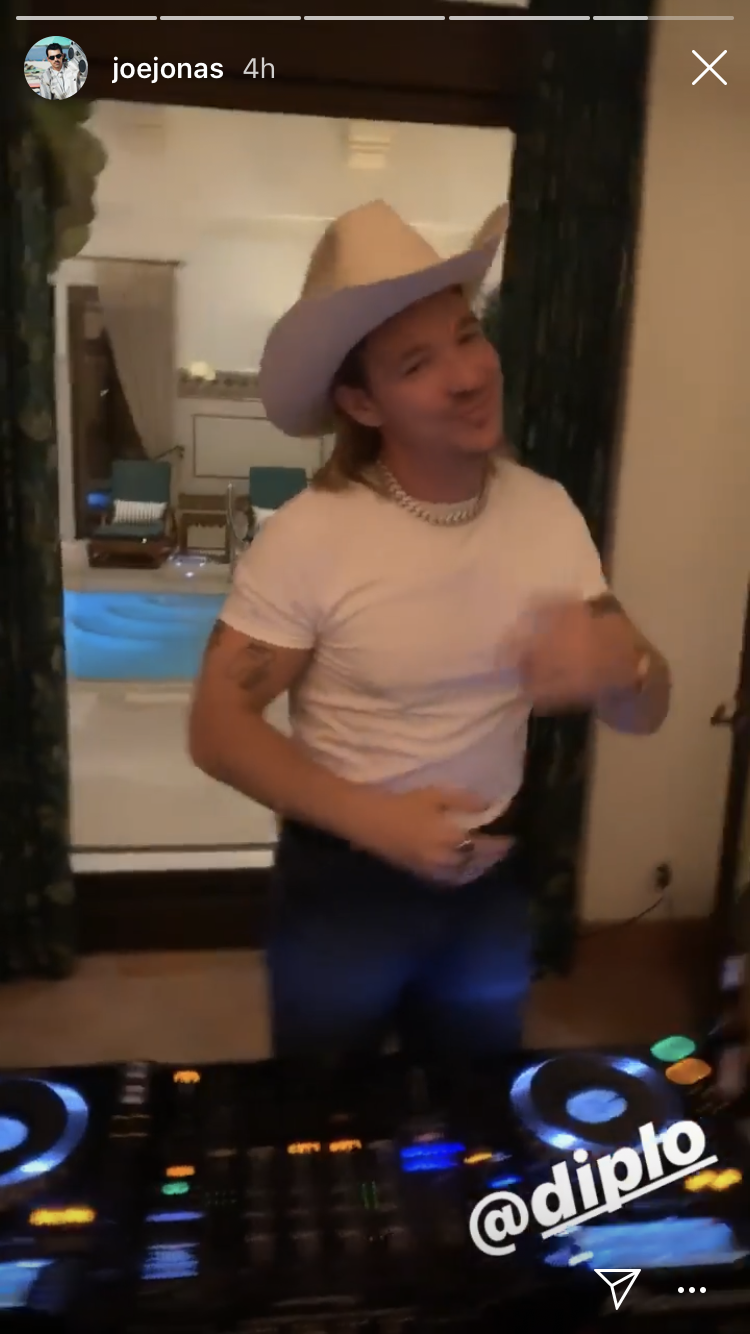 In a series of later videos, Turner is seen walking down the short aisle to country duo Dan + Shay's wedding anthem 'Speechless.'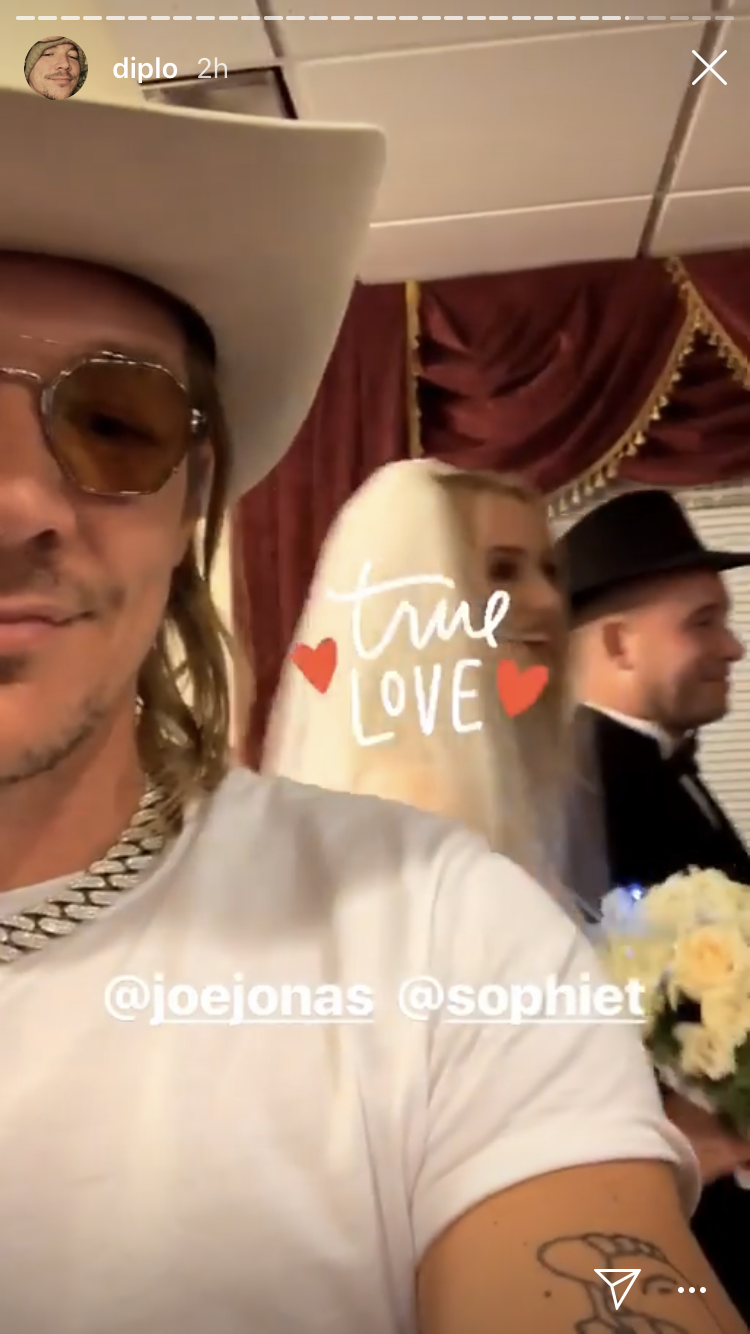 Fellow BBMA performers such as Khalid were present, as was actress Priyanka Chopra with husband Nick Jonas, and Danielle and Kevin Jonas.
Looks like Sophie Turner and Joe Jonas are getting married!! pic.twitter.com/zSW17g5cHC

— Myeisha Essex (@MyeishaEssex) May 2, 2019
Another Instagram Live story shows Turner and Jonas reciting their vows to one another in front of an Elvis impersonator.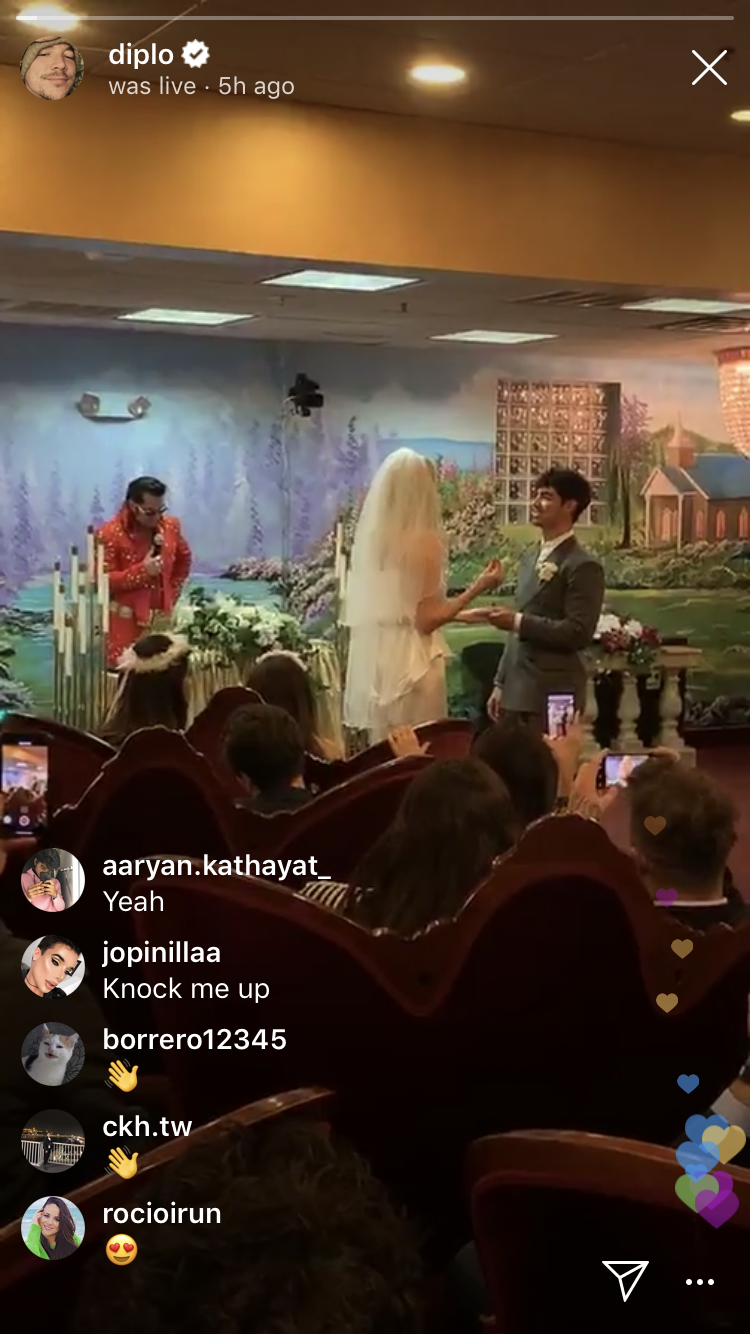 In one of the clips shared by Diplo, Turner repeats Elvis' vow, "I thee wed, and I love you, and I thank God He gave me you."
The pair also said together: "I promise you, I will never leave you. I will love and trust you all the days of my life."
This footage of Sophie Turner and Joe Jonas's Las Vegas wedding vows is truly something! pic.twitter.com/kJmIPBkOAy

— Alyssa Bailey (@alyssabailey) May 2, 2019
After exchanging vows, the Elvis officiant told Turner she could have her flowers—which had flashing blue light in them. Her new brother-in-law Nick knelt down to hand them to her.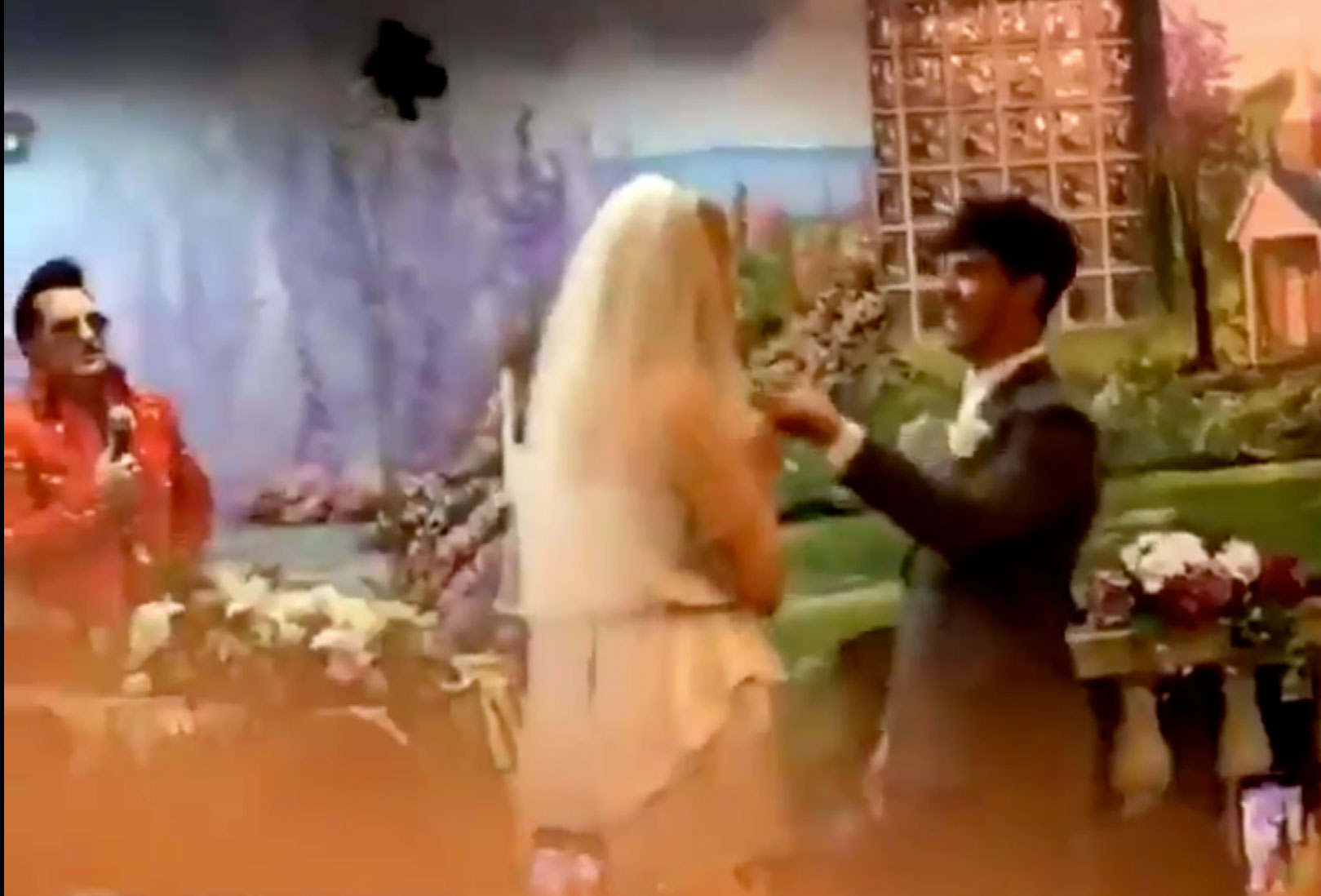 The pair ~officially~ became husband and wife after trading ring pops (!!!) as wedding bands.
"Fine folks, family…in the power vested in me, it is my pleasure to pronounce you two husband and wife. You may kiss that bride!" exclaimed the officiant, to a hearty round of cheers and applause from the crowd.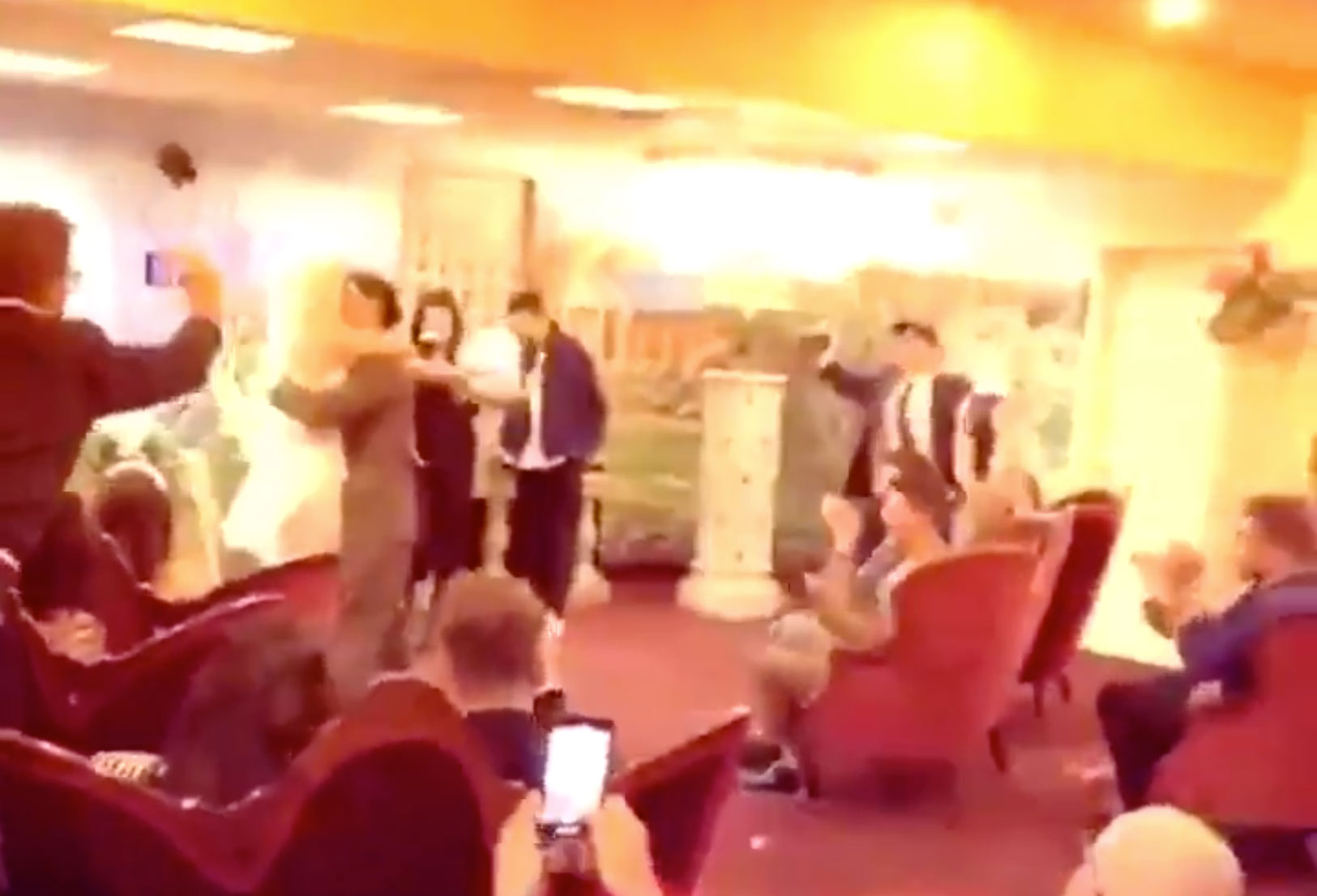 In true Vegas wedding style, Turner and Jonas celebrated afterwards by posing on a pink Cadillac in Elvis glasses in front of the venue's drive-thru chapel.
Entertainment Tonight confirmed that the wedding was legitimate with a copy of the couple's marriage license obtained earlier that day. Back in December, The Daily Mail reported that Turner and Jonas were to be married in France in a four day event over Glastonbury weekend. That may no longer be the plan, or they may just do a second (NOT RED) wedding.
Cheers to the happy couple!