Oh, rich people. Their houses are a marvel, although you're screwed if you want to find a light switch or trash can because they hide those.
Kim Kardashian is very, very rich. How rich is she? She's SO RICH that she has special sinks, like nothing we've ever seen before. Her bathroom sinks don't seem to have actual…sinks. Like, it's a counter with a faucet. That makes no sense. What gives?
can someone PLEASE explain the sinks at kim & kanye's house pic.twitter.com/bFqi1fpNkl

— secular celiac sicily (@djcoochnbooch) April 11, 2019
First, how did we get obsessed with her sinks? Well, the 38-year-old reality star is on the cover of Vogue this month, and as part of that, she took part in the magazine's 73 Questions video series. She invited the video team to the home she shares with husband Kanye West and their three kids, North, Saint, and Chicago. And that's when we saw them—the world's strangest sinks.
People everywhere were talking about Kardashian's sink and so she decided to end the confusion and explain the system.
Sink tutorial on my ig stories ?

— Kim Kardashian West (@KimKardashian) April 17, 2019
She tweeted, "Sink tutorial on my ig stories," and there it is, not in her stories but in her main feed, a video explaining those mysterious sinks.
The video, called "bathroom tour" shows that the sink is indeed slightly sloped, and that all the water runs into a little slot not too far from the faucet. Eight prototypes were made, and oh yes, they were designed by Kanye West. Ah, of course.
Here's what else we learned about the Kardashian master bath—the entire ceiling is a lightbox, a bathtub that fits all the kids, and a shower the size of a smallish Manhattan apartment.
Okay, so back to the sink. The mystery of where the water goes is solved, but there were still some pressing unanswered questions.
wheres the soap

— Chelsea Peretti (@chelseaperetti) April 18, 2019
Where do you put the hand soap?!?!

— Perez Hilton (@PerezHilton) April 17, 2019
Where's the soap ??

— ? (@kahuuuks) April 17, 2019
Where's the soap?

— plh (@mollyplh) April 17, 2019
Oh, and also: where is absolutely everything else?
Or the hand towel!?! Toothbrushes? I could list basic things that are missing from this bathroom all day!

— Anna (@annananeers) April 18, 2019
People loved the ingenuity of the sink though. Kardashian even explained: no splashback, thank goodness. 
Watching the water drain away was the most satisfying ever!!! It is genius????

— RossKardash ♡ (@Ross_Kardash) April 17, 2019
Your house is dope. Big fan of the minimalist look.

— Ross Patterson (@StJamesStJames) April 18, 2019
Someone said it looked like Kanye's clothing line, which, okay?
That Bathroom looks like Kanyes Clothing Line! ?

— Kim Bergeron (@sassybabyace) April 17, 2019
The armchairs are a nice touch. Who wouldn't want to just hang out in this bathroom?
The armchairs are what get me

— Matt Johnson (@mattjohnsontv) April 18, 2019
They look like something from a doctor's office waiting room.

— Steph?? (@Stephscreati0ns) April 18, 2019
Not everyone, actually.  There were people who didn't love the bathroom.
Nothing about her house looks comfy or warm. I mean it's awesome but it's so bare & blah.

— Hockey Heather ❤️? (@HockeyMakeup) April 17, 2019
That bathtub looks insanely uncomfortable

— paula (@pauliepocket21) April 17, 2019
her house doesnt feel homey.. feels like a museum

— steph ? (@disneynerd27) April 17, 2019
And there was another important question, one that we'll probably never get an answer to from Kardashian.
— Sarah M Potter (@SMPotter22) April 17, 2019
I guess just because they can.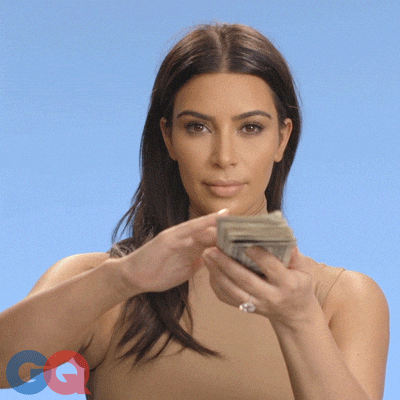 h/t: Twitter: @KimKardashian, Twitter: enews, The Cut