Ariana Grande performed at Coachella this past weekend and ended her set with a giant rainbow projection. This was taken by many as a statement of defiance against Philip Anschutz, the festival owner, who has made big donations to conservative Christian (anti-LGBTQ, pro-gun) organizations.
ariana saying fuck it to the homophobic owner of coachella and showing the lgbtq flag is the energy we need in 2019 #ARICHELLA pic.twitter.com/RfGfIOlMPI

— miroslava (@skinnyrings) April 15, 2019
But while a few people lauded Grande for her message, many more poked fun at her for still bringing home that paycheck from Anschutz and making a ton of money for him.
A person named @skinnyrings on Twitter tweeted, "ariana saying f*ck it to the homophobic owner of coachella and showing the lgbtq flag is the energy we need in 2019."
That tweet was retweeted over 500 times, but it was also used as an example of Grande's hypocrisy.
I mean that's nice but the money the festival made from tickets is still gonna hurt LGBT+ people. But thanks for the rainbow I guess. https://t.co/fLAiEG6cRU

— Na'ama loves the PCRF! (@iknowplacesmp6) April 15, 2019
If she supports gay people why she playing at a venue that has a homophobic owner in the first place…lmao https://t.co/zdi41sU0RN

— ? Rachelcore ? (@shigeokageyamas) April 16, 2019
Yes, helping the people we disagree with make millions but doing a bare-minimum protest is *exactly* 2019. https://t.co/ut4KzDUv6X

— Doug Palmer (@Doug_Palmer) April 16, 2019
Headlined and made more money for him to give to anti LGBTQ organizations you people really do think backwards? https://t.co/NBpWyHBd6B

— jacob smith (@jos11400) April 16, 2019
Yeah by headlining a festival and getting the owner paid!!!! you showed them! https://t.co/rRdcm5fp4N

— ALL HAIL ENTROPY (@artinghokasiyan) April 16, 2019
except he probably won't even watch the set and he's literally earning millions from it ??‍♀️ girl could of just boycotted it but then she wouldn't get paid would she https://t.co/bmlYYA5tj2

— heather (@dreamyadler) April 16, 2019
People pointed out that any sort of allyship Grande is trying to achieve is at least partially negated by the monetary factors at play.
Just gonna go ahead and say this kind of allyship is pointless when you are earning money for people who are unethical https://t.co/dlV7JTHByU

— _LouisaJoy_✨ (@LouisaJoy3) April 16, 2019
Honestly if you support lgbtq just dont go to fucking coachella I dont understand this mentality
They really be out here giving millions to the homophobes… this is NOT the dumbass energy we need #arichella ? https://t.co/5LwwWQVrIx

— Chappy (@chapchaperson) April 15, 2019
People also brought up the fact that Grande is not actually queer, as far as we know.
I thought nothing could top this. pic.twitter.com/nRVwc505eM

— Jose Gonzalez (@abagelsalad) April 15, 2019
She's not gay and won't admit she's straight so she can play this angle so I don't want anything from her

— DeaD Grav⚠️ (@ZapZambino) April 16, 2019
And, of course, there's the fact that projecting a rainbow is not actually much of a display. It's very easily done, so it's not like Ariana Grande really did a whole lot.
I see an estimated amount of 0 flags

— Brandon Ferch (@someth9ngcool) April 16, 2019
omg she's so brave ?it's not like anyone's ever done that

— HeavyMeϮalLover (@prismaticjudas) April 15, 2019
The debate raged on on Reddit, as well.
People pointed out other hypocrisies in the comments, like queer people eating at Chick-fil-A, a chain which is owned by conservative Christians. But someone else pointed out that LGBTQ people boycotted everything owned by Christians, they'd have fewer meal options than vegans.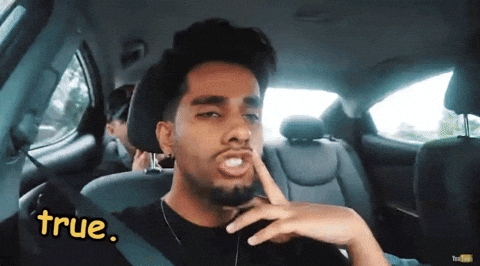 h/t: Twitter: @skinnyrings, Reddit