This year's Oscars ceremony was full of wholesome moments—historical wins, heartfelt speeches about incredible performances, and 'Captain America' making a grand appearance.
In a real-life superhero moment, Chris Evans AKA 'Captain America' helped award-winning actress Regina King to the stage for her acceptance speech and people are touched by this act of chivalry.
When Regina King headed to the stage to accept her Oscar for best supporting actress in "If Beale Street Could Talk", her dress got caught.
Chris Evans, who was seated next to the actress and her mother, didn't hesitate before rushing to King's side to offer his arm.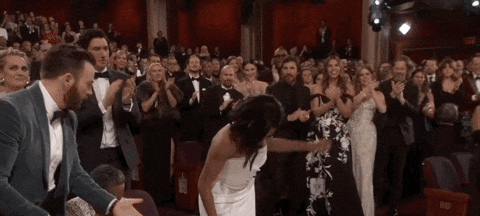 And people were in love with the moment.
Chris Evans escorting Oscar-winner Regina King onto the stage so she doesn't trip. Love. pic.twitter.com/z7CYZM5ZjZ

— Spencer Althouse (@SpencerAlthouse) February 25, 2019
CHRIS EVANS HELPING REGINA KING UP IS THE BEST THING EVER, WHAT A GENTLEMAN #OSCARS pic.twitter.com/uzA8qbqNWy

— ariana (@capsheroes) February 25, 2019
Chris Evans helping Regina King to get on stage pic.twitter.com/VvmFZSZmxa

— dilara elbir (@elbirdilara) February 25, 2019
Regina King wins an Oscar AND gets helped to the stage by a velvet-jacketed Chris Evans?! WHAT A NIGHT! – J #oscars

— Heather & Jessica (@fuggirls) February 25, 2019
the way chris evans JUMPED to help regina up… pic.twitter.com/x5bxeEjnN7

— Hannah Giorgis (@ethiopienne) February 25, 2019
It wasn't long before the 'Captain America' connection was made.
Love seeing Captain America out there doing his thing. #Oscars pic.twitter.com/1f48ogd9ux

— The Big Picture (@TheBigPic) February 25, 2019
Chris Evans escorting the queen, Regina King, up the stairs was exactly what we needed to start the #Oscars ! pic.twitter.com/pYbR7ekunY

— Lorraine Cink ? (@lorrainecink) February 25, 2019
Chris Evans escorting Regina King: Captain America's work is never done, and no good deed too small. #Oscars #Oscars2019 #Marvel #MCU #ChrisEvans #ReginaKing pic.twitter.com/w5LOcEZa4b

— Kofi Outlaw (@KofiOutlaw) February 25, 2019
Our hero.
h/t Insider