The 91st annual Academy Awards are in full swing and the red carpet seems to be especially star-studded this year. Of the many show-stopping looks, one, in particular, has our jaws dropping and demands an Oscar of its own.
Billy Porter positively slayed at Sunday night's Oscar ceremonies, gracing the red carpet in a velvet tuxedo gown.
The "Pose" actor stunned viewers in his black velvet ball gown with a full skirt and train.
The look was designed by Christian Siriano who tweeted a photo of Porter at the 91st annual Academy Awards.
Shutting the carpet down In a Siriano velvet tuxedo gown! #billyporter at the #oscars @theebillyporter pic.twitter.com/7PaSPJkRi2

— Christian Siriano (@CSiriano) February 24, 2019
And Twitter could not get enough.
My jaw actually DROPPED. I love @theebillyporter so much pic.twitter.com/g4XbV3Fef8

— jack rem (@jackremmington) February 24, 2019
Best dressed. Tell the line of limos to turn around and drop everyone back off at home.

— Sealed Indictment (@thus_ever) February 24, 2019
Billy Porter just set the bar impossibly high for #Oscars fashion. pic.twitter.com/GFj4qAETg6

— Jarett Wieselman (@JarettSays) February 24, 2019
Billy Porter showed up as the glamorous dowager with a dangerous secret AND her suave butler with mysterious designs of his own. pic.twitter.com/3clcmVSljG

— R. Eric Thomas (@oureric) February 24, 2019
Billy Porter is a glorious reminder that perfection is somewhere between being black as night and gay as hell. pic.twitter.com/0HiXuBpXJV

— Solomon Georgio (@solomongeorgio) February 24, 2019
The next Ryan Murphy miniseries must be Billy Porter: Power Governess pic.twitter.com/Tcqffwxzwa

— Louis Virtel (@louisvirtel) February 24, 2019
And MOTHA Billy Porter came to SLAY!

Category Is: Cinderella Who? #Oscars pic.twitter.com/qR8a43RwZi

— Tre'vell Anderson (@TrevellAnderson) February 24, 2019
Billy Porter dressed for the 3019 Oscars. Idk what 2019 folk gonna do.??✨

— ????? (@thetrudz) February 24, 2019
BILLY PORTER, WE HAVE DECIDED TO STAN FOREVER pic.twitter.com/ObnnSN5CX4

— minjoon + chuuves' loyal filipino housemaid (@promisecuIt) February 24, 2019
Billy Porter: Rhett, where will I go? What shall I do?

Also Billy Porter *switching sides*: Frankly, my dear, I don't give a damn. https://t.co/QMNSkJZQDZ

— Lukas (@Ginger4TheDucks) February 24, 2019
DISNEY NEEDS TO CAST BILLY PORTER AS URSULA IN THE LITTLE MERMAID!!! I can practically see his tentacles hiding under the skirt https://t.co/OONFXj4W7H

— jayvee ✨ (@jayveeme) February 24, 2019
Imma let you finish but Billy Porter has done the best 'open for a surprise' look OF ALL TIME https://t.co/hIoZUdx5CB

— Stacy (@SilverStGroud) February 24, 2019
Someone give this man an Oscar.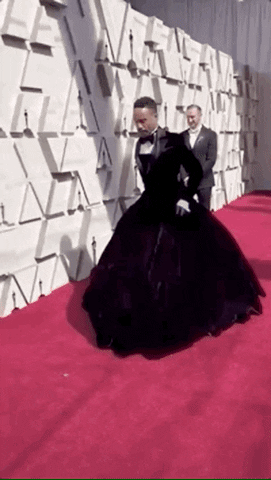 h/t Twitter