Relationships are all complicated in their own, unique way – nothing is perfect. Sometimes, things don't always work out the way we want them to. Life is messy, sometimes it gets in the way. But, when you are in a relationship with someone, they should be supportive of you and what you do, how you do it and why you do it. If not, what's the point of being with them?
Recently, I was sitting home looking for some bullsh*t online and watching "The Devil Wears Prada" in the background when it hit me – Nate, played by Adrian Grenier – is the world's worst f*cking boyfriend ever.
If you've never seen the movie, it's a hella big chick flick, here's the basis. Andy is an aspiring Journalist in NYC who wants to make it big and write for somewhere like The New Yorker or Vanity Fair (same Andy, same), but, she knows breaking into the world of journalism is hard AF (same Andy, same). She ends up landing a job as Miranda Priestly's assistant – the editor-in-chief of Runway, the world's number one fashion magazine. Andy knows absolutely nothing about fashion, designers or Runway – but, she knows being the EIC's assistant will open a lot of doors for her. She takes the job.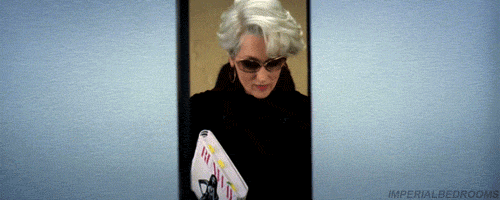 After working there for a few weeks, she realizes being someone's assistant is a full-time, 24/7 job (at least, being Miranda Priestly's assistant is). Her phone is constantly ringing and she's always running around doing ridiculous things – anything her boss needs, whenever she needs it. There is a reason that they refer to Miranda as "the devil."
But her boyfriend, Nate, is not supportive of Andy or her goals at all. Sure, he understands she wants to be a writer, but he only sees this position as a "waste of time" because Andy isn't even writing at the moment, or doing anything she wants to do in life. He's also mad because he is not her main priority 24/7 (i.e., the scene in which she "missed his birthday" for a work event).
Here's the truth –
You don't land your dream career straight out of college, and if you do, God Bless. Most of the time, and what the essence of the movie shows, is that if you put in your time, you will get where you want in life. Andy has to pay her dues – working a job she doesn't love and for someone she doesn't love because in the end, she scores an incredible writing job with a killer reference from the EIC of Runway f*cking Magazine – aka, Vogue.
But, the entire movie, Nate is constantly nagging her, complaining about her work schedule and making fun of her left and right. The entire time, Andy keeps apologizing and apologizing – it only makes me angrier and angrier.
There is zero reason a woman should ever apologize for building her own empire or wanting to start a career for herself. If she decides to put work first for a certain period of a time, and a man cannot understand that, that man is not the man for you. That shows he is insecure and weak – a man who understood your ambition would never make you feel guilty for chasing it.
So, while Nate aspires to be a chef somewhere – he's entitled to do what he needs to do to become a "huge chef," but, Andy is not entitled to work hard to get to become an award-winning journalist.
No. F*cking. Thanks.
Bye Nate.