In what can only be described as a sad and eye opening moment for fans, Panic! At The Disco singer turned Broadway star Brendon Urie has decided that he is over post-performance signings.
Urie is currently starring in Kinky Boots on Broadway where he's shown off his incredible vocals, acting skills, and dancing abilities in sparkly, heeled thigh high boots like these: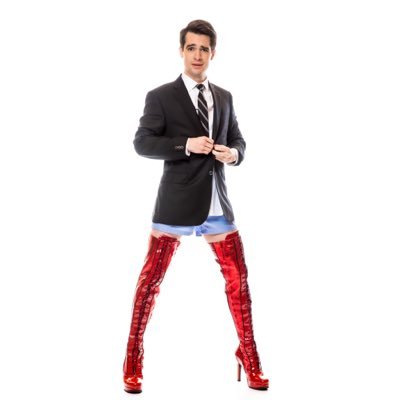 After putting on amazing performances, fans and audience members might venture to stage doors where cast members graciously sign autographs and take photos. However, due to the nature of some fans not knowing boundaries, Urie is done! And not just tired-because-he-had-a-long-day done, but done after a series of incidents involving rude fans.
Hey I love y'all. But I can't keep coming out to stage door when you scream in my face and don't listen. So I'm done hope to see y'all later

— Brendon Urie (@brendonurie) July 30, 2017
Security guard Zack Hall further explained the reasoning behind the decision in a tweet.
We tried like hell to keep doing these signings for you guys but after a few nights of it getting worse and worse it has to end. pic.twitter.com/GED7VRRliw

— Shadow (@ZackCloudHall) July 30, 2017
Some fans reflected on this choice by acknowledging how necessary this choice is and their own experiences by the stage door.
Brendon's health comes first always so it's completely understandable, just a shame people have to ruin it for others who love Bren

— cailey (@teddyoakley) July 30, 2017
That sucks it got so bad and I'm glad you both mad the right decision for his safety and mental stability. Good ?

— emmy • ⁄⁄ (@907bis) July 30, 2017
im surprised this didn't happen sooner, earlier this month a girl in front of me @ stage door screamed "HAVE MY BABIES" right in ur face :/

— molly ; 3 (@iidkhbtfm) July 30, 2017
Others were quick to point out that celebrities are simply well known and easily recognized people–emphasis on them still being people.
– personal boundaries & understand that the artists mental and physical heath is more important than a signature!! Thank you!!!!

— ?™ (@spaoegrl) July 30, 2017
Brendon Urie has been very outspoken about personal issues with anxiety and the overall importance of mental well being. Sadly, over excitement has led to disrespect and no one wins in this situation.