Remember the good old days of staying in on Friday nights to watch Disney Channel original movies? We would invite our friends over, pop some popcorn and wait for the glowing, colorful Mickey Mouse ears to grace our TV screens to watch a movie that would teach us valuable lessons about life, family and friends.
With everyone missing those long-gone days, it seems that Disney has caught up with our need to turn back time – and, they've decided to recreate some of our favorite classics.
One of the classic movies getting a sequel is Life Size – a movie about a doll that came to life starring Lindsay Lohan and Tyra Banks.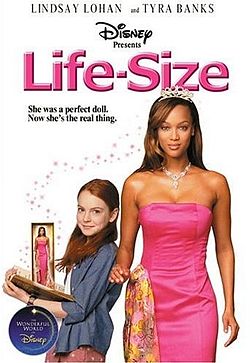 Lindsay Lohan played Casey Stuart in the movie who learned some valuable lessons from her real-life doll. Now that the movie is getting redone and is confirmed officially, everyone's wondering if Lindsay Lohan will be in the sequel – seeing as Tyra Banks has a huge part in the part 2, starring, again as Eve.
Tyra told The Talk earlier this week that Lindsay is interested in returning for the sequel – which will air on Freeform in December 2018.
"I am having conversations with Ms. Lohan. Yes, and I want her to come back and I think that she does too. Actually, I know she does. So I really hope that she can be in it."
Seeing as Lindsay Lohan has had a rocky few years and hasn't done much in the acting world – it would be nice to see her back on the big screen, doing what she does best.
Twitter is totally feeling the good news, too.
Life Size 2 is the best thing that could happen in the world rn

— showna (@fredosmine) May 21, 2017
Sara just notified me that life size 2 is coming out I could cry

— Emma Jo? (@emciaccio) May 21, 2017
There may be a Life Size 2. Shine bright, shine far, be a STAR! ⭐️

— jana samantha (@BananasForJana) May 31, 2017
"i had no idea" bitch i wanted life size 2 since i was in elementary school

— wheat grass blow (@BR0K3B0I) May 31, 2017
Considering how ill I've been the last few days, I've been in a dead good mood since finding out Life size 2 is happening ?? #TyraTheCure

— Gregory William (@GregDinning) May 16, 2017
If Lindsay Lohan doesn't return to Life Size 2 I will be SO BEYOND DISAPPOINTED

— KT☾? (@eitaKThompson) May 31, 2017