For all of you who need a little pick me up topped with whipped cream on this Friday, don't worry – we have you covered. If you're a fan of Starbucks and you're a fan of their cold, delicious (and fattening) frappuccinos, you're in luck.
Starbucks' "Frappuccino Happy Hour" is upon us, yet again, where they offer all of their frappuccinos 50% off. So, if you missed the Unicorn Frappuccino and want to get yourself a little something to make up for lost times.
The promotion will be from May 5-14 during the hours of 3p.m.-6p.m. – perfect for ending your work day.
According to Starbucks' CEO Kevin Johnson:
"Frappuccino Happy Hour is going to be a huge home run this year. We're going to bring at least one entirely new drink into Happy Hour this year that is going to be as good as Unicorn or better. And we've extended our hours this year on some other tactical things to really make sure that Happy Hour is set up for success."
So, sorry baristas (we're apologizing to you a lot lately) brace yourselves because winter is coming – in the form of icy beverages.
Also – you may want to try these secret frappuccino creations while they're cheap AF!
Pokeball Frappuccino:
-1/2 Vanilla Bean Frappuccino
-1/2 Starberries & Créme Frappuccino
-Whipped Cream
-Fresh Strawberries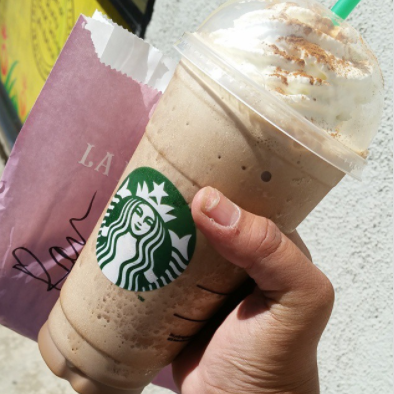 Cinnamon Toast Crunch Frappuccino:
-White Mocha Frappuccino
-1 Pump Cinnamon Dolce Syrup
-1 Pump Hazelnut Syrup
-Whipped Cream
-Cinnamon Sugar on Top
Thin Mint Frappuccino: 
-Tazo Green Tea Creme Frappuccino
-2 Pumps Chocolate Syrup
-1 Pump Mint syrup
-Whipped Cream
-Java Chips