When you're planning your wedding, you want the photos of the ceremony to be beautiful, different and memorable for the rest of your life (or the remainder of your marriage). Most of the time, couples try to be unique, making the ceremony and photographs their own. There's nothing more special than getting married at an aquarium, surrounded by fish, sea creatures and other mystical beings – right? I mean, seriously, it must be absolutely magical to get married surrounded by aquatic life – I'd be into it (cough, cough if someone were to ask me…)
One bride and groom decided to tie the knot in Mystic, Connecticut at a beautiful aquarium – but, did not expect their ceremony photos to be completely photobombed by a huge beluga whale. That's right, he got all up in there wanting to see what was going on.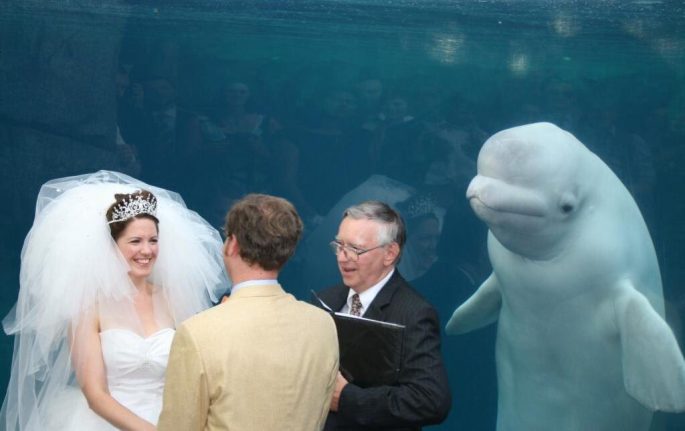 What happened next we can only expect – the Internet caught wind of it (all thanks to Reddit, of course) and decided to begin one of the best photoshop battles we've seen in a while. I mean, what else would you do with a wedding photo that has a huge whale in it?
And, some of these are super creative. Let us know your favorite one!