On Sunday night, the biggest names in the music industry took to Hollywood to celebrate the biggest night in music – The Grammy's. Every year, the industry gets together to decide which artists, albums and songs deserve awards for being the best of the year. Aside from awards, musicians put on epic and chill-worthy performances that remind us all just why we need music in our lives.
At this years Grammy Awards, Adele took home the award for Album of the Year. While she so rightfully deserved to win, she felt that the award should go to someone else in the crowd – Beyoncé. When accepting her award, she said:
"I can't possibly accept this award. I'm very humbled, and I'm very grateful, but the artist of my life is Beyoncé." 
Kanye West would be so proud.
After giving her speech, it appeared that Adele was holding two pieces of her Grammy award – indicating she may have broken the statue into two.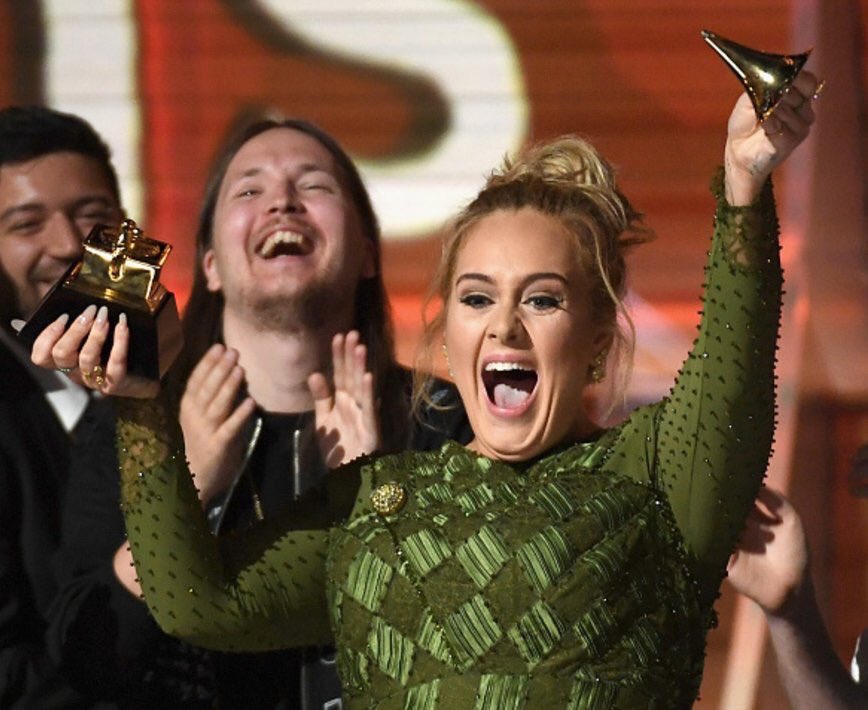 Of course, the Internet absolutely lost their sh*t when they realized this and took to Twitter to bring forth the best connection one can possibly make about a moment like this.
Cue the Internet's favorite movie – Mean Girls. Remember when Cady Heron won Spring Fling queen and broke her crown into pieces to give to all of the runner-ups? Well, incase you didn't remember this very moment – everyone else on Twitter did.
Adele sharing her #GRAMMYs with Beyonce like the crown in Mean Girls, and appreciating others like an angel?????? pic.twitter.com/dOSWUuAMPd

— nat ⋆ (@nataliekears) February 13, 2017
DID ADELE PULL A MEAN GIRLS & BREAK THE GRAMMY TO GIVE A PIECE TO BEYONCÉ WHO DESERVED #GRAMMYs pic.twitter.com/bvjROCQa6d

— Tania❣️™ (@LetsFunkDownTwn) February 13, 2017
ADELE BROKE HER ALBUM OF THE YEAR GRAMMY IN HALF TO GIVE PART OF IT TO BEYONCÉ. I LOVE HER SO MUCH #GRAMMYs pic.twitter.com/tf6Yn630BQ

— ellie (@adeleoutsoId) February 13, 2017
When Adele and Beyoncé are Mean Girls AF ?????????? pic.twitter.com/o6uwB1ULkq

— Kingsley (@kingsleyyy) February 13, 2017
Adele Broke her Grammy and gave the other half to Beyonce! Legit straight out of Mean Girls! ? #GRAMMYs #grammys2017 #Beyonce #adele #AOTY pic.twitter.com/xLz2WuplxO

— junkyGS ?️‍? (@JunkyGS) February 13, 2017
"and a piece for Beyonce, she's pregnant with twins and she still looks like a rockstar"#grammys2017 #grammys #adele #beyonce #meangirls pic.twitter.com/Iwuqrb8SnW

— Karla Jane (@karlatheblonde) February 13, 2017
Adele broke her grammy to give Beyoncé the other half so they can share it & it reminds me of this scene from mean girls ?? pic.twitter.com/8Gvq2vzgGz

— B*tch Code ?? (@TheTumblrPosts) February 13, 2017
Adele broke her Grammy in two and gave half to Beyonce. Reminded me of Mean Girls scene #GRAMMYs #adele #whatawoman pic.twitter.com/DZ3Gi7azjF

— Abeer Zeidan (@ZeidanAbeer) February 13, 2017