Kourtney Kardashian posted a picture of herself on Instagram looking super cute and also in excellent shape—and some wacky people are asking if she is pregnant. I don't understand. Did she gain a single pound? Why are we obsessed with policing women's bodies for pregnancy indications? And why are we always saying skinny people look pregnant? It's bonkers and infuriating.
The pictures in question shows Kardashian posing in an orange bathing suit and patterned shirt, hanging out on a chair outside and then reading a book on what I think might be a couch. Actually, could be a swing? It looks like it's suspended on a chain or something. But there's a TV in the background. I guess Kourtney Kardashian could have an outside TV. Actually, that seems likely.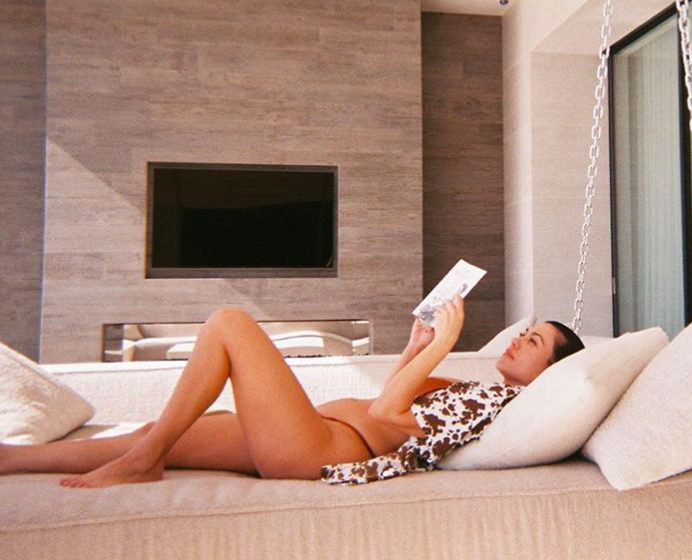 Anyway! After posting these pictures, the Keeping Up with the Kardhashians star and mother of three, had to contend with a slew of fans who started speculating on this supposedly very obvious pregnancy. One of the rules of interacting with someone who might be pregnant? DO. NOT. ASSUME. I don't care if this person looks like they are about to go into labor at any minute. But Kardashian maintained that she is not pregnant.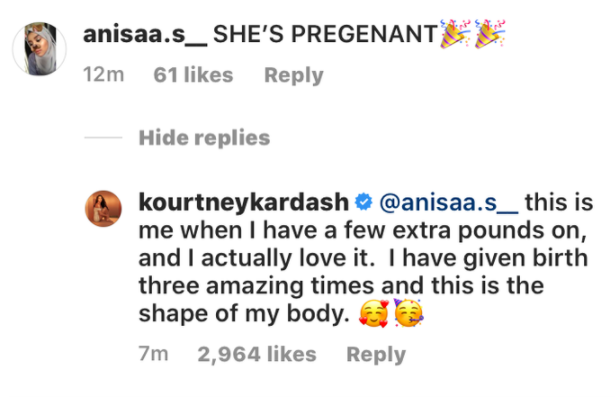 "This is me when I have a few extra pounds on, and I actually love it," wrote Kardashian. "I have given birth three amazing times and this is the shape of my body."
However, she does not seem opposed to the idea of having more children.
"Put the blessing out there though," she wrote followed by a praying hands emoji.