Comedy actor Jerry Stiller, who began his career in the 1950s and made so many people laugh as Frank Constanza on Seinfeld has passed away at age 92. Jerry Stiller often appeared in early work alongside his wife, actor and comedian Anne Meara. Stiller earned an Emmy in 1997 for his work on Seinfeld, explaining in a later interview that he had been out of work and the role reinvigorated his career. He was beloved in the industry.
Jerry Stiller's son, actor Ben Stiller, announced his father's death on Twitter with a heartfelt message:
"I'm sad to say that my father, Jerry Stiller, passed away from natural causes. He was a great dad and grandfather, and the most dedicated husband to Anne for about 62 years. He will be greatly missed. Love you Dad."
Celebrities reacted with sorrow but also shared good memories of Stiller, commenting on his kindness and ability to make people laugh.
"Seinfeld" castmate Jason Alexander wrote that Stiller was "perhaps the kindest man I ever had the honor to work beside. He made me laugh when I was a child and every day I was with him. A great actor, a great man, a lovely friend."
Jerry Seinfeld paid tribute on Instagram, saying his comedy would "live forever."
Leah Remini, who played Stiller's daughter on "The King of Queens" for nine years, wrote, "I will be forever grateful for the memories, the fatherly talks off screen and for the many years of laughter, the kindness he had shown to me and my family…You will be so very missed Jerry."
Others, including William Shatner, Morgan Fairchild, Seth Rogen, Michael McKean, Ricky Gervais, and Hank Azaria reached out to express their sorrow and sympathy.




And actor Parry Shen shared a special story about how Stiller saved his job:
"After the table read, the next day my part was reduced to 2 lines and the role was given to another actor," Shen wrote. "A few hours later, I was informed that I had my role back and that Mr. Stiller (& Kevin James) spoke to the producers & got my job back (unheard of – when you're gone, you're gone). When I thanked Jerry, he said, 'Hey, it's not Shakespeare! You're doing great!'"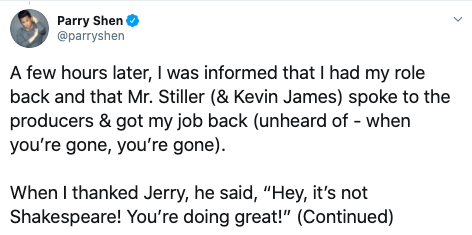 Most of us will remember Stiller for the way he brought joy and humor into our lives—like Seth Rogen does: "He made me laugh till I cried on many many occasions," the actor wrote.