Hold off on those Elon Musk baby name memes. Elon Musk and Grimes gave their adorable baby an unusual name—but that name might not actually be legal in California. The baby boy, who was born on May 4th, is named X Æ A-12 Musk after a bunch of his parents' favorite things, as the two explained.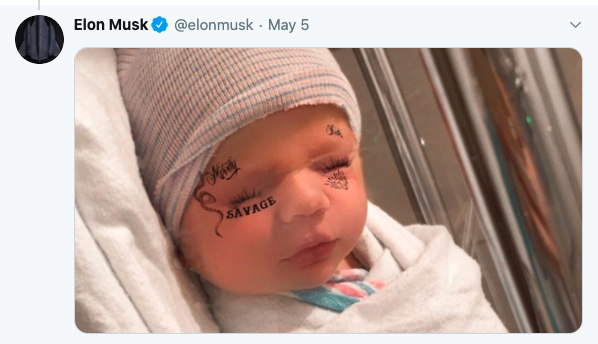 Grimes, whose real name is Claire Elise Boucher, said the "X" stands for "the unknown variable" while "Æ" is the Elven spelling of AI, which is shorthand for artificial intelligence and translates to "love" in several languages, such as Japanese. The A-12 is the precursor to the SR-17, "our favorite aircraft."
"No weapons, no defenses, just speed. Great in battle, but non-violent," Grimes explained. Musk later corrected her, saying it's actually the SR-71. I mean, the woman just gave birth but go on and be that dude, Elon. (Grimes later wrote on Twitter, "I am recovering from surgery and barely alive so may my typos b forgiven but, damnit. That was meant to be profound.")
Grimes concluded her explanation of her son's name by saying the "A" in the name also represents "Archangel," which she said is her favorite song.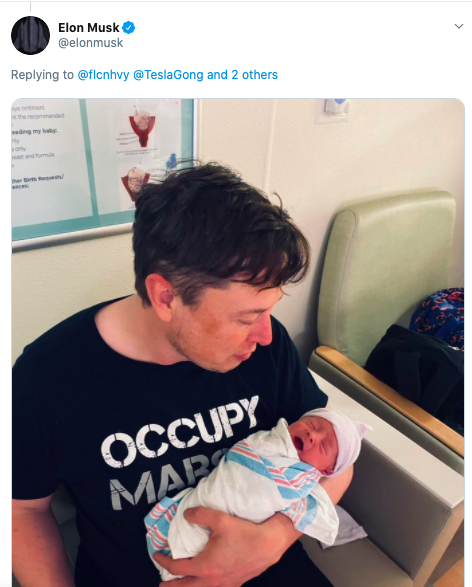 However, in California, names can only use the 26 alphabetical characters of the English language according to the state constitution. Musk owns multiple properties in California, including Bel Air, San Francisco, and Los Angeles according to property tax records.
Family attorney David Glass spoke to People, explaining, "In California, you can only use the '26 characters' of the English language in your baby name. Thus, you can't have numbers, Roman numerals, accents, umlauts or other symbols or emojis. Although an apostrophe, for a name like 'O'Connor,' is acceptable."
"I don't think you can say it's illegal—it just won't be accepted," Glass said. "So your child won't have an official name and won't have a birth certificate and you can't get a social security number until you have a birth certificate and on down the line."
X Æ A-12 is Grimes' first child. Musk has five sons from a previous marriage.