**This post is dark and full of spoilers**
Season 8, Episode 5 of Game of Thrones left many fans sitting around with our jaws on the floor—and not in a good way. After eight seasons and eight years of dedicated watching and fangirling, the writers of GoT left us with some pretty boring deaths and an entire city burnt to a crisp from one Mad Queen.
Of all the deaths that happened this season, the one everyone was waiting for was Cersei Lannister. Since Season 1, the "Queen" of Westeros has been deceitful, cunning, and straight up evil. She has been the mastermind behind many of the deaths we will never get over (AKA Ned Stark) and manipulated many of our favorite characters on the show.
After having three incest-bread children with her twin brother, killing off everyone who tried to wrong her, and straight up ruining lives—everyone wanted Cersei to die. But, we had a lot of theories/prayers that it would be a brutal, crazy, wild murder by someone close to her, or of course, Arya Stark.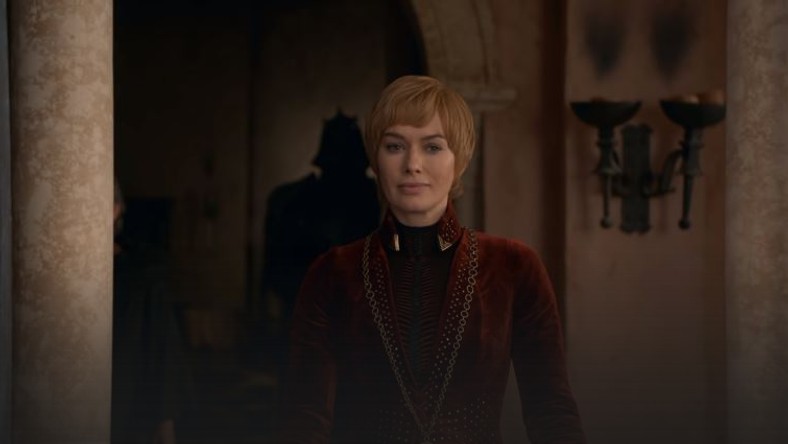 Instead of Cersei being killed off in a truly gruesome fashion—the writers decided to give her a "sweet" and innocent death, being buried under rocks and rubble when the Red Keep fell to the ground. Of course, they let her die in the arms of her brother-lover, too.
Many fans were disappointed to see Cersei getting off so easily. A lot of people wanted to see her die in the same way she lived—horribly.
all that Cersei buildup and she died from poor infrastructure

— Steadman™ (@AsteadWesley) May 13, 2019
we waited 8 years for cersei to be killed by a bunch of rocks? #gameofthrones pic.twitter.com/XoHT2mcAAx

— Arman Singh Walia (@ArmanWalia) May 13, 2019
I can't believe waited 8 seasons just to see Cersei Lannister getting killed by a brick #GameofThrones pic.twitter.com/YN1iV5GvNy

— Mairo❤ (@Marlee_Habuh) May 13, 2019
Expectations: "I can't wait until they finally get rid of Cersei! It's going to be epic".
Reality: "Wait.. that's it. Wtf." #GamefThrones pic.twitter.com/4Ym4SFU9x7

— Marlayna Geary (@marlayna_13) May 13, 2019
Can't believe I waited 8 seasons for Cersei to be killed by a gawd damn rock ?#GameofThrones pic.twitter.com/Id99axuV54

— Mel (@equalizer_69) May 13, 2019
Many were disappointed for two reasons. One, they wanted Cersei to have a brutal death. They wanted Daenerys to come in and fight her or Arya come in and slay her. Or, they wanted the prophecy to come true from the novels where her younger brother would swoop in and murder her. Many thought with Jaime heading back to King's Landing, it would have happened.
Others were upset that Cersei received such a poetic and symbolic ending. The entire series, Cersei was living in King's Landing and ruling. She stayed within the Red Keep the majority of the series—watching over everyone from the high tower. But, she died in the Red Keep, too—in a place super symbolic to the fight against Daenerys. The "dungeon" where she and Jaime died was once home to the Targaryen dragons. Remember, the Targaryens built the Red Keep when they moved to Westeros to rule—hence, Red Keep, Targaryen Red. Dying in Jaime's arms in the dark—well, it's symbolic of their love and of the Targaryen's rule. Fans believed she didn't deserve such a poetic ending at all.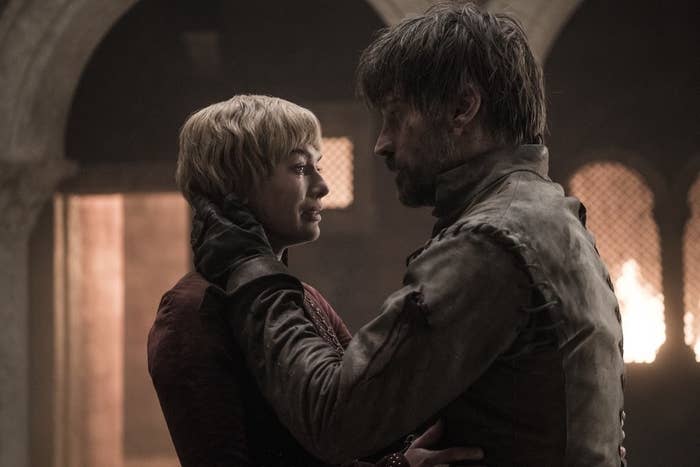 Lena Headey, the actress who has played our dear Queen Cersei for so many years, felt the same—originally. She told Entertainment Weekly she had mixed emotions when originally reading her character's fate.
 I wanted her to have some big piece or fight with somebody.
But, eventually, after reading it over and speaking with Nikolaj Coster-Waldau, who plays Jaime, she realized this was the perfect way to let Cerseidie.
The more we talked about it the more it seemed like the perfect end for her. They came into the world together and now they leave together.
That's right—don't let anyone forget the brother-sister lovers are twins.
Headey added:
I think the important thing is that Jaime had a chance at freedom [with Brienne] and finally liberated himself from Cersei, which I think the audience will be thrilled about.

I think the biggest surprise is he came back for her. Cersei realizes just how she loves him and just how much he loves her. It's the most authentic connection she's ever had. Ultimately they belong together.
And, she realized that while having an "epic ending" would have been ideal:
It's maybe the first time that Cersei has been at peace.
Does Cersei truly deserve to be at peace? Absolutely not. But, I guess that's what we get for getting personally invested in a TV show for 8 years.
h/t: Entertainment Weekly