The 2019 Met Gala is here and honestly, I'm waiting to see which celebrities are going to take their look to the next level. Usually, Queen RiRi is the ultimate bae at the Met Gala and even though I am not forgiving her for waiting years to give me new music, I will appreciate her lewks she gives us year after year.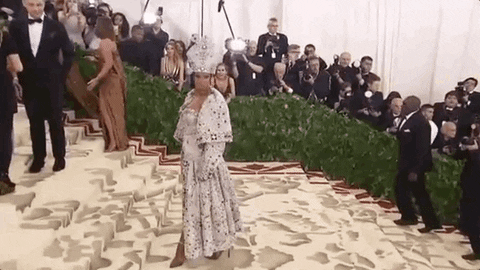 The theme this year is "Camp: Notes on Fashion," a reference to Susan Sontag's essay "Notes On Camp" where she defines camp according to "its love of the unnatural, of artifice and exaggeration." Basically, wacky over-the-top dresses and styles so vibrant they might make your eyes hurt.
There is one person that everyone knows will show up and deliver—Lady Gaga. Let's face it, Gaga knows Camp better than anyone else who walks this damn carpet all night.
Lady Gaga on the red carpet at The #MetGala2019 pic.twitter.com/Vs0GieW0xx

— Ryan | Lady Gaga ?️‍? (@ryanleejohnson) May 6, 2019
Talk about a #MetGala MOMENT!!!! ? @ladygaga pic.twitter.com/xGaAqYB6Qf

— Entertainment Tonight (@etnow) May 6, 2019
Gaga transformed her first outfit into something completely different.
We can't articulate how we feel about Lady Gaga's #MetGala entrance so: jsdhfjdsbjkvgbdsjk pic.twitter.com/s6EVzTXRID

— E! News (@enews) May 6, 2019
And then @ladygaga makes a quick change into this Brandon Maxwell black look. #MetGala2019 pic.twitter.com/xcEn7aI8bb

— WWD (@wwd) May 6, 2019
But Gaga wasn't done yet. She let her black dress fall, transforming once more into a sleek flamingo-pink evening gown, complete with an oversized cell phone (possibly a nod to her hit single "Telephone").
lady gaga is really out here living her best life #MetGala2019 pic.twitter.com/MKWmjSGdM9

— emma ϟ (@ripmarveI) May 6, 2019
Finally, slipped that slinky number off to reveal a spangled bra, matching fishnet leggings, and deadly sexy high heels.
"Lady by Day, Gaga by night" pic.twitter.com/vYesvwTOw7

— Anthony | Lady Gaga News (@antpats2) May 6, 2019
Lady Gaga at the 2019 #metgala pic.twitter.com/0CFX7kP04m

— moreculturelesspop (@culturelesspop) May 6, 2019
LADY GAGA FT. ACHILLE LAURO #MetGala pic.twitter.com/BIRwLz9wEU

— Alessandro Onorati (@TrebisCotti) May 6, 2019
That's a total of four different, amazing looks in just one night.
Lady Gaga at the #MetGala  2019. She is the first artist that changed her outfits 4 times on red carpet at once and served us a show that we all were starving for. pic.twitter.com/N3oyYV6n6B

— Lady Gaga Charts • News (@charts_lady) May 6, 2019
And look at those lashes! They scream CAMP!
She's not called LADY GAGA for nothing. She ended the #MetGala pic.twitter.com/rACpoRbqwv

— Elio ?☀ (@RickyRhyn) May 6, 2019
Twitter absolutely lost their sh*t at the dramatic entrance.
Lady Gaga serving looks at #MetGala
pic.twitter.com/TfGe895x3C

— Daniel ? (@bloodydaniel_) May 6, 2019
me every time lady gaga busts out a new dress #MetGala pic.twitter.com/HmMSUovlRq

— Natalie (@Nat_G4) May 6, 2019
Okay now SIT on my FACE Ms. Stefani, if I die I die! #MetGala⁠ ⁠ #LadyGaga pic.twitter.com/vx82TFyu6p

— B i a n c h y (@Bianchy91) May 6, 2019
LADY GAGA IS THAT BITCH #MetGala pic.twitter.com/1Xuh0vmMdS

— alexandrA◟̽◞̽ (@hxrryxdua) May 6, 2019
All the gays with Lady Gaga at the MET pic.twitter.com/r65EQztalw

— George Quintana ▲ (@George_Quintana) May 6, 2019
Lady Gaga planning her dress for the MET Gala pic.twitter.com/uMKpiZeSlD

— ariana glande (@totadelrey) May 6, 2019
GUYS LADY GAGA JUST DID THAT #MetGala pic.twitter.com/QzbWMv4biw

— Mads (@madskmurray) May 6, 2019
We stan a Met Gala queen.
h/t: People